"That was like a cowpat on Countryfile: hot and steamy!"
With Christmas only a few weeks away, the heat is on for the final six couples of Strictly Come Dancing.
It's Quarter Finals week and it is a musical special with show tunes galore.
Up first are Georgia and Giovanni with a magical rendition of Beauty and the Beast. Georgia dresses up as Belle in a yellow Disney princess frock.
Their Foxtrot enchants the judges and audience alike, and the pair glide through the scores with four 9s, giving them 36 points.
Strictly judge, Len, says: "A charming, lovely movement, couple of heel leads missing. A fairytale but not Grimm."
Craig adds: "It was absolutely delightful and enchanting."
Next Strictly couple are Anita and Gleb, with a particularly complex Argentine Tango.
Anita dressed in a sexily alluring black dress plays Fosse from Chicago, taking on the iconic show tune, 'Cell Block Tango'.
The Countryfile presenter shows the same fierceness as her Paso Doble a few weeks ago, which was a judge favourite. But amidst the difficult lifts, Anita struggles with her footwork which the judges immediately pick up on.
Bruno says: "First I want to praise you, for taking on such an iconic number. You went for it. The thing is when you have so many things to portray, at times your footwork got a little bit behind and a little bit sloppy.
"But I think what you did with your ability was very very good. But it needed to be a little more sharp."
Craig sadly has very few nice things to say: "This dance has unfortunately exposed all your weak points. Your feet were flexed, you have a tendency towards pigeon-toes. I felt like you lost connection and that means you weren't following the lead.
"On your finer points, the reason why the audience stood and everyone was thrilled is because you have a great sense of drama and dramatic integrity."
Darcey says: "It's a difficult dance, but the energy, attitude and the intent you have is extraordinary.
"You have no fear, and that is wonderful to see. Gleb has asked a lot of you and to be able to produce those lines and those lifts."
"That was like a cowpat on Countryfile: hot and steamy!"
He adds: "I do understand what my colleagues are saying here. However, I'm not going to compare this to a movie.
"I'm just looking at you two out there dancing an Argentine tango to a difficult piece of music and I thought you did it spectacularly well."
Despite Len's positivity, the duo get a low 6 from Craig, and they manage only 31 points in total, taking them to the bottom of the leaderboard.
Watch Anita and Gleb's scorching Argentine Tango here: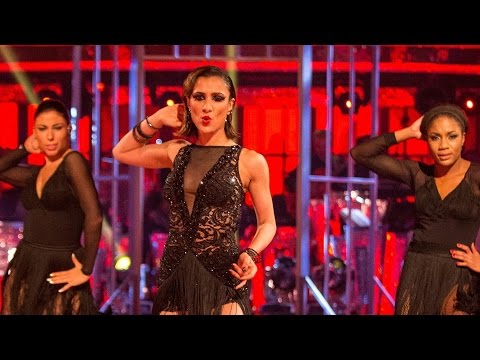 Kellie and Kevin are next with a Viennese Waltz to 'Oom Pah Pah' from Oliver.
Craig starts off saying: "That's the first time I have seen a Viennese waltz that was not elegant, had absolutely no class, had no grace whatsoever and was common as.
"And you know what? I loved it!" he continues. They get 9s all around, giving them 36 points.
Jay and Aliona take to the dancefloor with a Rumba to 'Falling Slowly'. It's steamy and passionate, and Jay shows off incredible clean lines and footwork throughout.
Darcey is in tears, saying: "You both brought tears to my eyes. That story you created, that intimacy, it was so real, it was really well done. You sometimes come across as a bit embarrassed but that was not embarrassing at all.
"The way you were able to emote and still feel strong, and show that compassion to her through those moves… it was fabulous."
Bruno adds: "That was a pitch-perfect interpretation of the theme. It was irresistibly romantic, touching, emotionally involving and you did the wonderful things that we always ask of our dancers."
With a 9 from Craig, and 10s from the rest, the pair are scored a brilliant 39 points.
Next Strictly couple are Katie and Anton who take on a Foxtrot to 'Maybe This Time' from Cabaret.
Len thinks it's very accomplished with beautiful lines, while Craig admits that it could have been 'sassier', but otherwise was 'really lovely'.
The pair do well, scoring 35 points which take them safely to the middle of the leaderboard.
Finally it's Helen and Aijaz, who take on the Paso Doble to 'At the End of The Day' from Les Miserables.
While it is dramatic and intense, Helen loses her balance and loses her timing in places. Craig says: "Timing and balance were off but in between, it was clean, feisty, sharp and brilliant."
Darcey adds: "I don't know how you fitted all the content in, it went crazy at times, too upright and needed more curved shaping."
But despite the feedback, the couple score 34 points.
With the six Strictly couples all danced out this week, the leaderboard has taken an interesting turn; Jay and Aliona lead at the top, while Anita and Gleb trail at the bottom.
Many on Twitter have complained of Anita's harsh marking, could she be in danger of elimination right before the semi finals?
Find out who will survive to dance another day on 6th December, 2015, on BBC One at 7.20 pm.