"The Waltz was fabulous! It was beautiful, well done!"
There were tricks, treats and lots of dancing on Saturday night with Strictly Come Dancing.
Week 6 welcomes a spooky Halloween special with 11 dancing duos hoping to impress the hard-to-please Addams family aka the judges!
First on the dance floor are Katie and Anton who perform a Paso version of Phantom of the Opera.
Sadly they don't impress the judges as Len says it's wasn't aggressive enough and doesn't suit Katie's personality at all. The couple score 21 points.
Kirsty and Brendon are next with the Charleston to Lady Gaga's 'Bad Romance'. Overall the dance is another poor performance and Bruno thinks that it was a bit of a mess:
"You made mincemeat out of that, what a mess, it went wrong but you saved it by the skin of your teeth." They only manage 17 points.
Jeremy and Karen attempt the Salsa to 'Thriller', but Jeremy struggles with choreography. While the judges comment on his bad footwork and poor timing, Len admits Jeremy has an 'awkward charm' that he enjoys watching.
Performing next are Anita and Gleb, who have had a great few weeks so far.
Having got their biggest score the week before for their Tango, all eyes are on the couple to see if they can wow the judges with their dark Disney inspired Waltz to 'Once Upon A Dream' by Lana Del Rey.
Anita looks every inch a dark and vengeful fairy complete with sparkly horns. Playing the popular Disney character Maleficent, Anita entraps Prince/King Gleb with her power and casts a spell on him to dance a wicked Waltz.
Her entrance is superb as she flies onto the stage complete with magical angel wings.
It's dark and dramatic, and Gleb's unique choreography combines the classic Waltz with a contemporary feel, and has the audience on their feet giving them a standing ovation.
The couple receive mixed views from the judges. Darcey loves the drama: "That was one of the most dramatic Waltzes I've ever seen."
She also praises Anita for the incredible passion she shows every time she's on the dance floor: "I absolutely love that."
The storytelling is completely lost on Len but he adds: "The Waltz was fabulous! It was beautiful, well done!"
Bruno also loved the choreography and characterisation. But he picks the couple on the jagged flow throughout, not helped by Anita's pointy horns, which forced the pair to stop at points during the performance.
Craig agrees: "It lacked grace and it lacked flow, sadly.
"I liked the storytelling, that was a better part. It needed to be a lot more lyrical for me to work. It's a shame, because I know you are capable of it."
In the end Anita and Gleb get a score of 29, which is lower than last week.
Watch Anita and Gleb's magical performance here: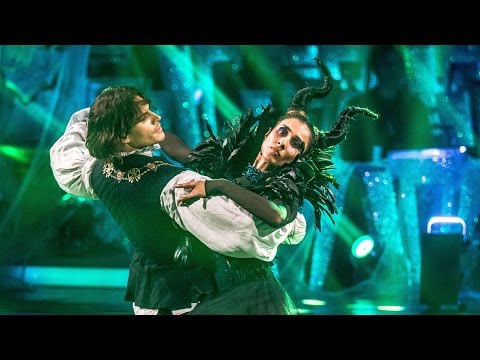 Up next are Jamelia and Tristan. The pair were saved from last week's elimination after Ainsley and Olga were sent home. Their Jive is full of energy but Jamelia struggles with the fast footwork:
"A bit rocky but not a horror, it was under-rehearsed,"says Len.
Jay and Aliona take on American Smooth to 'Lil Red Riding Hood'. There are lots of lifts and smooth lines from Jay which get noticed by the judges, with Darcey saying: "Smooth, stylish, loved the lifts, but you've got to go for it and sell it." They get a fantastic 34 points.
Kellie and Kevin's performance is 'Harry Potter does the Paso' complete with on table dancing. Darcey says it lacked the Spanish style in the arms, but the judges agreer that it had great energy. They get 28 points.
Carol and Pasha's Rumba is pretty bad and sends them to the bottom of the leaderboard with 13 points. Bruno is certainly not impressed: "Miss Frankenstein, your Rumba is grounds for divorce, unrecognisable and displaying an indifference to dance."
Georgia and Giovanni in comparison do a great Ghostbusters inspired Tango which the judges adore, leaving them with a fantastic 35 points. Craig exclaims:  "Sharp, staccato, feisty … in-can-descent!"
Peter and Janette's Foxtrot to Ella Henderson's 'Ghost' is haunting and the former popstar shows off some good footwork which scores them 29 points. But Bruno asks Peter to cut out the predictability: "Such potential but you perform every dance the same."
Final dancing duo for the evening are Helen and Aljaz with a mummified Samba to the Scissor Sisters' 'Take Your Mama'.
Great choreography, footwork and lines make this performance one of the highlights of the evening. Len says: "The midwife delivered again, you're a yummy mummy."
Craig calls the routine 'spectacular', and Darcey praises Helen for showing an impressive new side to her. It's a total of 34 points.
This week's leaderboard see Georgia and Giovanni on top, while Carol and Pasha trail at the bottom. Could this be the end of the two?
Find out which couples will live to dance another day on November 1, 2015 at 7.15pm on BBC One.