"I will cherish this project for the rest of my life."
Kesh K brings out his much anticipated second single, 'Deed Yaar Di', with legendary music producer, Sachin Ahuja.
Kesh, a 26 year old Italian/Punjabi singer took India by storm with his first success hit single 'Bhula Na Sakey' in 2014. See our exclusive interview with Kesh K.
His Bollywood Live session also impressed his fans across the globe, encouraging the desire of his next single to be released.
'Deed Yaar Di' is a romantic single that entwines with Sachin Ahuja, producing a Sufi qawwali style track.
This single also has an interesting element – it is recorded with all live music.
'Deed Yaar Di' was recorded in India as Kesh travelled there to produce the track with Sachin Ahuja at the Sangeetika Studios.
Kesh says: "It was a pleasure to meet and collaborate with Sachin Ahuja bhaji. It was a dream come true."
This project is set to be released on an international level – much to Kesh's excitement.
Speaking of Ahuja, Kesh continues: "I have been a fan of his music and his father Ustad Charanjit Ahuja for years and I will cherish this project for the rest of my life."
Kesh, born in Bedford, England, to an Italian mother and Punjabi father. He started his vocal training from the age of three from his father Om Kaushal.
At age 16, Kesh then sought guidance from the UK's finest Ustad Shahbaz Hussain. In an exclusive interview with DESIblitz, Kesh told us:
"I grew up around music, my dad's a singer so music was in the house all the time."
The 26 year old also speaks of the music icons which helped inspire his ambition:
"I've learnt how to be an artist, I look at these greats and how humble they are, how softly spoken they are and how down to earth they are."
Sachin Ahuja also exclaims his joy for working with Kesh:
"Kesh is a very talented artist, he's very hard working and we wanted to produce a Sufi masterpiece."
Sachin is known predominantly for his work is melodious music compositions, and his PTC Voice of Punjab stint.
He is the son of Punjabi music director Charanjit Ahuja, who produced hits such as Gurdas Maan's album Masti.
Charanjit Ahuja is a living legend of the Punjabi Music Industry, recording music and making artists known over his 40 year long career.
Artists and bands such as Yamla Jatt, Kuldeep Manak, AS Kang, Saathies, Azaad, and Amar Singh Chamkila are amongst many who have worked with the maestro, Charanjit Ahuja.
Sachin is now following in his father's footsteps becoming one of Punjab's most legendary music producers.
Sachin also speaks of the video to this fresh new track:
"The video is going to blow everyone away which is directed by Sandeep Sharma."
Watch and listen to the new track 'Deed Yaar Di' by Kesh K and Sachin Ahuja here: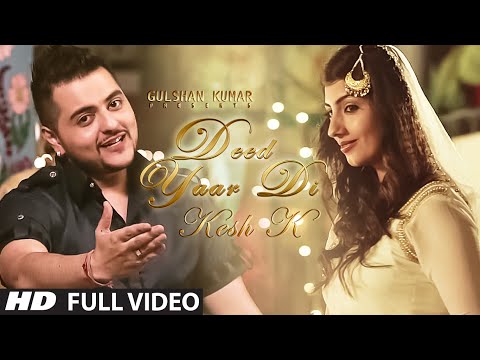 The single releases from October 29, 2015, showing off the talents of the two music icons.