"Live music to me is very important and I want to continue the same flow in my forthcoming releases aswell."
Born in the UK and hailing from an Indian and Italian background, Kesh K grew up with music all around him.
Son of singer Om Kaushal, Kesh is now embarking upon his own musical career with his debut single, 'Bhula Na Sakey' releasing from October 16th, 2014.
The talented Bedfordshire musician has mastered a variety of instruments such as the tabla and harmonium.
He has also harnessed his singing and composing potential, all while only being 25.
DESIblitz caught up with the musician to find out about his musical inspiration, upcoming single and more.
When asked about the start of his musical journey Kesh tells us: "I started initially at the age of 3 and then later on in my life, professional singing came to me when I was 20.
"I grew up around music, my dad's a singer so music was in the house all the time."
At the age of 10 Kesh also began learning how to play the tabla by Shri Anil Bhagwant.
However, he had not lost focus on singing: "I was also singing along aswell but kept that secretive until I was in my late teens."
In 2009, Kesh went to Punjab and received further musical education from the Late Geeta Dutt.
She advised him to return back to Punjab and perform at Punjab's oldest and most prestigious classic music festival, Harivallabh Sangeet Sammelan.
Speaking about the mela, he said: "That set me off to say ok I want to do music full time."
This was not Kesh's first encounter with classical Indian music as when asked about the type of music he listened to as a child and his inspired, he says:
"The genres of music I love listening to are mainly Bollywood classical, Ghazal, Sufi, Qawwali music. I love Ustad Nusrat Fateh Ali Khan and Ghulam Ali Khan."
Kesh K had also learned more than music from listening to these artists: "I've learnt how to be an artist, I look at these greats and how humble they are, how softly spoken they are and how down to earth they are."
Belonging to a multicultural household, Kesh is also capable of singing in more than one language: "I can sing in Hindi and Punjabi."
On singing in Italian, he says: "I would love to sing in Italian one day, if the opportunity arises to do something different, I would love to bring up my Mom's heritage in some way or form."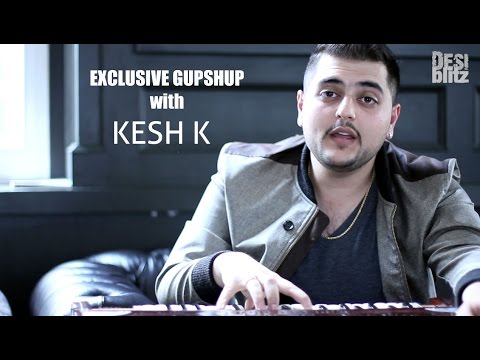 The Live Session, released in April 2014, is a medley of three covers of famous Bollywood songs, O Rangrez, Aan Milo Sajna and Khamaj.
A big advocate for live music, when asked more about the session, Kesh says: "Live session is a project that's close to my heart. Live session to me is pure."
The idea of the live session had come from thinking about how he was going to project himself and his voice to the world.
Speaking more about the songs, Kesh tells us: "They are all in the same raag, rhythm-wise, they are all the same."
"The transitions I did in them were all improvisations and I hope when people hear it that they can differentiate the originals to the ones I done."
"Live music is not just about recording, dubbing and playing. I wanted to be done in one. I wanted the video, sound and vocals done in one, so what you see is the video, sound and audio all in one take."
He also wanted to show that this type of music is still in demand: "Music like this is still alive. There is still music like this out there and people still wanna listen to this type of music."
The video of his live session has been shot by well known videographer, Sanny Mattu. The collaboration with Mattu, Kesh says had come about in an unexpected way:
"One night I got a message from Sanny Mattu saying I really like your stuff and let's do something, it was very convenient and spontaneous of him to do that, we met up and he had great ideas, he done a very good job," Kesh tells us.
Kesh admits his debut single, 'Bhula Na Sakey' is a very special one for him: "I'm very excited about this project, it's a Hindi track that I've written and composed myself."
Upon Kesh's single release, he also plans to undertake a tour of the UK: "After the release, I'm hoping to do a do few bookings on that front."
Having spent much of his childhood studying music, Kesh K is now ready to share his music with the wider world.
His debut single Bhula Na Sakey, releases from October 16th 2014 and DESIblitz wishes him the best of luck.