"Jazzy B is an artist I have known and respected even since I started out and it's been a pleasure to finally get together."
The Crown Prince of Bhangra is back with yet another hit track!
The single Mitran De Boot released worldwide on October 13th 2014, sees Jazzy B team up with hit UK producer Dr Zeus to release his debut duet track on both Speed Records and Jazzy B records.
Singing alongside Jazzy B is Punjab's very own Kaur B, who teams up with Jazzy as his first ever female vocalist.
The track sees Jazzy B walking between the line of tradition and contemporary in a showing of a boy and girl romance.
Dr Zeus's production talent helps bring a modern twist to beats that echo traditional Punjabi folklore and folk songs.
The track has been worked on over the summer of 2014 in Birmingham, with Jazzy B more than excited, saying: "It's a hot track!"
The female lead, Kaur B, is an upcoming female voice from the Punjab who sang Main Geet Purane Sundi Aan and has also appeared as the lead actress in the Punjabi movie Kaurizm. She has over 2,601,456 likes on her Facebook page.
The video features Indian actress, Surveen Chawla in the lead female role, who made her debut as Charu in the television serial Kahin To Hoga.
On YouTube the music video of the song immediately clocked major views. Jazzy B tweeted: "#mitrandeboot 250,000 views on youtube in just 12 hours , thank u fans & friends ..love you all keep supporting mitrandeboot.com"
Mitran De Boot is sure to be a winner with its catchy tabla-dholak beats and fiery lyrics, where the duet takes a contemporary look both visually and the production value of the song.
On working with the Canadian superstar, Dr Zeus said: "Jazzy B is an artist I have known and respected even since I started out and it's been a pleasure to finally get together."
"His energy & passion towards creating a masterpiece is amazing, I'm loving the vibe we have created and I'm sure you guys are going to love it too," added Zeus.
Kaur B also expressed her delight with the track and working with both Jazzy B and Dr Zeus:
 "It's been a real honored to work with Jazzy B ji and Dr Zeus ji. I am honored to have my vocals on this song. You guys will be very taken back by the track. I love it."
Check out this sure-hit track and its video here: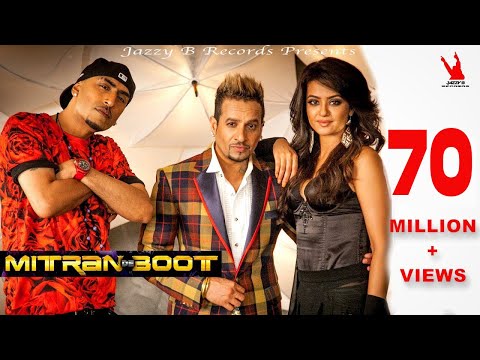 The song has received a huge thumbs-up reaction from fans and fellow artists on social media. Here is the buzz from Twitter:
Aman Hayer @AmanHayer1 – 'Big up to my big bro @jazzyb on the new track with @drzeusworld'
PoPsYmusic @Popsymusic – 'On repeat #MitranDeBoot @jazzyb @drzeusworld @KaurBmusic @SurveenChawla'
J-Skillz @ApnaJSkillz – 'They smashed it @jazzyb @drzeusworld @KaurBmusic … #MitranDeBoot … Just raised the bar'
The PropheC @ThePropheC – 'Damn after a long time – A class bhangra song!'
SURINDER BIRDI @DFSICanada – '@jazzyb's new song is too gangster! Jinay vich baliyeh tu sari saj di, aounay vich mitran de boot aoundiya!'
MATT BROWN @mattleebrown – '@jazzyb well done bro on the new drop hair looking sick in the vid'
Manvir Singh Khera @SinghManvir786 – '@jazzyb this song is like MADNESS, big up dr Zeus and Kaur b and the man jazzy b himself tho'
Pav Sangha @PavSangha1 – 'Jihne Vich Baliye Tu Saari Sajdi, Ohne Vich Ta Mitran De Boot Aunde Aa…!!!!! @drzeusworld @jazzyb absolutely smashed it!!! #Bruaahhh'
2014 has already been a momentous year for Jazzy B, with the release of the Back To Folk track with Popsy entitled Singhan Diyaan Gaddiyan (2014) and his second feature film Romeo Ranjha, starring alongside Bhangra heartthrob Garry Sandhu.
Jazzy B also scooped the title of "Best Male Act" at the 2014 Brit Asia TV Music Awards.
It looks like 2015 will be another busy year for Mr Bains with more movies and tracks in the works, and the launch of his new clothing line called Jazzy B Clothing, where he will promote his swagger big time!
Jazzy is not the only one who a busy schedule, as producer, Dr Zeus is also set to roll out numerous projects he has been working hard on, over the next few months.
Aside from working with Jazzy B, Dr Zeus has also worked in Bollywood this year, by producing the track entitled Lovely featuring Kanka Kapoor for Shahrukh Khan's Diwali release Happy New Year.
The formidable duo of Jazzy B and Dr Zeus alongside talented punjabi singer Kaur B have definitely created a track which is destined to be a hit worldwide.
So, remember to buy and download Mitran De Boot legally to give the artists a return for their tremendous hard-work.