"One of the best things about the song was Fateh's entry!"
Jassi Sidhu's latest song, 'Salute', which features Dr Zeus and Fateh DOE, is yet another huge hit by the artist.
In 2016, Sidhu is celebrating the incredible milestone of being in the music industry for 20 years.
And what better way to celebrate than by releasing a new track which takes the world by storm?
In the single day since its release on October 6, 2016, 'Salute' has already racked up over 160,000 YouTube views.
DESIblitz brings you all the information about the song, and, of course, brings you the video that everyone is watching.
Jassi Sidhu, Dr Zeus and Fateh – 'Salute'
After taking a short break from music, Jassi Sidhu is back with a bang. Or should we say back with a banger.
'Salute' brings together the huge names of Jassi Sidhu, Dr Zeus, and Fateh DOE on to one massive track.
In the 'Salute' music video, Jassi quite literally places himself on top of a golden throne. Is the British Indian singer also on top of bhangra music after this hit release?
The Midlands (UK) born musician began his career in 1996 as the lead singer of B21. Now, twenty years later, in 2016, Sidhu is still releasing hot new songs.
Preet is certainly a fan of 'Salute', he says:
"Finally, a nice old school type track. Might sound the same but killed it brother. Needed a song to blast while cruising with a consistent beat. Hats off."
Fateh's entry into the 'Salute' music video is something that you must look out for. Vinny says: "One of the best things about the song was Fateh's entry!"
But were not going to give it away, be sure to watch the video below and find out for yourself. The Canadian rapper also recently released his debut album, Bring It Home.
Before its release, Fateh gave fans an exclusive listen to three of his new tracks at the BBC Asian Network Future Sounds event.
Click here to find out more about Fateh's performance where he was supporting several rising British Asian artists.
Who will Jassi collaborate with next?
Since the release of Jassi's last album Singing Between the Lines in 2011, he's collaborated with several huge artists.
In 2013, the popular YouTuber and rapper, Superwoman, worked with Sidhu on 'Hipshaker'. A year later, in 2014, PBN and Jassi Sidhu came together to produce 'Singh'.
Now, in 2016, Jassi's 'Salute' features Dr Zeus and Fateh DOE. So who will be next to collaborate with the uniquely voiced star?
You can watch the official music video to 'Salute' here, and remember to watch out for Fateh's phone call.
The song is written by Mehroze, while Mastermind Media shot the music video in London, UK.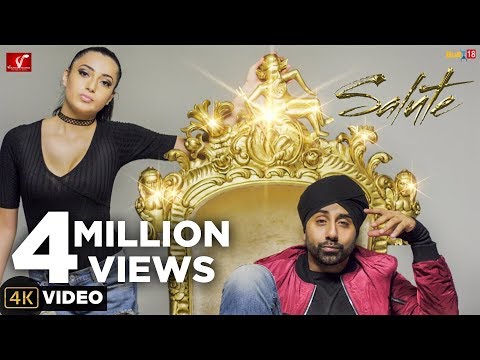 Click here to legally download 'Salute' from iTunes.