"He will turn out better than Honey Singh, Badshah, and other Asian rappers"
Born on August 2, 2003, 13-year-old Noddy Khan, from Panchkula, Haryana, is India's youngest rapper.
A day before his thirteenth birthday, on August 1, 2016, Noddy released his debut single called 'I am Noddy Khan'.
The talented youngster idolises Yo Yo Honey Singh, and some have already made comparisons between the two.
After listening live to Noddy Khan's cover of 'Brown Rang' in 2012, Honey Singh said: "He's my biggest fan and my youngest fan. Watch him, Noddy Khan is the best."
DESIblitz speaks to Noddy about his musical journey and debut single. We also find out more about some interesting plans in the making which include Sukshinder Shinda.
'I am Noddy Khan'
Noddy Khan's debut single came out on August 1, 2016, and it has been a huge hit.
As of October 2016, over 3.2 million people have viewed 'I am Noddy Khan' on YouTube. But the singer-performer can't believe how popular his track is.
Noddy Khan tells DESIblitz: "The song was only really for my own happiness, but it is getting more popular than I could ever imagine."
Due to the success of his debut single, the youngster is now sure that he wants to continue with music.
Following the release of 'I am Noddy Khan', he says: "Now I am a popular person. In school, in the market, at the movies, or any public place, people ask me for autographs or pictures. It all makes me happy, and now I have decided that I want to be an artist as my career."
Noddy reserves special praise for the lyricist Harry Cheema. He says: "The song is all about myself, what I think, what I do, and what I want to do. Mr. Cheema wrote my thoughts in a very beautiful way."
The Chandigarh-based hip-hop duo, KRU172, are responsible for the catchy music of 'I am Noddy Khan'. And after 6 months of hard work from everyone involved, Noddy Khan's debut track was complete.
You can listen to Kru172's head-bopping beat and Noddy's incredible singing of Harry Cheema's lyrics by watching 'I am Noddy Khan' below.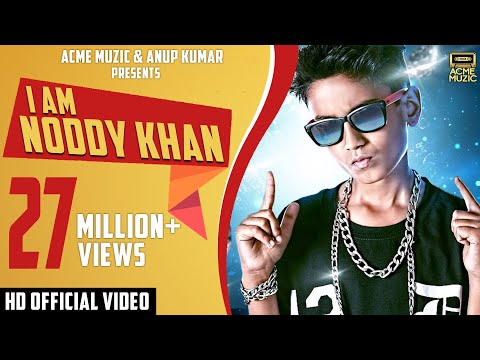 Influence of Yo Yo Honey Singh
But before the release of his huge debut single, Noddy was just singing covers to hit tracks. And songs by Yo Yo Honey Singh in particular.
He says: "I covered a few songs of Honey Singh and my father helped me with music and videos. The videos got millions of views on YouTube, so I thought I'd make my own fresh song about me."
Without the influence of Honey Singh, therefore, Noddy may not have produced his hit debut single. Without Honey Singh, Noddy Khan may not have become one of the brightest prospects in Indian music.
Noddy admires no artist more than the Indian rapper. He says: "I like all international and national hip-hop artists, but I am a big fan of Honey Singh."
Noddy was star struck in 2012 when he was able to perform live in front of his idol. He says: "Honey Singh likes my singing and my style. I've met him many times since then, and he's promised me that he will make my song one day. I am waiting for that day!"
So potentially a Noddy Khan track featuring Honey Singh to look forward to. Wow.
But can Noddy surpass Honey Singh and become India's next superstar rapper?
Kadir thinks so, he says: "This guy's got talent. Just the right amount of training and he will turn out better than Honey Singh, Badshah, and other Asian rappers."
Noddy Khan is already halfway there. As well as having a successful debut single, Noddy's also experienced performing live in front of massive crowds.
Support from his Family
DESIblitz also spoke to Feroz Khan, Noddy's father, about how the family have supported the young rapper.
Feroz says: "When he was 6 years old, Noddy was performing on a stage and I noticed his confidence and interest. Since then, me and his older brother have continued to help him."
Noddy's older brother, Cafy Khan, is also in the music industry as a producer. And Feroz says: "Noddy is supported by the musical environment in our home."
With continued support from his family, Noddy Khan is certain to have a bright future. Zarna says: "This child is crazy talented. He is going to be famous one day."
Noddy is very appreciative of the support he receives from his family, and especially from his father.
India's youngest rapper tells DESIblitz: "My family is very supportive, and my father is like a professional manager. He takes care of my clothing, website, social media updates, and enquiries. He also plans my shows and makes decisions on my future projects."
So where will we be seeing Noddy Khan in the future?
What Next for Noddy Khan?
Everyone seems to be desperate to get a bit of Noddy Khan at the moment.
The young rapper tells DESIblitz: "I've had many offers of collaborations, acting in movies and advertisements." However, Noddy and Feroz Khan have rejected several of these offers.
Noddy says: "For now, I am focused on my studies. I don't want to be a 'star' every day, I want to enjoy my childhood too. So at the moment, I am only working on four projects."
Excitingly, Noddy Khan's second solo track 'Mere friend ka hai b'day' will be out towards the end of 2016. His third solo track 'I am Noddy Khan 2', meanwhile, is set for release in mid-2017, so keep a look out!
His other two projects are arguably even more exciting! Noddy says:
"I am doing a promotional song for a Gujarati kid's movie, and I am also collaborating with Sir Sukshinder Shinda in a Punjabi song. Both tracks will be out in 2017."
With such huge projects already in the making, where does Noddy Khan see himself in the future?
He told DESIblitz that he hopes to be travelling and touring the world as a successful artist.
13-year-old Noddy Khan currently idolises Honey Singh, but he may well be India's next huge star rapper.
Click here to go to Noddy Khan's official YouTube page. You can listen to, and watch, his covers of Honey Singh's hit tracks 'Brown Rang' and 'Blue Eyes'. You can also see some clips of Noddy Khan's live performances all around India.