"It was brilliant, the action, the energy. You are one fit lady. You really are."
It's Week 7 of Strictly Come Dancing and 10 dancing couples remain in the competition.
Following the Halloween special, the contestants are back in their normal glittery outfits eager to impress with their quickstep and romantic waltzes.
With nerves running higher than ever before, viewers and dance fans are treated to spectacular array of performances which see lots of 9s from the judges and even a few 10s.
First to set fire to the dance floor are Peter and Janette. Taking on board last week's criticism of Peter's pop star predictably, he's determined to prove himself, and boy does he do well!
Their vaudeville style Charleston shows off a new personality to Peter and the judges love it. Craig says: "I though that performance was absolutely exceptional."
Darcey adds: "I could even mistake you as a professional out there."
All in all the couple are awarded two 10s giving them a total score of 38 points, the highest of the whole series so far.
Next up and feeling the pressure is Jamelia who has faced the elimination round three times now. Upset that home viewers don't like her, she hopes she can perfect her footwork with partner Tristan.
The pair do well and show a lot of skill, managing 28 points.
But on the other end of the spectrum, Carol and Pasha fail yet again to impress with their American Smooth, and score only 17 points.
It's Rumba time for Helen and Aljaz and they opt for a contemporary interpretation to Adele's 'Hello'. It's sexy and intimate, but Len criticises them on the lack of content.
The other judges are all praise however and admit to being drawn in by the intensity of the dance. The couple score 31.
Continuing on with the theme of intense dancing are Jay and Aliona who perform the first Argentine Tango of the series.
It is darkly passionate with lots of flicks, smooth lines and lifts throughout, but Jay struggles to show any emotion which leaves the judges to say that it was lacking. But the pair still score high with 34 points.
Katie and Anton do a complex Quickstep which Katie struggles to keep up with. While it is fun and quirky, they make a lot of mistakes.
Up next are Anita and Gleb who tackle the Jive. Dressed up as cleaners and with mops as props, the pair take over the dance floor with their fantastic energy to 'The Boy Does Nothing'.
There's more brilliant choreography from Gleb including push-ups and jumping over Anita and dragging her along the floor with him. It ends with Gleb throwing a bucket of glitter all over the judges.
Watch the brilliant performance from Anita and Gleb here: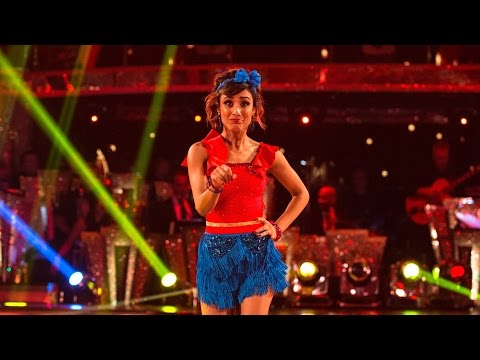 The judges can't get enough of it. Craig says: "It was fast, it was furious. I loved the stylisation of it. You dance in a very compact way. I absolutely loved that routine."
Darcey adds: "Oh, it was brilliant, the action, the energy. You are one fit lady. You really are. You're not even out of breath or anything are you?
"What's brilliant is that you are relaxed on top but your legs are still working hard and their sharp."
Len adds:
"It was full of fun, full of energy. Full of sharp kicks and flicks. I tell you what, I'm full of praise because it was terrific."
Bruno is also impressed by this daring and energetic side of Anita, saying: "Tonight Anita, you broke the mould. You were on fire, you were in control of all of that performance. You were selling it, you were tight – best dance yet."
An ecstatic Anita cannot believe it, and she and Gleb are in high spirits. Back in the green room, the scores are in and it is two 9s – a first for the duo, making their total score, 34.
Kellie and Kevin are up next with a beautifully nostalgic Waltz, full of charm and grace. The pair score 32 from the judges.
Jeremy and Karen take on the Tango with a Western twist complete with cowboy look and a life-size plastic horse. Another flawed yet entertaining performance from Jeremy, the judges still found it fun to watch.
Craig says: "It certainly had a staccato nature. We just never know where the limb is going to land. But I did enjoy your swivelling little bottom so that's got to be at least worth a three."
Ending the show on a high are Georgia and Giovanni.
They go to town on their Samba, even adding a few moves from the Macarena, for good measure. It's a brilliant performance that Bruno calls 'Premier League' and says they were like a Ferrari zooming across the dance floor.
Len jokes: "I don't know what coffee you were drinking but it weren't decaf. You came out like my favourite pizza – hot and spicy, and you killed it."
The pair score 35 points which means Peter and Janette are still top of the leader board. Sadly, it's Carol and Pasha and Jeremy and Karen who trail at the bottom. Could both couples be in Sunday's elimination?
Find out which couples will live to dance another day on November 8, 2015 at 7.15pm on BBC One.