"Blackpool is calling your name. Nice, easy, bright, breezy and old-fashioned."
Week 8 of Strictly Come Dancing saw business as usual with the dancing professionals and their celebrity partners battling it out for the chance to go through to next week's special Blackpool show.
Kicking off the evening are Anita and Gleb who perform a stunning Quickstep to 'Don't Get Me Wrong' by The Pretenders.
Elegant, graceful with some more lifts, kicks and flicks, Anita looks at ease gliding across the dancefloor with the dapper Gleb at her side.
The judges love the performance and praise Anita's for her great performances over the last few weeks.
Len however picks up on her footwork, but admits he likes it overall:
"Good job, it was first and clean. The key to ballroom is posture and movement. The footwork could have been a little cleaner – but I liked it."
Bruno adds: "Blackpool is calling your name. Nice, easy, bright, breezy and old-fashioned."
Craig also has a few criticisms, but eventually says: 'Excellent timing."
Darcey is all praise with some useful advice, saying:
"It's wonderful how consistent you are. Week after week you come out and sell it. It was fun, light, chic."
"It's only when it becomes very fast, you have to think more about finishing each step. Then the footwork will be cleaner."
The pair score 8s all around, giving them a good 32 on the leaderboard.
Watch Anita and Gleb's beautiful performance here: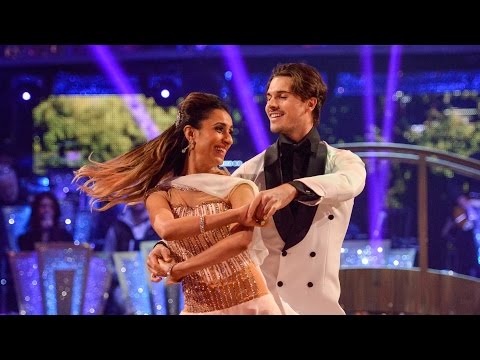 Next up are Jay and Aliona, who do an emotional Foxtrot to Sam Smith's 'Lay Me Down'. Sadly, Jay trips and it causes him to miss a few steps.
Bruno has some kind words for the pair, and says: "You had exquisitely lyrical arms. But the mistake – it was all going so well. But don't be discouraged."
But Craig isn't so forgiving: "I found the whole thing a little bland to be honest. As soon as you begin to dance properly, the face goes dead.
"You missed hands at the end with the trip. It wasn't a good evening for you."
He scores the pair an average 6, which leaves the couple with 30 points.
Jamelia and Tristan take on the Samba, and overall the judges seem to enjoy it. Len says: "The gyrating was excellent."
Bruno adds: "You got me shaken and stirred! You got everybody going, I like that – I like the energy."
Craig however, is unsurprisingly critical. He picks out Jamelia's wild and 'unattractive' hands, and scores them a low 5.
Helen and Aljaz do a stunning Tango that leaves the audience breathless. Darcey can't get enough of the choreography, saying:
"The effect you both have – personally, choreographed beautifully. I loved that. But the drama was perfection. Your face, you didn't lose it."
Next is Katie and Anton who perform a Rumba to Shirley Bassey's 'Never Never Never'. First off, Katie looks drop dead gorgeous in a high slit black and red gown.
Craig says: "It was a little melodramatic for a rumba. Your neck was a little bit pushed forward in places. Rumba walks weren't quite there. Your foot came off the floor as well. But I absolutely loved it."
Kellie and Kevin bring some much needed Hip-Hop to the Strictly dancefloor with 90s classic, 'Boom Shake The Room' by Jazzy Jeff and the Fresh Prince.
Hip-Hop and Samba is an unusual mix, but the pair seem to pull it off, and the judges like it. Bruno says:
"I dig the vibe! The samba has gone street cred! The blend of hip hop, I thought this isn't going to work – but it did beautifully."
Craig adds: "Odd music choice, completely not my thing but I loved it. You were shaking that Darcey Bussell for all it was worth."
Back to more traditional Strictly performances, Peter and Janette dance a Viennese Waltz to 'You're My World' by Cilla Black.
Darcey says: "For me it was flowing with emotion, with energy. There were elements of a piece of Disney magic happening. I want you at Blackpool and you're going to be at Blackpool."
It's Charleston time for Georgia and Giovanni, and boy, do they impress! The fast and sultry Chicago number is full of energy and lifts.
Bruno gushes: "I was completely razzle-dazzled by that. You're growing so much as a performer. You're becoming a better dancer and a better actress."
Craig keeps his admiration short and concise: "Three letters, L. U. V."
With three 10s, it's an incredible 39 from the judges and the highest score of the series.
Finally, it's Jeremy and Karen who do a Quickstep to 'Going Underground' by The Jam. The props and energy are entertaining enough, and the judges bring out all the mining puns:
"I don't know who won't make it to Blackpool but if you're not there, there will be a lot of fun and entertainment missing," says Len.
Sadly they only get 21, leaving them at the bottom of the leaderboard.
With hope for Blackpool next week, who will be in the elimination round?
Find out who will survive to dance another day in the results show on Sunday 15 November, 2015, on BBC One at 7.20pm.