"Kajol is such a close friend of mine that I find it strange to refer to her as a friend."
The much anticipated film Dilwale (2015) has finally released its first song!
'Gerua' is presented at a gala event at Maratha Mandir in Mumbai, attended by the film's leading superstars, Shahrukh Khan and Kajol.
Composed by Pritam, the love anthem is romantic and epic all at once.
Playback singers Arijit Singh and Antara Mitra bring the beautiful lyrics of Amitabh Bhattacharya to life.
Added with Farah Khan's choreography and Rohit Shetty's direction, the song video simply blows you away!
At the song launch, SRK says: "Since Kajol and I are coming back together on-screen after five years, Rohit felt we should make Gerua stand out from all the songs we have done earlier.
"This song is all about the old world charm of me and Kajol, presented in a manner that is very much like Rohit Shetty.
"But Rohit was very clear and precise about how he would like to shoot this one. He paid attention to every detail starting from choice of location, costumes and every other technicality because it was essential to him."
The 50-year-old actor also comments on his friendship with his co-star: "Kajol is such a close friend of mine that I find it strange to refer to her as a friend.
"It's been 20 to 22 years since we started our careers. We have a very comfortable relationship and there is a certain ease."
Set in Iceland, Kajol is seen wearing beautiful bright colours of yellow and orange saris, which stunningly flow in the wind as stand on top of a crashed plane.
The 41-year-old actress says: "We shot the song in a start to finish schedule of sevem days. We worked really hard and it was severe cold but had a great time."
"I am sure the audiences will also find it magical once they see it on-screen."
Rohit explains his choice of location:
"Iceland was the perfect location for 'Gerua', where every locale is untouched and does justice to not only the song but SRK and Kajol as well."
Indeed, the setting for this video shows true beauty of the world, with the next scene shot on a mountain by a waterfall.
Together with the delicateness of Arijit and Antara's voices, they really have us falling head over heels for 'Gerua', which has already clocked over 3.5 million views on YouTube!
Shridhar Subramaniam, President of Sony Music India and Middle East, praises:
"Gerua is the epitome of romance with the lyrics adding to the charm of the song that will get every person want to embrace his/her loved one."
Listen to 'Gerua' and check out the breathtaking video here: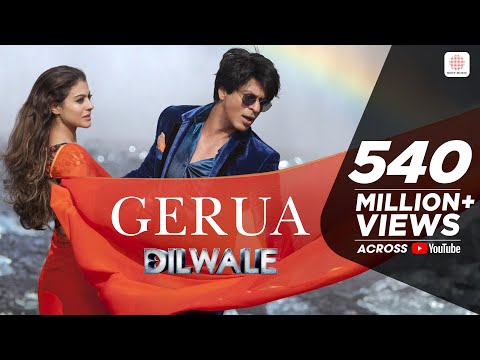 Dilwale, packed with comedy, romance and action, is set to be released on December 18, 2015 worldwide.
This big budget blockbuster movie stars 'the King of Romance' Shahrukh Khan, Kajol, Varun Dhawan and Kriti Sanon in the lead.
With the film trailer and what has been dubbed 'song of the year' being released, we are one step closer to the masala film hitting our screens. And we cannot wait!