"We actually did stand on the glaciers and froze ourselves until we turned blue."
On Monday 9th November, the trailer for the much awaited Dilwale was unveiled internationally along with fans and media.
Attending the red-carpeted press conference was director Rohit Shetty, and his entire star cast including our favourite Jodi, Shahrukh Khan and Kajol, as well as Varun Dhawan, Kriti Sanon, Varun Sharma, Johnny Lever, Boman Irani and Sanjay Mishra.
Combining, romance, comedy and action, Dilwale promises to be a knockout blockbuster like we have never seen before.
The trailer opens with an epic filmy SRK style dialogue, 'Dil toh har kisi ke pas hota hai, lekin sab dilwale nahin hote'. The chemistry of Kajol and SRK is back on the big screen and is one that fans have been eagerly awaiting for!
The beautiful locales of Iceland and Bulgaria make it even more visually appealing.
It takes you back to the nostalgic romantic scenes of Kuch Kuch Hota Hai, Kabhi Khushi Kabhi Gham and Dilwale Dulhania Le Jayenge, and Kajol brings back her yellow sari from 'Suraj Hua Madham':
"And we actually did stand on the glaciers and froze ourselves until we turned blue," Kajol reveals.
However, Shahrukh clarifies that Dilwale is not related to the 20-year-old classic, Dilwale Dulhania Le Jayenge. From the trailer, the film seems completely different and will clear up any misconceptions.
The trailer itself is a blockbuster, with Rohit Shetty's trademark filming style visible everywhere. Even right until the end where the final shot is of car explosions midair, reinstating that this will be another big masala action film from Rohit Shetty.
The stunning visuals, thrilling action and a well matched cast also do not disappoint fans' expectations. The story also seems to carry good twists and turns in the two romances and also the relationship between the two brothers (Shahrukh and Varan).
When asked about their chemistry, SRK and Kajol shared that a key aspect of their chemistry is how comfortable they are with each other and how the ease comes across:
"Kajol is one of the actors that better your work. Kajol is very truthful too and that's one of the things that I like most about her," Shahrukh says.
"Dilwale was a wonderful filmmaking experience and the results will show on screen. Never enjoyed myself more while shooting for a film, right from reuniting with Kajol after a long gap to shooting the heavy-duty action sequences, it was all a delight," he adds.
Varun Dhawan also reveals that while he is a huge Rohit Shetty fan, he never imagined filming alongside SRK and Kajol:
"Never did I expect to do a Rohit Shetty film with Shahrukh Sir and Kajol ma'am. They are amazing actors and to work with them is something no one has done in my generation."
"Dilwale is a coming together of all generations. It's the biggest family film ever made in Indian cinema. And I feel lucky to be a part of it."
Following on from the success of Heropanti, Kriti Sanon's second release in her career is Dilwale:
"The wait after Heropanti for the right script was worth it when Dilwale came along," says Kriti.
"I feel blessed to have gotten such a big opportunity so soon in my career. Now I can't wait for Dilwale to release."
Previously the sneak peak released on YouTube had revealed the climax of the film, which was the wedding scene between Varun Dhawan and Kriti Sanon.
This only multiplied fan buzz and got audiences more excited for the trailer. Now that the trailer is out, anticipation is only increasing for the video songs to get a better glimpse of the story and, of course, the blockbuster itself.
Watch the incredible action-packed trailer for Dilwale here: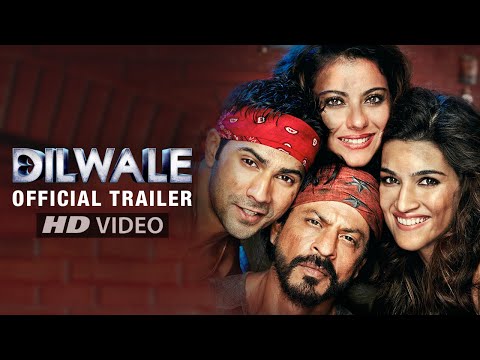 Rohit Shetty says: "The great response that we got from our association after Chennai Express, Mr. Khan and me wanted to gift our audience something special.
"Dilwale is not just another film for me and my team but a soulful journey that's being helmed by courageous hearts to create magic onscreen."
Dilwale is a family entertainer with a culmination of action, romance and comedy, as well as a star cast worth seeing together. The film will release from December 18, 2015.