"Strangely, and surprisingly, I was the first one to be cast in Dilwale"
Rohit Shetty and Shahrukh Khan reunite with another action, comedy, romance blockbuster, Dilwale, that promises to blow our socks off.
SRK and Kajol fans are in for a treat as the Dilwale Dulhania Le Jayenge jodi return to the screen.
This time around they are joined by the hot young Bollywood stars of today, Varun Dhawan and Kriti Sanon, who chat exclusively to DESIblitz about why Dilwale is a must-watch film and what it's like working alongside SRK and Kajol.
Watch the exclusive Gupshup with Varun and Kriti here: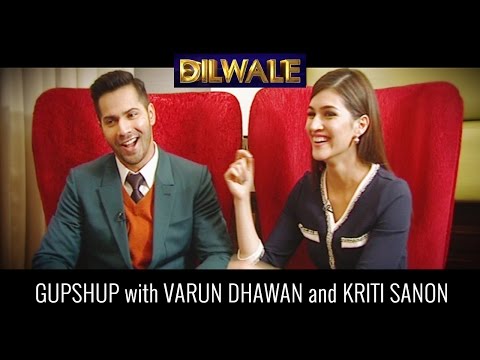 Dilwale follows the story of two rival families, Dev Malik's family (played by Kabir Bedi) who has two daughters, Meera (played by Kajol) and Ishita (played by Kriti Sanon).
Randhir Bakshi's family (played by Vinod Khanna), who has two sons Raj (played by Shahrukh Khan) and Veer (played by Varun Dhawan).
After fighting amongst themselves, Dev and Randhir now depend on their kids to carry on the family rivalry.
However, after Veer meets Ishita, the two quickly fall in love and become desperate to get married.
But there's a hitch. The rival families will never agree to the relationship and Veer's elder brother Raj is hiding a dark secret.
He was once a gangster in Bulgaria who went by the name Kali, and it turns out he has had a romantic history with Meera.
Stuck in a tough situation, the two young lovers have no choice but to try and bring Meera and Raj back together once again.
Hence they can take their relationship forward too.
Will Veer and Ishita be able to bring Meera and Raj together, or will Raj's past ruin the two young lovers' dreams of marriage?
Varun and Kriti are immensely excited about this rare chance to share the big screen with such an iconic Jodi like SRK and Kajol.
"Strangely, and surprisingly, I was the first one to be cast in Dilwale. I was called to Rohit Shetty's office, who gave me the script," he tells DESIblitz.
"[The film] has one sentiment that really clicked for me and that's the brotherhood, I have an older brother as well. I think when you are close to a sibling, you are able to identify with."
Kriti tells DESIblitz: "I like that [Rohit] has his own world of films, and this [film, Dilwale] had a little more than what he usually does.
"It was really entertaining as an audience to listen to the narration. The way it made you emotional, and suddenly laugh, the whole balance of it was quite interesting."
The pair enjoyed a very close relationship with the director, who they admit treated them like kids on set.
Of course, the film also welcomes back Kajol after a long break from the industry. However, the notion of a Rohit Shetty film is an unusual one for Kajol, and many have questioned her genre choice.
But Kajol admits that her daughter Nysa played the catalyst in her making the decision to do the film, because she wanted to watch a film where her mum is not sad or crying.
Kajol says: "She was like, 'Mom I want you to do a film where you're not crying. I'm tired of you doing films where I go to see your film, you just start crying.
"Do some film which is filled with fun and laughter, which I can watch without any stress'. And so I said, 'Okay, fine I'll do it'. So really that's how I got convinced."
With the stellar cast being the USP of the movie, another factor that stands out in the movie, is the great music. Composed by Pritam, the seven track album is definitely one that will take you through an emotional rollercoaster.
The beautifully emotional 'Gerua', gives us memories of 'Suraj Hua Madham', complemented with Arijit's melodious voice.
'Manma Emotion Jaage Re' is your quintessential party track, having a nice hip hop beat to it. The song is mixed in well with fun Desi chorus.
'Janam Janam' is the elaborate love song, combined with a grand orchestra of violins and mandolins. The grand song is definitely one of the best, 'Tukur Tukur' with a Goan like instrumental, will get you up on your feet ready to dance.
Kriti tells us: "For me, I enjoy dancing, and I just do it because I enjoy it. The technical part of it, getting all the steps right and all of that, is something which I need to work on when I'm actually doing a song."
Hoping to connect with audiences on a light hearted note, Dilwale will definitely be tough competition to beat at the Box Office, considering all its perks.
In a clash of two cultures, the film up against another big blockbuster, Bajirao Mastani. Two major film release round of 2015, and trade analysts are worried that the clash might affect the ticket sales of both films.
Shahrukh however admits: "The other film [Bajirao Mastani] is also made by friends. Our genre is more family and happy-go-lucky kind.
"Their genre is niche and historical. For both films, audience will come in at different time and watch it. Both are really nice movies."
So will you be going Dilwale for this big Rohit Shetty style family entertainer? Dilwale released from December 18, 2015.