"I love doing my own stunts. It gives me an adrenaline rush."
After a long wait, Shilpa Shetty's first film as a producer is ready to take off. Dishkiyaoon is an epic action film starring Sunny Deol and Harman Baweja in the main lead.
Harman Baweja will be back on our screens in the film Dishkiyaoon, after last appearing in Love Story 2050 (2008). Harman will be seen with Sunny Deol who will be playing a happy trigger gangster, showcasing his tricks whilst he ventures in the action packed movie.
Whether a man is young or old it doesn't matter, but what matters is that he should have a big story to tell. Dishkyaoon is about a gangster who goes by the name of Vicky Kartoos played by Harman Baweja.
Vicky is no ordinary gangster, he is a graduate and believes things don't work with guns but work with brains. He has the ambition to rank top in the underworld in Mumbai and kill no one whilst battling for survival.
Director, Sanamjit Singh Talwar along with producers, Shilpa Shetty and Sunil Lulla have got an action packed team. Besides, Sunny Deol and Harman Baweja, the cast includes Aditya Pancholi, Prashant Narayanan, Rajit Kapoor, Anand Tiwari and debutant Ayesha Khanna.
Producer, Shilpa Shetty will also be appearing in the item song 'Tu Mere Type Ka Nahin' for the film.
Palash Muchhal the youngest music composer of Bollywood at just eighteen has composed the music for the film. Muchhal has composed four songs for the film, including the item song, as well as 'Tu Hi Hai Aashiqui,' 'Nachle Tu' and 'Nissar.'
Director Sanamjit Singh Talwar hosted the music launch on 19 February, 2014. Harman and Shilpa attended the launch in style as they arrived on a motorbike together. Shilpa Shetty was seen 'doing her thing' to the item song from the film. Ayesha Khanna was formally introduced for the first time to the media and the crowd present at the launch.
On the way to the music launch Shilpa tweeted: "On my way to the launch and introduce the music and cast of #Dishikiyaoon..too excited to play yet another role (of Producer)..yippee:)."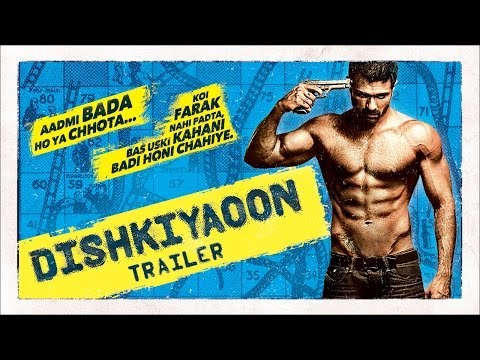 With the help of action director PK, Harman has carried out his own stunts and action sequences for the film.
Talking of this Harman said: "I love doing my own stunts. It gives me an adrenaline rush. Barring obviously jumping from a five-story building, I did everything myself…. when I have to jump over a moving car or scaling a twelve feet wall, I do it myself."
Impressed by Harman's performance as a gangster, producer Shilpa Shetty said:
"For me Dishkiyaaoon is Harman's first film, really. After this film, you are surely going to like him."
She also added that Harman has not yet fulfilled his potential in the industry. He is someone who has more to offer than meets the eye.
For Harman it is a chance to reinvent himself and take advantage of his new look and ravishing body. This is a golden opportunity for him to revitalise his career. Describing this as a very special film, Harman said:
"I was away from Bollywood and had taken a backseat as I wanted to do something different from what I have not done in the past. This film means a lot to me."
Dishkiyaoon was originally slated to be released on 10th January 2014, but now releases as of 28th March 2014. If you are ready for some action and are fans of Sunny and Harman, then this movie is one not to be missed.