"Wimbledon is the most recognisable tennis tournament in the world. And the colours are nice."
Besides Strawberries and Cream, Henman Hill and traditional white clothing, the famous Wimbledon towels are among the top attractions at SW19.
Used by the players during tennis matches, the towels are later made available to the fans.
Interestingly, the famous towels are connected with India as they are made in the country.
Having the towel always by their side, star players at Wimbledon are incomplete without this symbolic, superstitious and ritualistic accessory.
The towels also play an important part during the highs and lows of a gruelling match.
The Welspun Group based in Mumbai have produced the towels, supplying them in bulk to the All England Club.
Designed twelve months in advance by Welspun's UK Studio, the towels come in the traditional green or bright pink colours. The Championships logo, along with historical and current years have been engrained in a butter milk colour on the towels.
Speaking about the tournament and colours in 2013, Novak Djokovic said: "Wimbledon is the most recognisable tennis tournament in the world. And the colours are nice."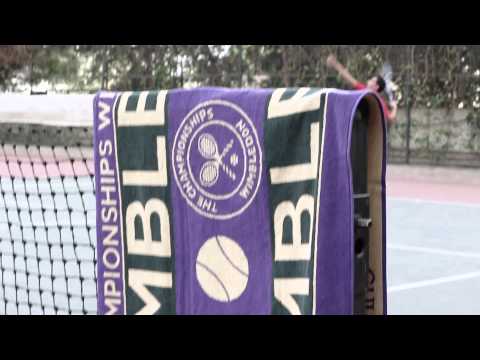 Measuring at 70 x 133 cm, the 100 per cent cotton towels weigh 500 grams. Like every year, the new collection was launched a year earlier during the autumn/winter season.  
In conversation with the media, Managing Director of the Welspun Group, Dipali Goenka said:
"It is an emotional feel and a kind of matter of pride. When the players use the towel and then throw it in, it's something which I think gives us that kind of high as a company as well."
Starting in the new millennium, Welspun acquired the iconic British towels manufacturer Christy in 2006. Post purchase the long-established traditional towels have been kept alive by workers at the factory in Vapi, Gujarat.
As the second most popular memorabilia item, approximately 50,000 towelling products are sold at Wimbledon.
Highlighting the link between the players, the towel and the fans, Goenka said:
"When you see Andy Murray or when you see kind of Roger Federer or Serena Williams using that towel, the sports fans go crazy."
Marketed at a reasonable price (£29), the towels have also been on sale in India as well as across the world through sites such as Amazon, Snapdeal, Sports 365, Spaces Home and Beyond.
The towels can be bought at Wimbledon during the tournament and from the museum shop on site throughout the year.
Anyone can also log online and order their towel from the Wimbledon shop here.
So the next time Desi fans see their favourite tennis player with a Wimbledon towel, don't forget its 'Made in India.'