"Appreciate his ability to absorb a character to the extent that he starts living it."
The movie stars Jackky Bhagnani, Neha Sharma, and Kayoze Irani in prominent roles. The movie is produced by MSM Motion Pictures and Pooja Entertainment and Films Ltd.
It follows the life of Abhimanyu played by Jackky Bhagnani (F.A.L.T.U 2011), who finds himself in the political spotlight after the sudden death of his father. His Father is the Prime Minister of India (played by Boman Irani).
Abhimanyu is a young Games developer who is in love with Anwita Chauhan (played by Neha Sharma). He gets into Politics to keep his word to his father.
The movie revolves around Abhimanyu as he tries to balance his personal love relationship and political resistance against him.
Abhimanyu's hard work would however work for him and he creates a legacy with this work.
The movie is directed by Syed Ahmad Afzal. His work and the upcoming film has already attained lot of appreciation and anticipation.
The film also stars the late veteran actor Farooque Shaikh, who passed away in late 2013. Youngistaan is said to be the actor's last film. Just for that alone, the film is not be missed.
Talking about the well-respected late actor Farooque Sheikh, Jackkie said: "For Farooque sir's character, he was our first choice because looking at him you realise, he is the most clean person. He's so experienced, but he would hardly talk about himself."
The soundtrack is made up of four songs, composed by Jeet Ganguly (Aashqui 2), Shiraz Uppal, Sneha Khanwalkar (Gangs of Wasseypur), Shree D and Ishq Bector (Besharam). Lyrics have been written by Ahmad Afzal, Shakeel Sohail, Kausar Munir and Jackky Bhagnani.
Suno Na Sangemarmar has been very popular with the audience. Prominent Pakistani singer-composer Shiraz Uppal's qawaali "Daata Ki Diwani" is well liked for the lyrics and depth of the song. Rafaqat Ali Khan is also part of the song.
The title track, Youngistaan is a trendy number that leans heavily towards a political revolution Suno Na Sangemarmar, Mere Khuda and Daata Ki Duwani are very likeable.
Sneha Khanwalkar brings 'Tanki' for the young audience. It is a youthful and fresh approach. If you are a Mika fan then you would have already listed this as a favourite in your iTunes list. Hard Kaur has rapped for the Bhaven's version.
We also get to see Shahrukh Khan in a cameo role. Normally, politicians hesitate to support any movie with a political background. However, no objections have been raised till now and the movie has gained support from leaders across many parties.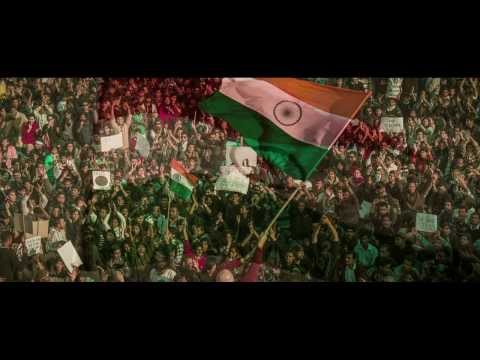 Jackky Bhagnani says that he is really humbled by the support and praise by political leaders. He says: "This film doesn't say anything like, desh ki halat kharab hai. Through this film, we are trying to say, you have to be the change that you want to see."
Bhagnani hopes that after seeing the film: "people start thinking the politicians can be young and honest."
On being queried if he is copying real life politician Rahul Gandhi he said:
"I am interested in politics and I have always kept a tab on it. You might find the similarity in the looks, but I am not portraying Rahul Gandhi."
Syed Ahmad Afzal added to the oodles of praise already given to Jackky that "Appreciate his ability to absorb a character to the extent that he starts living it. I have observed how he has internalised Abhimanyu."
If the praise was not enough, Neha has also added that "He's disciplined, punctual and hard-working."
The film has been promoted on blogging sites, where general public were invited to choose their ideal ministers. The results had interesting choices from Sachin Tendulkar and Ratan Tata for the most nominated Sports and Development Minsters. Sunny Deol and Mallika Sherawat were chosen as the Steel and Textiles ministers.
This movie promises what younger generation in India want to see in Politics; an explosion of new ideas and honesty. Diarise it and see a different genre of Indian cinema. Enjoy.