"It's a huge responsibility to be an actor as you become a public figure."
Atul Agnihotri's next comedy adventure, O Teri releases on 28 March, 2014. The film features Pulkit Samrat and newcomer Bilal Amrohi with a special appearance from Atul's brother-in-law Salman Khan. Salman's alleged Romanian girlfriend, Lulia Vantur also has a cameo role in the film.
Pulkit Samrat who has starred in a few semi hit films like Fukrey (2013) and Jai Ho (2014) will be seen alongside debutant Bilal Amrohi. Bilal is the grandson of legendary writer and director Kamal Amrohi (late) who produced the evergreen film Pakeezah (1972).
Bilal Amrohi who found it very daunting to be in front of the camera, attended many workshops to calm his nerves. Talking about becoming an actor and being part of the fraternity, Bilal said:
"I always wanted to be an actor. It's a huge responsibility to be an actor as you become a public figure. That's why I took a little long to come here (in the film industry) and prepared myself before I joined the industry."
Bilal also mentioned that he is very close to Salman Khan and his family. He has learnt the importance of being honest from the Khan clan.
Besides playing a little role in the film, Superstar Salman has given huge support to the film. Taking advice from Salman when accepting films, Pulkit said:
"I got the narration from the director. I consult Salman before signing films, so I met him and told him about the script and he found it interesting. Then I called Atul and his wife Alvira and it started from there."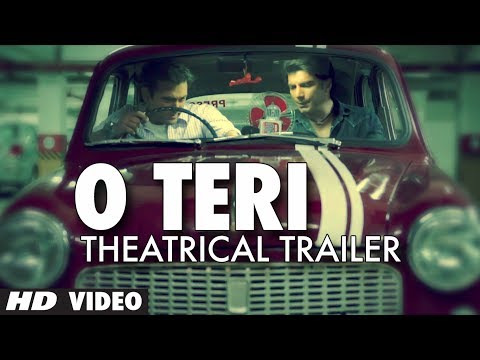 With a busy schedule, Salman found some time to shoot the title track for 'O Teri' along with the two lead actors.  This is a hip-hop song, which was shot at the famous Mehboob Studio in Mumbai, India.
Atul Agnihotri appreciated Salman taking time out to shoot the title track as he mentioned: "Bhai (Salman) has been very busy and finally we managed to take some time from him."
Actress Lulia Vantur has done an item song for the film called, 'Ummbakkum.' In the video, she will be seen spinning in time, honouring Bollywood fashion and showing off her dance moves with Pulkit and Bilal. The vocals of the track are by Indian singers, Mika Singh and Jaspreet Jasz.
Having never dismissed rumours of his relationship with Lulia, Salman recently revealed that he is tired of being single:
"Now I'm in transit period and I like it. From the age of 15, I did not get a transit period. For the first time, I have such a chance to sigh. I am sighing more since it has been two-and-a-half years. It's time to stop sighing because something soon will happen in my life."
"I follow humanity. I follow Islam, Christianity, and follow right thing as much I can. I have been kind of blessed. Father is Pathan, mother is Hindu, second mother is Catholic, and brother-in-law is Punjabi. Wife, I am thinking to bring from outside," he added.
O Teri is directed by Umesh Bist and will feature Salman Khan as a narrator. Reflecting a Dostana relationship, the charismatic Pulkit and newcomer Bilal, are the lead pair in the film. Sharing screen space with them will be former Miss India, Sara Jane Dias and the attractive Mandira Bedi.
Pulkit and Bilal play two funny journalists who expose politicians in the wake of a huge scam in the political system. But they both get embroiled in the game of life and death.
O Teri has some similarities with the classic Jaane Bhi Do Yaaro (1983), starring Naseeruddin Shah and Ravi Baswani. The song 'Butt Patlo' has been an instant hit with its catchy lyrics. The rest of the soundtrack is pretty average.
O Teri is one of many films releasing on 28 March, 2014. Will this movie make the audiences laugh or will it just be another typical comedy film? Lets wait and watch!