"The sexier part was easier to play but my favourite character was the scary one"
When Sunny Leone came out of the Big Boss house supported by her big ticket to Bollywood with Mahesh Bhatt's Jism 2, she didn't really know what Bollywood would bring her way. But after the incredible success of Ragini MMS 2, this former-adult actress is now winning over audiences and producers day by day. Her time in Bollywood has arrived.
The 'Horrex' genre of movie featuring horror and sex has suited this newcomer to Bollywood really well  and Ragini MMS 2 box-office takings definitely show the worth of this new star in the making. It is highly anticipated that the movie will achieve and if not surpass Rs 50 crore mark.
Sunny Leone was at a recent 'success' gathering to celebrate the success of the Ragini MMS 2 and said: "The sexier part was easier to play but my favourite character was the scary one — that was possessed in the movie. The climax was my favourite part of the film."
Born on May 13th 1981,  as Karenjit Kaur Vohra but known by her stage name Sunny Leone, this Indo-Canadian actress is working very hard to make her mark in Bollywood.  In her previous guise as a adult star she worked with the adult company Vivid Entertainment. She was named by Maxim magazine as one of the 12 top porn stars in 2010.
When quizzed about her adult actress past, Sunny says: "No one pushed me into this. A local agent back home approached me and as a teenager, it all looked so cool. Having enough money to spend without asking your parents is a dream come true for any teen. I did have fun and honestly, I have no regrets about it."
But all this is now history with her destined move into Indian cinema, which allows her to bring her experienced and sexually appealing persona to the big silver screen.
Talking about the hot and sexy scenes in Ragini MMS 2, Sunny responded: 
"We have to stay professional, it is our work, we have to do what is in the script and that is what we are doing."
The song from the film called 'Baby Doll' which has gone viral on the Internet with over 20 million views on YouTube has added to the success of the movie. Sunny is over the moon with the success of the song.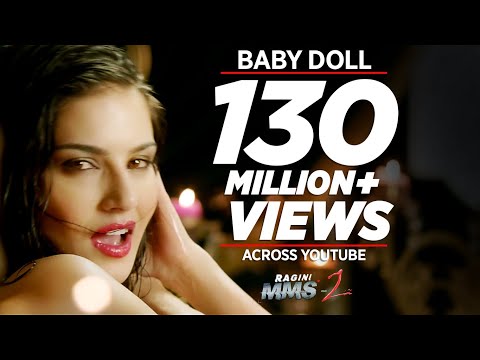 The music producers of the song are known as the Meet Bros, namely, Manmeet Singh and Harmeet Singh.
Manmeet actually appeared as the lead in Ekta Kapoor's film Itihaas in 2000 and Harmeet, acted in TV shows Kkusum and Kahaani Ghar Ghar Ki. 
However, years later they were the music producers for Kapoor's Kyaa Super Kool Hain Hum (2012). Then came the opportunity to do 'Baby Doll' which has given them unequivocal success.
Harmeet says: "It is one of those songs where everything fell into place." He describes it as 'a blend of London and Punjab,' designed to suit Leone's image and adds: "It is not just the ultra-modern sound, but also the rustic appeal that sets it apart from other party numbers."
There is non-stop ongoing promotion of the film on YouTube with sexy clips being released and even a 'Kiss and Tell' series which features the male actor Karan Mehra talking about how Sunny Leone made him feel completely comfortable with the nude scenes, telling him that him as actors they ought to do what the script demanded.
So, it looks like that gossip and news around Ragini MMS 2 will continue for some time.
With a hit in her hands, Sunny is now gearing up for her next Bollywood film called Tina And Lolo, which has her revealing her sexy side in a very bold fashion.
Tina and Lolo will feature Sunny is an action role with complimenting hot sexy scenes.
Talking about her new role, Sunny said: "The story demanded some sensual scenes. Shock value will always be there when you are dealing with bold scenes, but everything has been shot so aesthetically that it will be appreciated."
The film is produced by Maximus Multimedia and Alumbra Entertainment, directed by Devang Dholakia and also stars Karishma Tanna in a key role.
Sunny has expressed her desire to work with some major names in Bollywood including Shahrukh Khan whose comic timing she adores and no other than, the other Khan, Salman Khan.
After the success of Ragini MMS 2, many producers and film-makers have definitely stepped up the interest in this non-traditional and non home-grown starlet. She is a business woman as much as an actress with dreams and she knows her demand will grow providing she can deliver what the audiences want from Sunny Leone.