their first gig was at Surj's 18th birthday party
DESIblitz dazzles its SpotLight on RDB, the famous music trio originally from Bradford, UK. RDB which stands for Rhythm, Dhol and Bass, are namely, Kuly Singh, Manjeet Singh and Surjeet Singh or Kuly, Manj, and Surj as they are known. They are three Punjabi brothers who have established themselves worldwide, by creating a fusion of desi and urban music, using their immense talents.
They started learning music from their father at a young age. They see their father as their original 'ustad' (teacher), and at that time, Kuly started on tabla, Manj on harmonium and Surj on accompanied percussion.
Through their early years of learning, they progressed onto making music using the first computer they bought. When most DJ's start out with turntables and CD players, their focus was on using the computer to aid them with their music making.
RDB first performed as DJ's, and their first gig was at Surj's 18th birthday party. They realised they loved to perform and liked to make people dance. Friends and family invited them to play at parties, which helped them develop their craft. RDB formed formally in the year 2000.
The group are well known for their practical and energetic approach to doing everything themselves. Including, creating and producing the music, video production, road show events, designing and printing flyers, and managing their own web presence through video blogging on their official website. Musically, they are self taught and learned how to play most the instruments themselves. Some of their tracks have had lyrics penned by their dad too!
Their first album, called RDB, was released in 2001, on their own record label called 'Untouchable Records.' This album was the start of their musical journey which has not stopped. They then went onto produce a single, called Sounds of the North which was symbolic of their northern origin in the UK. The single attracted a lot of airplay on radio and Asian TV. Since then they have had over 12 major releases with many number one hits.
As part of their urban fusion, they are seen as a pioneering DJ group to bring UK Garage influences to the sound of Bhangra. Songs such as Putt Sardaran Dhe, Sah Rukh Dha, Dil Karda , Aaj Meh Peeni and Aaja Mahi are example hit tracks. Songs like these were produced in collaboration with Brit-Asian artists such as Mc Metz and Mc Trix.
RDB have worked and performed with many top artists from all different genres, including, Tim Westwood, Mc Romeo, So Solid Crew, Shola Ama, The Dream Team and Misteeq. But their biggest breakthrough has been in Bollywood, where they teamed up with Bollywood star, Akshay Kumar.
Their first song for Bollywood was Rafta Rafta sung by Himesh Reshammiya for the movie, 'Namaste London' in 2006, starring Akshay Kumar and Katrina Kaif.
Subsequently, they produced the hit song for Akshay Kumar's 'Singh is Kiing' featuring the Hip-Hop star, Snoop Dogg, and then, the catchy, 'Aloo Chaat' for the movie starring Aftab Shivdasani and Aamna Shariff, featuring Nindy Kaur (wife of Manj), a new addition to the RDB camp. 'Kambaqt Ishq,' is another RDB audio gem for the film starring Akshay Kumar and Kareena Kapoor.  All these are seeds of many Bollywood projects on the way.
RDB are one of the biggest groups to come out of the UK. They have sold over 100,000 copies of their albums and have a huge fan-base worldwide. They have produced remixes featuring mainstream artists like at Joe, Kanye West and Flo Rida.
DESIblitz caught up with the guys in midst of their busy schedule in an exclusive video interview and asked them more about RDB.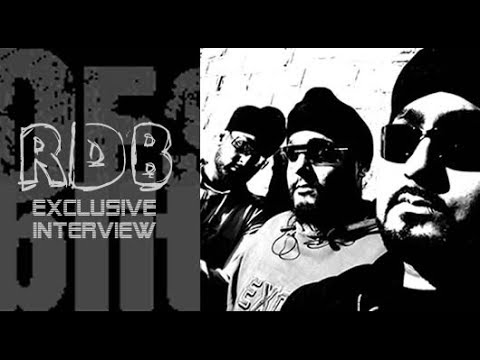 RDB have performed and continue to perform both as DJ sets and performers in concerts all over the world. Either as a trio or individually with their own specific crews in big cities in countries such as the USA, Canada, UK, Dubai, Australia, Singapore, India and Pakistan, to name a few.
This multi-talented team of brothers are embarking on new business ideas, including a clothes label which they feel is a natural part of their progression. However, without doubt their first love will be to create, make and perform music for the masses world-wide, be it in Bollywood, Hollywood or an open air gig at a mela in the UK!
Below are some photos of RDB in their numerous poses! Click on the [o] button for the 'Full Screen' view to get a bigger experience of the pictures. You can navigate through the pictures left and right too.
We at DESIblitz.com wish RDB all the very best with all their ventures and hope they continue to give us more hits like they have. Well done guys!