On Sunday, March 8th, 2009, Bollywood actors Aftab Shivdasani and Aamna Shariff made a special appearance at the Hyde Lounge in Toronto, to promote their new Bollywood film "Aloo Chaat."
Aloo Chaat has been chosen as the closing ceremonies film for the 2009 ReelWorld Film Festival in Toronto on April 19, 2009.
They arrived at a room full of cheering fans and spent the evening mingling, shaking hands and posing for photos.  A few excited fans were lucky enough to receive a hug from Aftab.
Aamna looked stunning in a long brown and gold dress and Aftab looked handsome in a black suit.
Halfway through the evening, Aftab briefly took over the DJ booth to talk about "Aloo Chaat" to the crowd and to play a few of his favourite songs from the film.
Directed by Robby Grewal, Aloo Chaat is a comedy about a Punjabi family in Delhi, who encounter the challenges to marry their son who returns from the USA.
Nikhil, the son, played by Aftab Shivdasani, however, falls in love with a girl while studying in America, Aamina, a muslim girl, played by Aamna Shariff.
So, whilst he is in India, the parents try to find him prospective Punjabi brides and Nikhil is under much pressure from his temperamental father Purshottam, played by Kulbhushan Kharbanda.
But Nikhil approaches his father's best friend a sexologist, played by Manoj Pahwa, to help him bring his girlfriend into the family.
Aloo Chaat takes you on this comical journey of Nikhil and how he tries to conquer orthodox Delhi parents to accept his romance in the bigger wide world.
Here is the exclusive interview by Heather Manning in Toronto with Aftab and Aamna talking about the film and their experiences.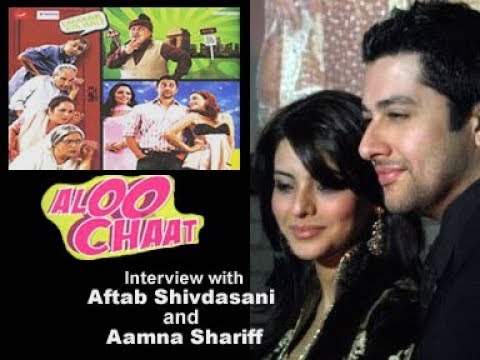 The music for the film features two songs on the soundtrack by RDB – The title track, Aloo Chaat, by RDB Nindy Kaur and Smooth, and Boliyaan by RDB and Nindy Kaur. RDB are the Bradford based UK Bhangra trio, who previously worked with Akshay Kumar in Singh is Kinng. They sing a club orientated Aloo Chaat title song mixed in their style, which is very much liked by Aamna and Aftab. The other favourite song of the acting duo from the movie is the romantic song  by Xulfi (The Band Call) called Dhahdke Jiya.
Aftab and Aamna are expected to be back in Toronto again on April 19th 2009, for the screening of their film at the ReelWord Film Festival.
Here is a trailer of the Aloo Chaat comedy movie with some very funny one-liners!