"Shagun only in the form of movie tickets on wedding (film release) day."
There are some conventional and familiar ways to promote a film and then there is the Karan Johar way to promote a film.
With the upcoming release of 2 States on April 18, Karan Johar's team decided to think a little out of the box in the run up to the trailer launch of the film.
In an unusual turn, writer of the film, Chetan Bhagat posted a virtual engagement card online inviting fans to attend the engagement ceremony of Alia Bhatt and Arjun Kapoor.
The ceremony, aka the trailer launch took place on February 28 at midday at PVR cinema in Juhu, being the first look of the movie.
Adding a witty message to the invite, Chetan wrote: "Hi guys. There's an engagement in the family day after, Feb 28, 12 noon. Short notice, but hope you guys can make it."
Alia continued the joke, and enjoyed teasing her followers by tweeting: "I'm getting engageddddddd !!!"
The hoax engagement has certainly tickled fans and peers alike as Twitter has been awash with news of Alia's engagement to Arjun since it went viral. Twitter went crazy as Alia tweeted out the invite, and caused a significant buzz in the Bollywood world.
The card itself read: "Please come and bless the couple on: Feb 28, Mahurat: 12 noon, Venue: YouTube, Twitter, Facebook or generally all over the web.
"No gifts or flowers please. Shagun only in the form of movie tickets on wedding (film release) day."
Alia who has already is already rumoured to be romantically linked to actor, Arjun Kapoor, decided to turn the tables with great success.
Fans of the alleged couple will be able to see the two get cosy on screen when the film releases in April, and their chemistry is undeniable.
Essentially a romance, 2 States follows the difficulties of two young people from separate states who fall in love but their parents do not agree. As the two families try to understand each other's differing cultures, they find more differences than similarities.
The film which is produced by Karan Johar and Sajid Nadiadwala and directed by Abhishek Varman, is based on a novel by Chetan who is a popular fiction writer in India.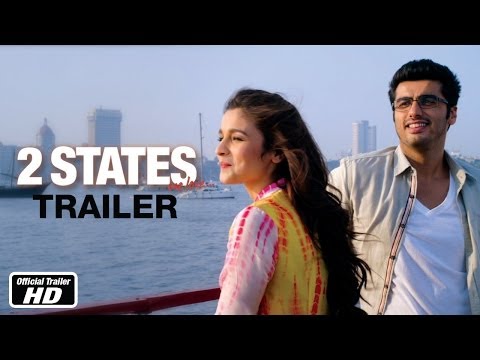 Bollywood has been becoming more and more innovative when it comes to film promos and are increasingly using publicity stunts to attract larger audiences to their films. Posting a hoax engagement is certainly one way to attract attention and we can certainly learn a few tricks from Chetan and Karan.
But they aren't the only ones thinking outside the box. Who can forget Shahrukh Khan's surprise 'Lungi Dance' by Yo Yo Honey Singh in honour of Rajinikanth just before Chennai Express (2013) came out?
Salman Khan notably promoted his film Jai Ho (2014) by emulating his character Jai in real life and meeting with the likes of Narendra Modi, an Indian politician.
Vidya Balan also had her share of fun in the publicity antics when she promoted her film Kahaani (2013) with a pregnant belly.
But while Industry experts are blurring the Bollywood world and the real world with their magic realism, art breathes life way of thinking, fans may be disappointed that the 'engagement' between Alia and Arjun isn't actually true. That said however, the pair are suspected to be extremely close, with Alia admitting:
"For me he (Arjun) has a very special place in my life…we were shooting for Highway and 2 States around same time. He became a good friend of mine. He is a funny person and has a good sense of humour."
Could this Bollywood romance one day come true? Who knows. For now fans can enjoy seeing Alia and Arjun together in cinemas in 2 States from April 18.