"I did not have to prepare much for this film because we know so much about marriage."
Directed by Saket Chaudhary and in joint production with Balaji Motion Pictures and Pritish Nandy, comes the film Shaadi Ke Side Effects.
The film follows Farhan Akhtar and Vidya Balan, a couple who are going through a typical phase in life where daily routine takes over their marriage, depicting many common issues in a married relationship.
Farhan's character Sid craves to live life as a single man after getting hitched.
He feels no matter what he does, he fails to get approval and recognition from his wife Trisha (Vidya Balan). Speaking about the premise of the film, Farhan says:
"I wouldn't say it has a serious message. But it has a heart. It's a heart-warming experience. It's about how the Indian husband yearns to have the life of a single man even after marriage."
Some men will call it the 'poor husband dilemma', while women may call it 'male commitment issue', but will they succeed in living peacefully with gratitude and love is yet to be seen.
This rom-com also sees Hariharan playing Farhan Akhtar's dad. Providing the necessary foundation to complete the movie for the audience, Ram Kapoor, Gautami Kapoor, Rati Agnihotri, Ila Arun and Purab Kohli also appear in the movie.
On being asked if this is a sequel to Pyaar Ke Side Effects (2006), starring Rahul Bose and Malika Sherawat as Sid and Trisha, Farhan said: "The characters of Sid and Trisha aren't the same ones we saw in Pyaar Ke Side Effects. Only their names are similar."
Vidya Balan added: "I have played a married woman in many films. I don't know whether I brought in my personal experiences into the film as it did not require that.
"Most love relationships are quite similar in many ways. Situations may differ but men and women tend to react in similar ways, my character in this film is a regular working woman."
She adds: "It is very relatable because you have people around you who are like that. I did not have to prepare much for this film because we know so much about marriage and relationship[s] from everyone around you. This was a familiar territory."
During the filming Farhan Akhtar and Vidya Balan reportedly formed a healthy friendship, and Farhan is in full of admiration for Vidya's infectious laughter and she of his subtle humour. Farhan explained:
"She's a tremendous actress. So natural, grounded and so uncomplicated. It was a pleasure to be around her. It was a true joy to work with her. We had optimum time together since most of the screen time is shared between us. I'd say we've developed a friendship during the course of the shooting."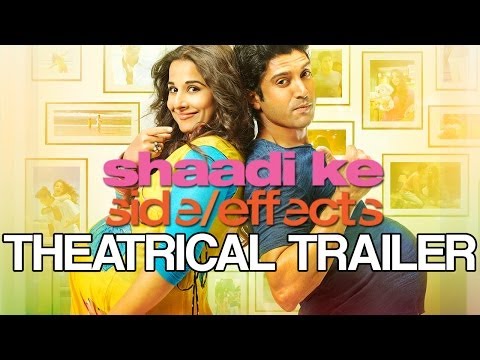 After Bhaag Milkha Bhaag (2013), there is lot of expectation from Farhan's new movie. He stated he enjoys playing different characters as long as he finds them worth playing: "I feel it would be very boring for an actor to be associated with just one kind of movie," he admitted.
Farhan has kept true to this, since appearing in the comedy, Zindagi Na Milegi Dobara (2011), he has proved that his acting capability has no bounds, and has played many different characters in the past few years.
But it is certainly clear that the huge success of Bhaag Milka Bhaag has had a positive impact on the hype around Shaadi Ke Side Effects. As director Saket Chaudhary says:
"From the time when we started working on the film to now when we are ready for the release, Farhan has become a huge phenomenon. Yes, he has played light hearted roles before too but this one is a straight-on rom-com. People will now see him in a different avatar."
'Ahista Ahista', one of the songs from the film is sung by Farhan and will have you reminiscing his performance of 'Yahaan Vahaan'.
The film will also feature music by Pritam Chakraborty and lyrics by Amitabh Bhattacharya. Mikey McCleary is also seen as a guest composer for 'Ahista Ahista'.
'Tauba Main Vyan Kark Pachataya' is definitely a sequel to the much loved 'Pyaar Kar Ke Phachtaya' from Pyaar Ke Side Effects in 2006.
A fusion song and probably the most popular number of the album is 'Desi Romance', it is definitely one to keep your ears open for whilst watching the film.
The trailer for the film has generated a lot of interest, and Pyaar Ke Side Effects fans are already looking forward to this film.
This well anticipated film is getting everyone excited, Karan Johar tweeted: "Shaadi Ke Side Effects is supposed to be super fun and a fantastic insight to modern day marriage!!! Super hit enroute…."
Film critic Taran Adarsh has also given a thumbs up to the film, insisting: "Shaadi Ke Side Effects is more about rediscovering your partner, post marriage. Given the nature of the subject, there looms the risk of the film veering into a serious zone.
"But Saket makes sure he peppers the plot with humour and amusing episodes, so much so that you never stop smiling even when the on-screen couple have their share of problems or get into a spat over a trivial issues."
As strong actors, both Farhan and Vidya bring further creditability to the film, and this is most certain;y unmissable – after all humour is mankind's biggest blessing. Shaadi Ke Side Effects releases from February 28.