"It's a very honest album, and a statement of who I am. It's more like a return to my roots."
Arjun Coomaraswamy is the sensational British Asian artist who you will know better by his simple stage name, Arjun.
The singer-songwriter is behind the incredible remixes to 'Teri Meri', 'Tum Hi Ho', 'Chaiyya Chaiyya', and 'Why This Kolaveri Di'.
His performance alongside Guru Randhawa in 'Suit' helped the song pass 200 million views and make it one of the best collaborations of 2016. And with over 300 million YouTube views altogether, Arjun is one of the most popular Brit-Asian artists of recent times.
But in an exclusive DESIblitz gupshup, the producer talks honestly about the value and credibility of YouTube views.
Originally from Columbo, Sri Lanka, Arjun also discusses his ability to sing in different languages, as well as his exciting future plans, and his brilliant debut album, Closer To Home.
In a special interview with DESIblitz, Arjun chats about his music career, his favourite collaborations and more.
How Did You Get into Music?
"My mum forced me into learning instruments when I was younger. I used to complain a lot, but she made me play the recorder, the saxophone, the flute, the keyboard, and guitar.
"My family [mother and grandfather in particular] are all into music as well, so I've always been around it. But weirdly enough, not so much Asian music, but more so Jazz, Soul, and R&B sounds."
What Made You Want to be a Music Artist?
"My parents would have been more comfortable if I was a lawyer, or doctor I'm sure. [Being a singer] is quite a tricky career to have, but I've always been around music, in bands and groups.
"I was stage-shy at first, and then it was my friends who really pushed me to enter talent shows which really built up my confidence. But it was YouTube which really changed my life. Doing English mashups of Asian songs ['Why This Kolaveri Di' and 'Tum Hi Ho (You Got It Bad)'] is what really blew me up."
Do YouTube Views Give Credibility?
"Hot topic. There's a lot of inflated views and buying of fake views. We can't be sure as to what's real anymore, but you can always tell which songs are doing well when everyone wants to hear it.
"Sometimes, though, there are songs which mysteriously have hundreds of millions of views, yet I've never heard anywhere.
"You can get caught up chasing YouTube views, but for me, I want to focus on the content and making great music which is more important."
"[The current music industry] can promote originality, but it also celebrates mediocrity at times. I'm not a hater though, if it's doing well, then great."
Do You Enjoy Collaborations?
"I love it. Being a producer myself, I'm used to having people in my studio. I like having the energy of someone else's creativity there with you. A lot of the best songs in the world are collaborations.
"The more I've dabbled into Punjabi, South Indian, Bollywood, and R&B music, it's helped me learn about different cultures and different styles of music. And that's helped me improve myself as a singer and as a producer for sure."
Are You Confident Singing in Different Languages?
"I'm confident singing in English for sure, while I did Spanish GCSE's and French at A-Level so I can just about sing in those languages. Hindi isn't my native tongue, but I've been learning from a teacher in India through Skype.
"All my friends are Punjabi, so I'm constantly around Punjabi music, and many of my collaborations have been with Punjabi artists. Being Sri Lankan, I should know Tamil and Sinhalese, but I don't really speak them very well."
Can You Tell Us More About Your Debut Album?
"The album is a massive relief for me as I've been waiting to do it for so long. We've finally made it happen this year, and it's great that it's come out via a major label. It's a very honest album, and a statement of who I am. It's more like a return to my roots.
"I am lucky to belong to two worlds. I'm a product of both the East and West, and so, my music is too. We are all citizens of this world, and the differences in our cultures should be embraced and celebrated.
"Everyone has a right to express themselves musically in whatever language or style they wish. I grew up in London listening to R&B, while my friends and family kept me in touch with my Asian roots. That's why this album makes me feel Closer To Home."
What's Next for Arjun?
"I've known Zack [Knight] for a long time. He's a very talented guy, no doubt, and I'm open to working with anybody.
"Guru [Randhawa] and I are very good friends. We have a few other songs which are finished but haven't been released yet. So, I'm sure we'll have something coming up in the next few months."
"My next dream is to open a studio or label of my own at some point in the future. But while I'm still able to sing, that's what I'll be doing."
What Would Your Advice be to People Who Idolise You?
"Try to find something unique because it's very tough to find something that someone else is not doing already. If you can find your own niche, it's amazing, and you'll find a very loyal market.
"It will be a roller-coaster ride, so if you're someone who gives up easily or takes feedback negatively, then it's not the career for you. It requires patience, an ability to ride through the knock-backs, and faith in yourself."
Where Can People Find Out More About Arjun?
"Follow me on everything. I've just launched a new website too, so check that out. And my album, go get my album!"
You can find out more about Arjun by checking out his website through this link. Or you can also keep up to date with him via Facebook, Twitter, and Instagram.
Watch our full video interview with Arjun here: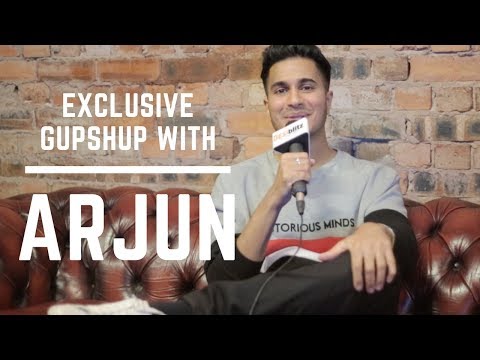 Closer To Home is also available now for you to listen to on iTunes, Amazon, Google Play, and Spotify.
Arjun was also a part of Humza Arshad's hilarious Nike parody, 'The Other Side of London' alongside loads of other British Asian stars. Follow the link if you'd like to watch the unmissable video or find out more about it.