"With all your support we are no1 on the UK iTunes chart keep on supporting God bless you all."
Popular Bhangra artist and music producer, Sukshinder Shinda has welcomed huge success with the release of his third album in the Collaborations trilogy, Collaborations 3.
One of the most talented and respected artists in the Punjabi music industry, Sukshinder's portfolio includes work with some of the biggest names on the music scene including Manmohan Waris, Balwinder Safri, and Rahat Fateh Ali Khan.
Watch our exclusive DESIblitz gupshup with the Punjabi music star Sukshinder Shinda here.
The Collaborations trilogy first envisioned by Sukshinder, brought artists from all over South Asia together in what was a genius experiment. In 2006 he teamed with Abrar-ul-Haq and Gurdas Maan, and this was followed three years later, with a second album in 2009.
Now the worldwide release of Collaborations 3, under the T-Series, MovieBox, and Music Waves labels, has enjoyed immediate commercial success. First released on December 4, 2014, the album went straight to the top spot of the UK iTunes Albums chart, in the World Music category.
Shinda immediately took to Twitter to inform his followers and thank his fans who made it all possible:
With all your support we are no1 on the UK iTunes chart keep on supporting God bless you all ???? pic.twitter.com/pD4raSCsjm

— Sukshinder Shinda (@SukshnderShinda) December 5, 2014
The highly anticipated Collaborations 3, sees Shinda once again team up with a diverse range of high-profile musical stars.
Long-time friend and mentee, Jazzy B, returns to collaborate once more with the man he affectionately refers to as "Shinda chacha" (Shinda uncle). The third track, 'Ni Jehra Tere Vich Bolda' is the latest project to feature both of these superstars.
Shinda previously collaborated with Jazzy B in his debut Collaborations album with 'Oh Na Kuri Labdi'. This was followed by 'Yaaria Banayi Rakhian Yaaria' on Collaborations 2.
Both of these songs enjoyed critical and commercial success. The Transatlantic duo also released their first dharmik religious album, Satguru Mera (2009).
The second track on his new album, 'Singh Naal Jodi', sees Shinda paired alongside the industry's current high flyer and mega-star, Diljit Dosanjh. The track is naturally upbeat and lively, as expected from both of these bhangra powerhouses and is guaranteed to get every dancefloor rocking!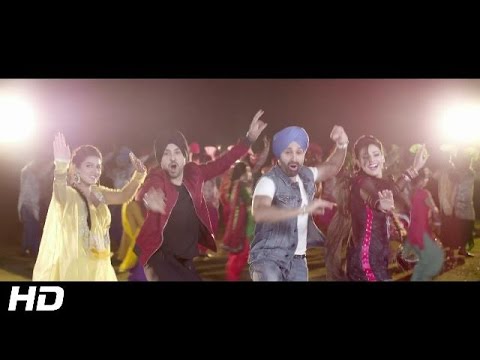 The video for this song shows the two strapping and stylish Singhs employing their charm on a pair of lucky girls, in a romance-themed plot.
Older fans of bhangra will be pleased to hear that the legendary Surinder Shinda, one of the elder statesmen of Punjabi music, sings two tracks entitled 'Shear' and 'Jeonde Rehan Truckan De'.
Other tracks in Collaborations 3 include 'Ithe Rakh', a love song performed with Abrar-ul-Haq. The Pakistani singer-songwriter featured on the first instalment of Collaborations, teaming up with Shinda and Gurdas Maan.
Another Pakistani singer who is returning to join forces with Shinda, is Sufi and folk singer, Shazia Manzoor. They had previously teamed up with 'Apni Bana Ley' in Collaborations 2. Collaborations 3 sees them unite again in 'Yaara Dildara', a slow love song.
The 2010 winner of TV singing game show Sa Re Ga Ma Pa, Kamal Khan, also features on this album. The Patiala-district native sings 'Akhiyan De Akhiyan Rubaroo', a slow and sombre track.
Shinda also worked with another Bollywood playback singer, Richa Sharma, in 'Aashiq Ban Baitha', and Don Revo in 'Ni Tu Lakhan Wichin Ik', to provide two more upbeat tracks with infectious beats that will render you helpless in resisting to dance.
In Collaborations 3, there is something for everyone, for fans of Bhangra young and old. It is a family friendly album, which means it is great to buy as a Christmas present or to listen to amongst family and relatives during the holiday period.
It is great to see some of the most high-profile artists of the Asian community teaming up on the same album, particularly with Sukshinder Shinda at the helm. The Bhangra music industry would certainly benefit from more of these sorts of projects.
With such high quality talent sharing their creative and musical gifts, it is no wonder that audiences have been captivated and are buying Collaborations 3 in their droves. Collaborations 3 is available for download on iTunes.