In 2003, Shinda embarked on becoming an artist himself
Sukshinder Shinda is a very successful Bhangra artist and music producer from the UK. He has produced and sang on many hit Bhangra tunes.
Born as Sukshinder Shinda Singh Bhullar, he grew up in Handsworth, Birmingham, UK. His Family migrated From Punjab, District Hoshiarpur, Village Dhamai. Music runs in his family. His father was a kaveshari singer (folk dhadi singer who usually sing without instruments) and his older brother was part of the late 70's-80's Bhangra band called Nimaana group.
He went to school in Handsworth and as a teenager, he started learning the tabla first. Kuldip Singh Matharu was his first teacher. Subsequently, he was introduced to Kuldip's brother, Ajit Singh Mathalashi, who became Shinda's Ustad. He learnt dhol and formed a Bhangra dancing team at school and also had lessons from the legendary dhol player, Lall Singh Bhatti.

From these mentors, Shinda became well-trained in many Punjabi classical music and Punjabi musical instruments such as harmonium, tabla, dholak, dhol, dhad and daffli. Instruments that he plays in his music productions today.
Shinda produced his first album in 1989, which was called Dhol Beat 1. This was an instrumental album in which he showcased his rhythm skills teaming up with the well known Punjabi lyricist, singer, alogzey and flute player, (the late) Dev Raj Jassal.
His transition from a dholak, tabla and dhol player to music producer started with his interest in studios and how things worked technically. He says of his studio experience,
"You have to know what's going on technically to be in this game. Because everything is computerised now. But before, everything was analogue and live, and if you didn't know how to play an instrument you couldn't do anything in a studio."
Sukshinder Shinda has achieved status as a music producer in the Bhangra industry having worked on over 200 albums and producing numerous hit songs since 1989. He worked as a musician and producer with many well known artists artists such as Balwinder Safri, Punjabi MC, Sakhi Group, Kuldip Manak, A.S. Kang, Apna Group, Sardool Sikander, Heera Group, Meshi Ishara, Manjit Pappu, Madan Maddi, Jaspinder Narula, Harbhajan Mann, Gurdas Maan, Amrinder Gill, and Abrar-ul-Haq.
Shinda is also known for having produced all of the albums of popular Bhangra artist, Jazzy B. In 1993, Shinda produced Jazzy's first album entitled Ghugian Da Jorra and helped launch Jazzy B's career, who at the time was an up-and-coming 18-year-old singer.
Producing soundtracks for many Punjabi films has also been a musical accomplishment for Shinda as a music director. He has produced the music for films such as Shaheed Udham Singh, Dil Apna Punjabi and Munde UK De.
In 2003, Shinda embarked on becoming an artist himself, when he launched his solo career. His debut solo album Gal Sun Ja was released in 2003. The album was fairly successful and produced the hit songs 'Gal Sun Ja' and 'Tere Utteh Akh Ni.'
In 2005, the release of his second album titled Balle proved to be the big hit for him. Songs like 'Balle', Punjabi Clap,' 'Khusian' and 'Akhiyan' were all hit singles from this album and established Shinda as an artist in his own right.
Shinda's third album Collaborations released in 2006 included songs featuring various Punjabi artists singing with Shinda. Popular singles from the album included 'Collaborations' featuring Gurdas Maan and Abrar ul-Haq, 'Oh Na Kuri Labdi' featuring Jazzy B and 'Shoulder Surf' featuring Takeova Ent. This album was much anticipated by fans and reached the number one spot on Bhangra charts.
Subsequently, in 2007, he released Living the Dream another hit album for him with songs like 'Wanga,' 'Chaddi Kalla,' 'Tara' and 'Ao Gidha Palay-Eh' being a major success for him worldwide.
We met up with Shinda at his home and talked to him in depth about his music and his career. Watch the exclusive SpotLight interview with Sukshinder Shinda and see what he says about his world of Bhangra music!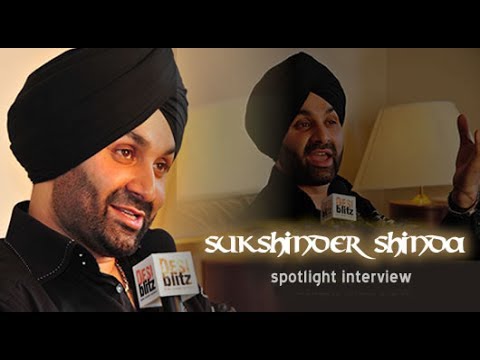 In 2009, Shinda released Collaborations 2 featuring a major number one hit song called 'Ghum Suhm Ghum Suhm' where he duets with the exquisite singer Rahat Fateh Ali Khan. Another duet with Jazzy B called 'Yaariya Banai Rakhian Yarriya' which became very popular with Bhangra lovers.
Sukshinder Shinda has come a long way from his dhol playing days as a musician to becoming an established singer and music producer. He has proven dedication and hard work at your craft gives results that encourage you to do better. As he says, 'I am only trying to better myself because there is always someone better than you in anything you do." And we feel he will definitely continue to give us more hits.
DESIblitz wishes Sukshinder Shinda all the best on his entrancing and uplifting musical journey.
Loading ...