Producing a new song from an old track can be an art
Bollywood remixes of classic songs often receive a mixed reception.
On one hand, music composer Mithoon does not quite agree with recreating news songs from old.
Despite the fact that he adapted 'Ae Mere Humsafar' for the movie All Is Well, he tells Press Trust of India:
"If people are deriving from old songs and revamping them it must be for a reason. But I don't endorse the idea of recreations or remixes. For once it is fine.
"But the amount of remakes are coming up these days, I feel it is not a healthy trend. I realised it after the first song I remade."
On the other hand, singer Ash King believes that remixed songs can bring 'nostalgia' or a 'new kind of music to one's ears.'
In light of Ash King's statement, several remixes were heard and enjoyed by listeners throughout 2017.
Assembling the popular renditions of old Hindi film songs, Qawwali and popular Desi pop songs, DESIblitz presents 10 Bollywood remixes that rule!
Laila Main Laila ~ Raees
To recreate a popular 80s song like 'Laila Main Laila', which features the veteran actress Zeenat Aman, is not an easy task.
But with the sensational Sunny Leone as the central dancer and appearance of superstar Shahrukh Khan, this revamped version is hotness overloaded. It even led to audiences to get on their feet and dance through the cinema aisles.
Reviewing the song, Glamsham mentions:
"With the smoking hot Sunny Leone grooving to the number with handsome SRK, the song is already scorching the charts."
However, if this is not enough, then Ram Sampath's music and Pawni Pandey's energetic vocals in this will compel you to shake a leg.
The Humma Song ~ Ok Jaanu
One remembers A. R. Rahman's original 1995 composition being a dynamic song and is picturised on Nagendra Prasad and Sonali Bendre.
However, the upbeat dance number moulds well into the narrative of Ok Jaanu as the protagonists Aditya Roy Kapur and Shraddha Kapoor are together in a room for one night.
Underlining sensuality, this trance-like remix is just so well done by Tanishk Bagchi.
In fact, Jubin Nautiyal and Sasha Tirupati's vocals blend in with the smooth tone of the song.
On top of this, Badshah's rap adds a slight risqué yet stylish tenor to 'The Humma Song'.
The song is so good that it has grossed over 200 million views on YouTube!
Tamma Tamma Again ~ Badrinath Ki Dulhania
Ace actors and dancers – Alia Bhatt and Varun Dhawan successfully recreate this foot-tapping dance number which originally featured Madhuri Dixit and Sanjay Dutt in the film Thanedaar.
The beauty of 'Tamma Tamma Again' is that the track has the same singers – Anuradha Paudwal and Bappi Lahiri.
Veteran radio presenter Ameen Sayani's dubbing and Badshah's rap is a wonderful fusion of the past with the present.
Plus, Tanishk Bagchi maintains the 80s disco feel and afro-style drums from the original song.
The line "Been Bajati Hui… Naagin" is one which will stick in the minds of listeners for years to come.
In addition, the song has entered the 'Top Trending Music Videos of 2017' Chart on YouTube.
 Cheez Badi ~ Machine
Although Abbas-Mustan's Machine was not successful at the box office, the remix of 'Cheez Badi' dominated 2017.
The initial beats and the 'Pa-Ni-Sa' at the beginning completely entices the listener.
Furthermore, it seems like that house music is fused with dubstep in the song and transition of both genres is smooth.
Commenting on the song, which formerly exhibited Akshay Kumar and Raveena Tandon, Deccan Chronicle writes:
"The two (actors: Mustafa Burmawala and Kiara Advani) swing, gyrate, swoon over each other and dance to their heart's content, in the peppy song, which retains (singer) Udit Narayan, who is ably supported by Neha Kakkar."
Undoubtedly, this one must be played on repeat.
Main Tera Boyfriend ~ Raabta
Comparatively to some of the other memorable tracks, this remix is not from a film, but a Punjabi song – 'Na Na Na Na' by J Star.
Since the original Punjabi track grossed over 100 million views on YouTube, it is no surprise that 'Main Tera Boyfriend' has also gone viral.
At the vocals here are Meet Bros, Neha Kakkar and Arijit Singh.
In the video, one sees Sushant Singh Rajput flaunting his chiselled six-packs and Kriti Sanon donning stylish outfits.
Moreover, their energetic dancing will sweep you off your feet.
As such, Koimoi establishes that this Raabta track will:
"Surely qualifies as the dance anthem of the year and is going to be equally popular as the original" and popular it is indeed!
Hawa Hawa ~ Mubarakan
The origins of 'Hawa Hawa' traces back to the 1970s, where the original track – 'Havar Havar' was sung by Iran's top artist, Kourosh Yaghmaei.
It was not until 1987 when Pakistani pop Hasan Jahangir adapted the song as 'Hawa Hawa Khushbu Luta De.'
The single became an instant hit and apparently sold 15 million copies in India.
Almost 30-years-later, Gourov Roshin recreates this track and features Arjun Kapoor and Ileana D'Cruz.
Specifically, the Mubarakan song shows Arjun trying to woo Ileana.
Sung by Mika Singh and Prakriti Kakkar, this dance number has become a sensation.
Mere Rashke Qamar ~ Baadshaho
"Aise Lehraa Ke Tu, Roobaroo Aa Gayi. Dhadkanein Betahasha Tadapne Lage." Uff, the lyrics are so regal!
Ustad Nusrat Fateh Ali Khan is a maestro and this is no secret. Adapting a classic Qawwali of his like 'Mere Rashke Qamar', is a risk.
But once again, Tanishk produces another chartbuster adaptation.
Combining modern beats to the authentic song, the new version of 'Mere Rashke Qamar' is a very refreshing tune.
Depicting the gradual love story between Ajay Devgn and Ileana D'Cruz, this track moulds very well into Baadshaho's narrative.
Through the superlative singing, Rahat Fateh Ali Khan continues his uncle's legacy with grace.
One cannot help but repeatedly fall in love with this song.
Lift Teri Bandh Hai ~ Judwaa 2
The catchiness of 'Lift Teri Bandh Hai' is fresh even today.
Not only does Anu Malik return, but he is also accompanied by Neha Kakkar's energetic singing.
In Judwaa 2's revamped version, one sees Varun Dhawan happily grooving with Jacqueline Fernandez and Taapsee Pannu.
We even catch a glimpse of Varun's attractive six-pack!
What enhances this remake is the Punjabi touch, implemented through the dhol beats.
This makes the song totally enjoyable, especially on the dance floor.
Reviewing the song, Times of India states:
"This favourite party classic with its shelf-life of 20 years is already climbing the charts quickly."
Maine Tujhko Dekha ~ Golmaal Again
'Lift Teri Bandh Hai' is not the only which celebrates 20 years, but so does 'Maine Tujhko Dekha', which was originally in Ishq.
Ajay Devgn is seen trying to impress Parineeti Chopra.
Joining him in the dance is the Golmaal crew: Arshad Warsi, Tusshar Kapoor and Shreyas Talpade.
Alongside the banter depicted on-screen, the green and picturesque valleys enhance the song's visual appeal.
Praising Amaal Mallik's remix, critic Joginder Tuteja states:
"Neeraj Shridhar and Sukriti Kakar being really happy rendering this one, the effect of which is felt right through the song's duration."
Hawa Hawai 2.0 ~ Tumhari Sulu
In conversation with DESIblitz, Vidya Balan states that 'Hawa Hawai' is a song which makes her feel good and really speaking, we don't blame her.
Although one cannot forget Sridevi in the original Mr India track, Tumhari Sulu's female protagonists: Neha Dhupia, Vidya Balan and Malishka Mendonsa groove with energy – even adding a dab in the middle!
Applauding Tanishk Bagchi's use of EDM (Electronic Dance Music) treatment and editing in the song, FirstPost cites:
"He (Bagchi) jumps straight into the song which fares out well since it is a peppy and fast-paced number."
Besides its pleasant melody, 'Hawa Hawai 2.0' describes how Balan's character has a zest for life.
The song is not solely an expression of womanhood, but is also a celebration of living life carefreely.
Listen to our full playlist of popular Bollywood Remixes here: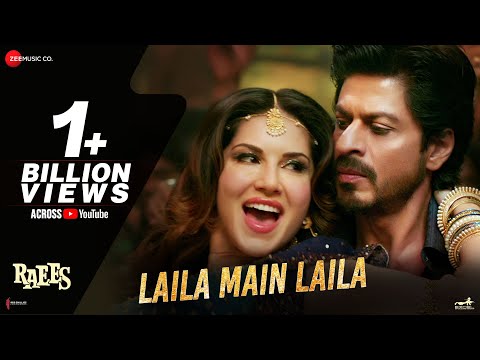 Considering that more than 50 songs have been remixed since 2015, it can be concluded that this is an increasing and on-going trend in Bollywood.
Whilst some recent recreations are memorable and catchy, there will always be a division between those who critique and those who compliment remixes.
However, the 10 songs that we have outlined prove that producing a new song from an old track can be an art, which requires a significant amount of creativity.
Popular songs like: 'Haseeno Ka Deewana', 'Gulabi 2.0', 'Kaavaan Kaavaan', 'Pallo Latke','Socha Hai', 'Ban Ja Rani' and 'Mehbooba' are also notable mentions.
Now, one looks forward to seeing what the future holds for the Indian film and music industry.