"I felt like I was born on action. That's how happy and comfortable I feel in front of the camera."
Her glamorous persona, carefree nature and unstoppable spirit are what makes Alia Bhatt a.k.a 'Aloo' a girl like no other.
Taran Adarsh describes her Student Of The Year (SOTY) debut: "Stylish, classy, born with a silver spoon, she's someone who loves to flaunt not just her clothes and bags, but also her riches.
"Extremely photogenic [she looks like a doll, frankly], Alia makes a super-confident debut."
In the latest film Dear Zindagi, Adarsh notes how Bhatt's acting is "pleasant and striking". Therefore, this transition outlines that Alia is certainly on the "highway" of success.
DESIblitz recently caught up with Alia Bhatt in an exclusive gupshup. She talked about her upcoming film, Badrinath Ki Dulhania (BKD), which releases on 10th March 2017.
In 2014, Dharma Productions presented the heartfelt romantic comedy – Humpty Sharma Ki Dulhania (HSKD), which was directed by Shashank Khaitan and inspired by Dilwale Dulhania Le Jayenge. Three-years-later, the team returns with a sequel.
Badrinath Ki Dulhania
The film narrates the story of Badrinath Bansal a.k.a Badri (Varun Dhawan) and Vaidehi Trivedi (Alia Bhatt), two different personalities from Jhansi and Kota, respectively.
Both form a friendship and love deepens. However, from the trailer, we catch a glimpse of a slight separation.
Watch the trailer for the film here: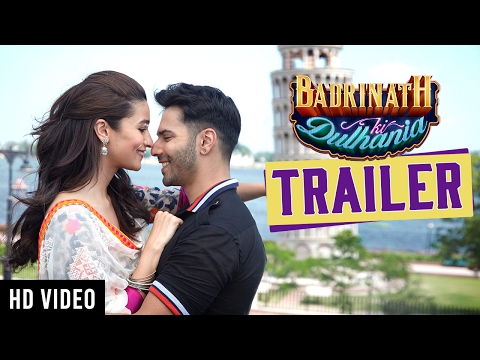 Both main characters are very different from the first instalment. Alia tells DESIblitz: "It's a love story, but it has a lot of layers to it."
In fact, the 23-year-old actress describes how Vaidehi differs significantly from Kavya (of HSKD): "I think she (Vaidehi) is a little older. You may not find her endearing, but you'll definitely find her as strong.
"A lot of young girls will connect with her character because she is a girl of today. Vaidehi wants love and all those things but career is her main focus."
We get an idea of this in the trailer. Especially when Alia asks Varun to calculate the "simple and compound interest". But let's forget about the math, and concentrate on the chemistry!
From their Twitter interactions to appearances on Koffee With Karan, Alia Bhatt seems to share a great rapport with Varun Dhawan. This is what the Badrinath actress has to say about her co-star:
"Varun is a full Dilwala. I only say that because he does everything from the heart, whether he's performing, dancing, promoting or giving an interview and that's what I love most about him. He's never half-hearted."
As well as her chemistry with Varun, it seems like the location of Kota in Rajasthan became a highlight of Alia's Badrinath experience.
"We shot at this beautiful park called the "7 Wonders" park. I was shocked because that kind of architecture in our small town of Kota was seriously very amazing.
"There was a miniature Eiffel Tower, Statue of Liberty, etc. Posing under those monuments added so much flavour to our film."
A Tremendous Acting Career
Whilst everyone's eyes will now be on BKD, we also talked about Alia Bhatt's film voyage. Her tremendous performance as the Bihari migrant in Udta Punjab led her to win the Best Actress trophy at Filmfare and Star Screen Awards.
DESIblitz admires Alia's diplomatic and humble attitude towards fame: "You never expect any of these things. It doesn't come easy, but what I did expect was a lot out of myself.
"I told myself in the very beginning that I was going to just work very hard to achieve all the dreams I have."
Being very passionate about working in films, Alia adds: "I felt like I was born on 'Action'. That's how happy and comfortable I feel in front of the camera."
From essaying the fashionista Shanaya in SOTY, to the distressed Kaira in Dear Zindagi, Alia has depicted dynamic characters. So what attracts her to a role?
"My first attraction to choosing a script, is always the story, the screenplay. That's what drives me. And then comes the character. What I really love about my characters is what I love about my films. They have to be different and challenge me. They have to feel like a world to be a part of."
We hope to see Alia essay the main role in a Piku-style film, especially if it's directed by Shoojit Sircar! Alia is hopeful too: "I admire his work."
It is known that Kareena Kapoor Khan is the role model of Alia Bhatt. So, could we see the two actresses feature in a film together soon?
Rather excited in her response, Alia mentions: "I think that would be fantastic! I just wanna call up all the directors who are out there making movies, please do. That would be my utmost dream come true."
This would be a great combination between 'Aloo' and 'Bebo'!
Our fun and insightful conversation with Alia concludes with her singing a few lines of the Arijit track 'Roke Na Ruke Naina'. This is a song from BKD, which the actress has not yet sung publicly.
Listen to our exclusive Gupshup with Alia Bhatt:
What's Next for Alia Bhatt?
Post Badrinath Ki Dulhania, Alia Bhatt will be preparing for two major projects.
One is directed by Yeh Jawani Hai Deewani-fame Ayan Mukherji and Bhatt will star opposite Ranbir Kapoor. This is set to be a superhero flick.
The other venture is 'Gully Boy', which will be helmed by Zoya Akhtar and stars Ranveer Singh in the male lead. This is reportedly depicted on the lives of rappers Naezy and Divine.
On the whole, it seems like Alia Bhatt has busy plans ahead. DESIblitz wishes her good luck in all upcoming ventures.
Catch Badrinath Ki Dulhania at a cinema near you 10th March 2017!