"There's no stopping this one from hitting the bull's eye. Sure-shot winner!"
Humpty Sharma Ki Dulhania (HSKD) is a Dharma Productions venture. Dharma is the same production house that launched both Alia Bhatt and Varun Dhawan in Student of the Year (2012). The film is directed by Shashank Khaitan and produced by Karan Johar.
The movie is set in the backdrop of a traditional loud and chaotic Punjabi wedding. Alia plays Kavya Singh who is from Ambala. She is set to marry an NRI named Angad (played by Sidharth Shukla).
But then enters Humpty (played by Varun Dhawan), whom she unexpectedly falls for while shopping for her perfect soon-to-be wedding. Will Kavya follow her heart or her families wishes? This is what the film is all about.
Quizzed about her role in HSKD, Alia says: "I'm playing a crazy Punjabi girl in the film who is full of life and energy."
The film while a youthful modern piece is very amusing. It is refreshing to see girls have a bit of fun. Even the poster of the film shows Alia lifting Varun Dhawan:
"Girls are no longer meek and timid. They are giving tough competition to boys in each and every sphere of life," says Alia.
As much as she is full of zest to portray that women have a lot more to offer, Varun is hell bent on showing that a good laugh is all we need. On being slapped for the movie he says:
"While actors flaunt saying that they have kissed the actress several times, I can say that I have been slapped 22 times in the film."
If these two are making us laugh and share such an infectious chemistry off screen, then we are certain it will reflect onscreen.
HSKD also sees a Bollywood newbie, Siddharth Shukla, make his debut from the small screen. Siddharth was offered a role by Karan Johar while Karan was one of the judges on a dance show where he was performing.
Siddharth is already a household name due to his popular character in the Indian TV drama, Balika Vadhu. Sidhharth appears very humble when he says that he has never tasted success. He has big aspirations and is clearly ambitious but keeps his feet firmly on the ground.
When prodded on how he felt when he was offered the role in a recent promotional event, Siddharth says: "I was more than happy when I got the offer. I thought it was not true and perhaps somebody is playing a prank on me. But when I got to know it was true, I was at the top of the world."
Karan Johar movies are always larger than life and it will be interesting to see his execution of this movie, especially as it is an ode to the all time favourite Dilwale Dulhania Le Jayenge (1995).
Karan Johar is a huge DDLJ fan and hence this is said to be his modern take to the film. The characters are in similar situations but the characters have their own identity and are not an edited version of the DDLJ characters.
During the movie launch, Karan said: "I have a lot of memories of DDLJ. I started my career from there, it is and will be the largest part of my career. The film with its epic love story and innocence had set the barometer."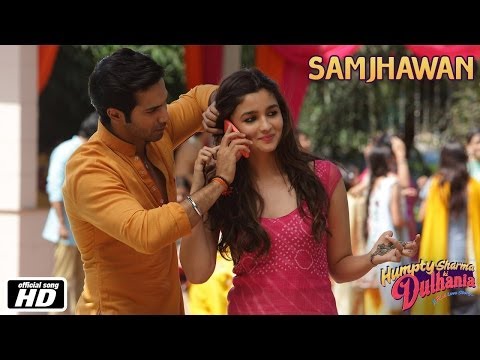 The music of the film has been composed Sachin-Jigar and Toshi Sabri, and features a variety of soulful melodies and party numbers.
We all know that both Alia and Varun are brilliantly energetic dancers. However, another credential to add to Alia's unlimited talent is singing. She has sung the female unplugged version of the song 'Samjhawan'. What's even more endearing is that she has dedicated this version to Varun with whom she shares an ongoing love-hate friendship behind the cameras.
Recently Shraddha Kapoor sang as a playback singer for her recently released movie Ek Vilian (2014).
Despite being a playback singer for her movie Highway (2014) Alia says that she expects comparisons. In fact she is all praises for Shraddha admitting that she sang brilliantly:
"Two contemporaries singing back-to-back unplugged versions of two hit romantic songs are bound to draw comparisons," Alia admits.
'Samjhawan' is originally sung by Shreya Ghoshal and Arijit Singh and is one of the most soulful melodies on the album. Adding the youth factor is 'Saturday Saturday', which lives up to the part of being a great dance number.
There is lot of hype about the movie despite having some pretty young newcomers to the industry, and on its day of release, the trailer banked 1 million views on YouTube.
Enthusiastic about HSKD's chances at the Box Office, film critic and trade analyst Taran Adarsh says: "There's no stopping this one from hitting the bull's eye. Sure-shot winner!"
Humpty Sharma Ki Dulhania is a modern day film, with a young but multi-talented star cast, and a director who delivers and entertains, need we ask for more? Get ready to watch the ode to one of the most romantic love stories in Bollywood from July 11.