Subir's life ironically is similar to the sorrowful life of Apu whom he played.
Written and directed by Kaushik Ganguly, Apur Panchali was created as a tribute to the Apu Trilogy by the acclaimed Bengali director, Satyajit Ray.
The film sees a talented cast including: producer and actor, Parambrata Chatterjee as Subir Banajee; award winning actress Parno Mittra as Ashima, Subir's wife; and actor Gaurav Chakrabarty in a supporting role.
The movie is set in 1970's Calcutta and depicts the life of Subir Banajee who played the character of Apu in Satyajit's Pather Panchali (1955).
The film opens 58 years after Banajee starred as a child actor in Pather Panchali.
An enthusiastic film student is in search of the missing actor to inform him that a German Film Festival would like to tribute him. What he eventually encounters is an old man drawn away from the world.
The character Apu from Pather Panchali was one of the greatest child characters known in Asian cinema history. Subir was casted as Apu from a young age and had no prior acting experience.
Subir's father had been reluctant to let his son partake in the movie but Satyajit promised: "Today, no one knows your son or me. But I'll make a film that will change Bengali cinema. Then, all of Bengal will know both of us."
Due to funding problems, the production of Pather Panchali took three years to complete. Now it is considered a widely respected and inspirational movie in the Bengali film industry.
Shortly after filming Pather Panchali, Subir left the movie industry and never acted in another film again. Pather Panchali was his only movie and to this date, he has kept himself away from films.
When director Kaushik Ganguly met Subir for the first time he reportedly said: "I have nothing to do with Satyajit Ray or Pather Panchali. Please do not disturb me."
It slowly became apparent that Subir's life had been unusually similar to the sorrowful life of Apu whom he played.
Kaushik states: "Subir babu doesn't like all this attention. So he told me beforehand that he won't be coming for the premiere. He saw the film alone with me a week back.
Kaushik mentions that when Subir finally watched it he said: "How come you know such minute details about me? I haven't shared much about myself with anyone. I am mesmerised. A living person hardly ever gets the chance to see his life and sorrows celebrated on screen. Sometimes I ask myself whether I am the alter ego of Apu or Bibhutibhushan Bandyopadhyay."
Kaushik later added: "I could see the tears in his eyes. Whatever is shown in the film about Subir Banerjee's life is not fiction. And kudos to Gaurav Chakrabarty — his character is based on me — and Ardhendhu Banerjee. Outstanding performances!"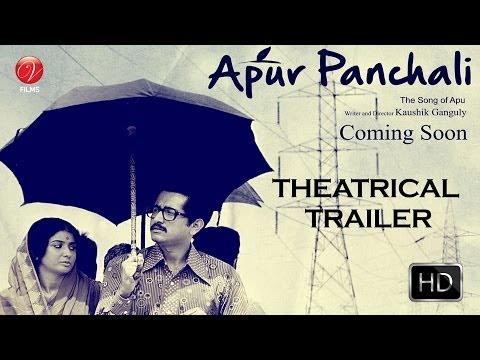 Speaking about playing the character of Subir, actor Parambrata expressed: "The story has a lot of layers in it. The entire idea has a Ray-connect [Satyajit Ray] to it and it automatically raises the bar of expectations.
"Secondly, the only reference to Subir Banerjee I had was a few interviews and Pather Panchali during childhood. I personally wanted to meet him, but Kaushik da advised me against it, because sometimes the reality is very difficult.
"He is someone who lives with the burden of being Ray's Apu for all his life, without having any connection to the world of cinema anymore. He lived a very normal life which was almost akin to how Apu's life spans out in throughout the Apu Trilogy. So, I thought it was a great idea."
The title song 'Apur Paaya Chap' is a poignant and poetic song filled with piano and flute notes. The soundtrack is composed by Inrandeep Dasgupta and sung by Arijit Singh, with the lyrics being written Kaushik Ganguly himself.
Director Kaushik Ganguly has already gained critical acclaim for his movie including winning the Best Director Award at the International Film Festival of India (IFFI) in 2013.
Bengali Cinema may not be known to many but is called Dhallywood, a Bengali form of Hollywood based in Dhaka, Bangladesh's capital city.
With most films made for commercial purposes, Bengali cinema has seen increases in movie releases throughout the past few decades. Movies like Pathur Panchali have influenced many others in the indie scene and are nostalgic for many.
This awe-inspiring film will see its UK premiere at the London Indian Film Festival (LIFF). Independent movies are carefully selected on their originality and success for LIFF, and as such, Apur Panchali seems to be what they are looking for.
Working in partnership with the Satyajit Ray Foundation, the screening will also hold a tribute to the founder and chairperson of Satyajit Ray Foundation, Pam Cullen who was a cherished friend of Ray.
The Foundation seeks to showcase the talented works of Saiyajit Ray who is known as India's most outstanding director. It also seeks to share his humanity and artistic vision so they may inspire and be examples for current and future filmmakers.
Apur Panchali will be screening on July 13 in London. To book tickets, please visit the London Indian Film Festival website.