The trailer garnered 3 million views a week after its release.
Humpty Sharma Ki Dulhania features Alia Bhatt, Varun Dhawan and Siddarth Shukla in lead roles and is directed by debutant Shashank Kaitan. The film is produced by Karan Johar.
The film is about 'Humpty' Sharma (played by Varun Dhawan), a carefree, young Delhi boy, who falls in love with Kavya Pratap Singh (played by Alia Bhatt), a vibrant girl from Ambala.
The film goes through their crazy and heart warming love story where Humpty faces many challenges to make Kavya his 'dulhania'. The film has many references to Dilwale Dulhania Le Jayenge (1995), and is shot primarily in Punjab.
Here is 5 reasons why Humpty Sharma Ki Dulhania could be a blockbuster:
1) Lead Actors
Varun Dhawan and Alia Bhatt are both incredibly popular actors despite being only a few films old. They have both established a growing fan base and appreciation from critics and audiences alike. Both of the lead actors debuted in Student of the Year (2012), which became one of the highest grossing films of 2012.
In fact, their sizzling chemistry was so talked about that it led to speculations of them being a real life couple. For Student of the Year, both of the actors were nominated for the Filmfare award for Best Debut and both won the Lions Gold award for Favourite Debut. They were also both ranked #1 on the Times Hot List of Most Promising Newcomer (male and female) in 2012.
Varun Dhawan then acted in Main Tera Hero (2014), and his second film raked in over 50 crores, which was impressive for a newcomer.
Whilst Varun Dhawan was appreciated for his comedy, Alia Bhatt was appreciated for her raw and uninhibited performance in her second film, Highway (2014).
However, it was 2 States (2014) that really made her shine through from all of her contemporaries.
In our DESIblitz review of 2 States, we said, 'Alia has shown that she really has it in her to be a convincing actress. She delivers superbly another multidimensional role, post Highway, showing that she can go far beyond the glamour quotient she only possessed in Student of the Year'. 
2 States fared extremely well at the box office and grossed over 100 crores.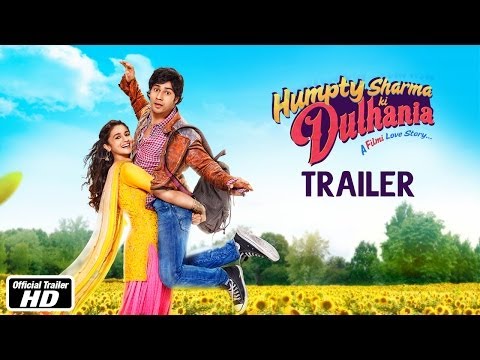 2) Film has been Breaking Records Already
The trailer garnered 3 million views a week after its release. 'Samjhavan', a melodious love song from the film, got 1 million views in 4 days whilst 'Saturday Saturday', a party song, reached this number in 3 days.
The songs getting such hits on YouTube is suggestive that the music has been gaining much appreciation. Hit music always plays a crucial role in the success of a film. Thus attaining such popularity with its YouTube videos really shows how the film is getting a lot of buzz from audiences all across the world!
Both of the young lead actors are also very much involved in social media. They have used twitter hashtags and 'humfies' (selfies taken related to Humpty Sharma Ki Dulhania) to promote the film.
3) New Kids on the Block now Dominating Box Office
Gone are the days when just the Khans, Kumars and Kapoors dominated the box office. Audiences are now going to watch films from newcomers and these films are raking in just as big numbers as those featuring senior actors. It came initially as a surprise when Aashiqui 2 (2013) crossed the 100 crore mark.
This was a film featuring 2 just debuted actors who had only been moderately successful in their first film. This shows that audiences do not care as much about whether the actors are new but are rather looking at the film as a whole.
It's a similar story with 2 States, Shuddh Desi Romance (2013), Fukrey (2013) and Raanjhanaa (2013) who have also enjoyed large amounts of success despite having no long established actors as leads.
4) Dharma Productions
Dharma productions has been renowned for producing blockbuster light hearted romantic films in the past. From Kuch Kuch Hota Hai (1998) to its most recent, 2 states and Yeh Jawaani Hai Deewani (2013), Dharma Productions is infamous for this genre.
With Karan Johar being the producer of the film, he is leaving no stone unturned to ensure that this film does well; this includes promoting the film through twitter posts and on the reality dance show he is judging, Jhalak Dikhla Jaa.
5) Siddarth Shukla's Debut
Siddarth Shukla is debuting as the second male lead in this film. Having been a TV actor in the popular TRP dominating show, Balika Vadhu and a contestant in Jhalak Dikhla Jaa, Siddarth has developed a solid fan base, predominantly consisting of females.
With irresistible charm and looks to rival Varun, Siddarth is yet another newcomer, and one to watch in Bollywood. It's needless to say that any true fan of Siddarth Shukla will be lining up to see Humty Sharma Ki Dulhania on its first day of release!
With so much hype around this new film and its talented young cats, it is easy the see why our expectations that it will be an instant blockbuster hit are so high. The much-anticipated Humpty Sharma Ki Dulhania releases from July 11.