This Holi will truly be 'Rangeen'!
Badrinath Ki Dulhania is a sequel to the 2014 rom-com, Humpty Sharma Ki Dulhania, starring Varun Dhawan and Alia Bhatt.
Three years later, the team have reunited to give us the ride of our life. Not just a laughing roller coaster, but Dharma Productions' ride of love, music and dance.
Meet Badrinath (Varun Dhawan) – a quirky and full-on Desi chora (boy) who speaks with the seemingly Bihari dialect. He is charming, sweet and incredibly.
Then there is Vaidehi (Alia Bhatt), a fiery but beautiful woman. Badri sends his proposal to Vaidehi, who urges him to turn down the marriage. But it seems like Badri isn't going to take no for an answer.
He follows her and it appears that they form a friendship, over the next few days, and love deepens. However, we catch a glimpse of a slight separation.
That's when Badrinath realises he must catch his Dulhania,'Dhoom Machake.'
The story, which has been written by the director himself, Shashank Khaitan, is sweet and simple. Whilst the narrative is DESI at heart, it's innocence has an international appeal. Khaitan has all the right ingredients to give us a wholesome entertainer.
When we talk about entertainment, the trailer oozes of color, lavish costumes, peppy songs and groovy choreography.
Like the previous instalment, there are multiple composers for Badrinath Ki Dulhania. 
These consist of Amaal Malik, Tanishk Bagchi and Akhil Sachdeva. There are two remixes: 'Chalat Musafir' (made into the title song) and 'Tamma Tamma.'
Both of these renditions are modern and very catchy. These will become instant hits with listeners. As such, one looks forward to seeing the choreographies which have been done by Ganesh Acharya, Bosco-Caesar and Feroz Khan!
Moving onto the stars of the moment – Varun Dhawan and Alia Bhatt. Varun is adorable.
From the first crooked smile to his comical delivery of broken English in the end, Varun's avatar in this is definitely stylish, sexy and swagger.
We loved Humpty and now it looks like we'll be smitten by Badrinath too.
Watch the trailer for Badrinath Ki Dulhania here: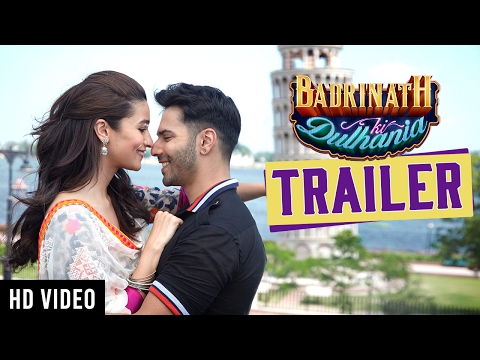 Since 2 States, we have not seen a full commercial avatar of Alia Bhatt. Kavya in Humpty Sharma was loveable. Her DESI – no-nonsense demeanour in this sequel is endearing.
The banter she has with Varun and her chemistry is exquisite – to say the least. Plus, both their dialects are on point.
It seems like this Holi will truly be 'Rangeen'!
It has also been confirmed that both Varun and Alia will be gracing their presence on Koffee With Karan 5. It will be interesting to see what gupshup will take place on the show.
The year 2016 has proven to be very fruitful for the two leading stars. On one hand, Varun Dhawan won the Screen Award for 'Best Comedian' for Dishoom.
On the other hand, Alia Bhatt has been honoured by the Filmfare and Screen Award for 'Best Actress' for her performance in Udta Punjab. It seems like 2017 will be another fine year for our favourite stars.
Badrinath Ki Dulhania releases worldwide on 10th March 2017!