"It's been 100 years of Indian cinema and I would say one-fifth belongs to DDLJ."
It's a crime to call yourself a hopeless romantic if you haven't watched Dilwale Dulhania Le Jayenge at least 5 times (that's the bare minimum) in your lifetime.
The classic Bollywood romance of the 1990's DDLJ is celebrating 1000 weeks of uninterrupted run at the Box Office.
Having touched so many lives and hearts, DDLJ, which first released on October 20, 1995, has been playing non-stop at the iconic 'Maratha Mandir' in Mumbai.
A single screen cinema, Raj and Simran have been reliving their love story again and again, and even today people line up to watch their romance create magic on the silver screen.
Making Indian cinema history, DDLJ is officially the longest running Bollywood film ever, surpassing an incredible 19 years.
Since its release all those years ago, there hasn't been a moment when every time dialogues like 'Agar woh tujhse pyaar karti hai toh woh palat ke zaroor dekhegi' or 'Ja Simran ja jee le apni zindagi' are heard, you get goose bumps and a wide ear-to-ear smile on your face.
DDLJ, not only uplifted the already strong Yash Raj Films but also made SRK an overnight superstar and hands down the 'Best Romantic Hero' Bollywood will ever have.
The film has evergreen songs in the voice of Lata Mangeshkar and whenever the tune of 'Tujhe Dekha' song is played on a mandolin one cannot help imagining the young SRK with his deep dimples.
To mark the occasion, the makers of DDLJ showcased a very special series of events. A new trailer of the timeless romance DDLJ was released by Yash Raj Films, and certainly sent a few shivers up the spine.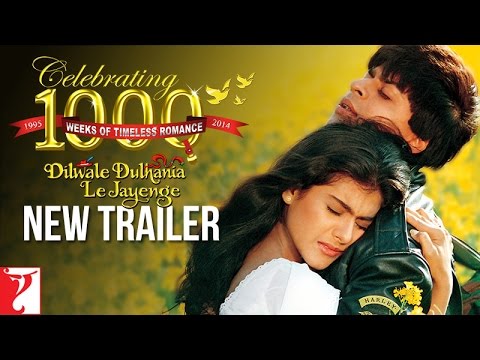 Shahrukh, who plays Raj Malhotra in the film, took to Twitter to announce the launch of the new trailer, in November 2014: "My favourite line in a film ever… 'Nahin main nahi aaoonga….' DDLJ (ver 2.0 trailer reloaded)…I am so happy," he tweeted.
King Khan also partook in a clean-up campaign outside his home Mannat which was organised by fans. SRK said: "It's been 20 years for this film and I feel honoured that I was part of this film. It's been 100 years of Indian cinema and I would say one-fifth belongs to DDLJ."
YRF also planned a special screening of the film to mark the 1000 weeks milestone, including an 'In Conversation' with SRK and Kajol. The screening which took place at Maratha Mandir saw SRK rock up as Raj, complete with shades and the original rucksack from the movie:
Tried my 20 yrs later Raj look. The bag and me is original from the film….the smile is from today for a 1000 weeks! pic.twitter.com/zymlppkiCu

— Shah Rukh Khan (@iamsrk) December 12, 2014
One student Swadanand Desai, made the extra effort to make sure he was part of the DDLJ celebrations. Showing up in full 'Raj' gear including a black hat with a feather in it, he said: "I had planned this since four-five months."
As they queued up to enter the cinema hall, fans recreated the signature wide-armed pose that SRK is so well-known for.
Both Shahrukh and Kajol wowed the expectant crowd as they arrived. King Khan later took to Twitter to admit that his success was due to Kajol, making us yearn to see the jodi on screen again:
"Respect for my friend coactor & absolutely real Kajol. May her life & family be as happy as she is always. DDLJ is all Simran & I thank her."
The cast, SRK, Kajol, Anupam Kher, Farida Jalal, Mandira Bedi and Pooja Ruparel also came together on the super hit television show, Comedy Nights With Kapil to celebrate the 1000 week run of their Bollywood cult classic. This is supposedly Kajol's first ever appearance on any reality TV show.
Director Aditya Chopra, known for his reclusive lifestyle, has finally opened up about his experience of filming the iconic film.
Written by Nasreen Munni Kabir, the book, Aditya Chopra relives Dilwale Dulhania Le Jayenge, is an intriguing insight being the making of the film, its influences and the role of cinema in impacting the lives of so many, including the cast and crew.
Kajol admits that the film reaching an iconic status was a surprise to her and her Bollywood colleagues: "We can't take credit for it becoming the longest running Indian film.
"It's something to do with all those people who go to Maratha Mandir every day, those who've made it a habit, almost like a religion, to go there daily and spend that much time watching a film we made so long back.
"We wanted to make a movie that would make money. We were not even interested in making a good film."
One cannot help but be apart of the DDLJ phenomena. The cult romance continues to sit fondly in the hearts of Bollywood lovers and film goers everywhere.
DDLJ is an icon of the contemporary Indian love story, making Indian cinema what it is today.
With the 1000 weeks milestone reached, we are certain that Raj and Simran will continue to stay with us forevermore.