"Unless the community come out and show they care, we are not going to have a British Asian cinema"
Freedom and Independence come at a harrowing price. This is what Gurinder Chadha's Viceroy's House tells its audience.
Recalling the final months leading up to partition, Viceroy's House offers a new take on the fight for Indian Independence from British rule and the creation of a new nation-state called Pakistan.
The film, which the female director herself describes as a 'unique British Asian perspective' of this traumatic period, is a very personal re-telling of history.
1947 was a year that divided a country in one of the biggest mass migrations of history. It is estimated that up to 12 million Hindus, Muslims, Sikhs and other minority communities found themselves displaced on the morning of 15th August 1947.
Amidst the unbearable summer heat, they left their homes for good. Through their front doors, they walked past the familiar sandy paths of local villages for the last time. They went in search of 'independence' and a new life. But rather than this be a peaceful transition, it transformed into one of the most bloody and violent periods of Indian history.
In an open and candid interview with DESIblitz at a Birmingham hotel, Gurinder tells us why Viceroy's House is so personal to her:
"My family, my ancestral home was from Jhelum and Rawalpindi, the foothill of the Himalayas, which is now Pakistan. So growing up, I never really had an ancestral homeland as such. My homeland was now a new country called Pakistan."
Watch our full interview with Gurinder Chadha here: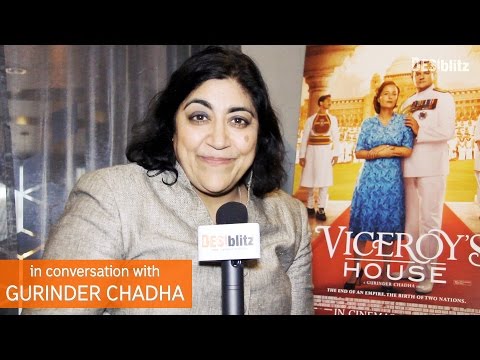 Gurinder recalls the extensive hardship her family, like many other families either side of the border, faced. As refugees they faced conflict and loss:
"It's a very sad period in our history, but with Viceroy's House, we have a different take of what happened. And I think it is very important as Desis, to know our history, to understand our history. And this film is from a unique British Asian perspective and that's rare. We don't get to tell our stories in our own words."
Known for her British comedies like Bhaji on the Beach (1993) and Bend it Like Beckham (2002), Gurinder's Viceroy's House is a much bigger production. It features an international cast with the likes of Hugh Bonneville, Gillian Anderson, Huma Qureshi, Manish Dayal and the late Om Puri in pivotal roles.
The film itself follows life in the house of the last Viceroy of India – Lord Mountbatten (Hugh Bonneville). Just months before partition, Mountbatten is summoned to manage India's transition to Independence and to make it as peaceful as possible.
Joined by his wife, Edwina (Gillian Anderson) Mountbatten must negotiate terms between the different leaders, Mahatma Gandhi, Muhammad Ali Jinnah, and Jawaharlal Nehru.
Jeet (Manish Dayal) is a young Punjabi Indian who has joined the Viceroy's household to wait upon Mountbatten. He is caught up in a secret love affair with a young Muslim girl, Aalia (Huma Qureshi) who also works there.
Their forbidden love story uncovers some of the inner conflicts of the different ethnic communities which worsen as plans for a separate Pakistan nation is discovered. Will their love for each other survive the animosity that surrounds them?
Some critics have already commented on the parallels of partition, and indeed Gurinder's film to the current political landscape, whether it be Brexit of President Donald Trump's anti-immigration agenda:
Gurinder says: "I think the film is a very timely reminder of what happens when politicians use hate to divide us, to rule us. And what we're seeing around the world today is a resurgence of the tactics that happened during partition.
"Because whenever a leader or a politician starts using hate, the end result is destruction, violence and death and ultimately doesn't do anybody any good."
In the same way, representations of historical figures on film, there is the tendency to portray characters in varying lights.
Gurinder strongly believes that she has remained impartial in her depiction of the Gandhi, Nehru and Jinnah: "I didn't want to villainize Jinnah, I wanted to portray him as a politician."
Gurinder adds that she was keen on casting actors (Neeraj Kabi, Denzil Smith and Tanveer Ghani) that had a very real resemblance to these historical figures.
The film also welcomes an incredible musical score by A. R. Rahman, who Gurinder describes as having a very "spiritual" connection to music. Joining the film's soundtrack is Hans Raj Hans who performs the classic qawwal, 'Dama Dam Mast Qalandar'.
American actor, Manish Dayal also tells DESIblitz: "Ultimately, our movie was made up of so many different parts, an American, an Indian, we have British cast, we have cast from all over the world, so really, we came together and made one very connected piece, and that takes a bit of finagling on everyone's part."
Watch our full interview with Huma Qureshi and Manish Dayal here: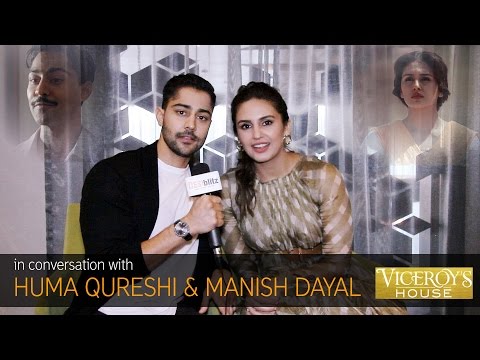 Re-telling a traumatic time in history that resonates with so many is undoubtedly a challenge. While some have been grateful of Chadha's portrayal of the fight for independence, others have been critical of her choices.
But what the film does uncover is that there is no one definitive history of 1947 Partition. There is a British white-washed account, and Indian perspective and a Pakistani understanding.
What Gurinder attempts to do is to offer a platform for each of these voices to have their say, and to tell their story:
"I just want people to be aware of their history, to be aware that what we have been told isn't necessarily the correct version of history. It's not often that we get to tell our stories in our words," Gurinder admits.
Bollywood actress Huma Qureshi, who plays Alia, adds: "It is not a British point of view, it is not an Indian point of view, not even a Pakistani point of view.
"It's a film about a human tragedy, and how people suffered. In that sense, the film has a very positive message to give. It's about love and humanity, and it's about honouring all those people who have been affected by this."
London-based Gurinder has been devotedly travelling the UK promoting the film, speaking to as many press outlets as possible, attending special screenings and speaking at Q&A sessions.
Her motive behind this is two-fold. First, to educate British Asian communities about their heritage, but to also ensure that the same communities can show their support for British Asian cinema and to keep it going:
"Unless the British Asian community come out and show that they care, we are not going to have a British Asian cinema. The message will go out that we don't really care about seeing our stories on screen, and don't really care about our history."
Viceroy's House released in UK cinemas from 3rd March 2017.