"Most Amazing & Powerful Sarkar3 Trailer! The Return of the Angry Young Man."
Amitabh Bachchan is back as Subhash Nagre and is angrier than ever in Sarkar 3.
The political thriller series, anchored by Amitabh Bachchan, returns with a bang, as the trailer to the third instalment of Ram Gopal Varma's Sarkar released on 2nd March 2017.
The action-packed trailer shows Amitabh Bachchan's character Subhash Nagre with some new friends and foes. It sets a dark tone immediately with an almost silent background and the caption: "A wounded lion is the most dangerous."
The trailer soon turns into a title sequence, introducing the new characters.
Amitabh Bachchan is clearly the star of the film, as he steals the show with his intense performance, the "angry man" persona.
Bachchan's acting is bewitching. His most poignant moment in the trailer features him talking about how fear and greed can turn anyone into a traitor, while lightning strikes behind him.
The trailer ends with a compelling close-up of Amitabh Bachchan and a gun as he decides to resort back to killing after 35 years.
The gritty trailer promises to be another mega blockbuster with an intriguing storyline with an impressive cast. Sarkar 3 will also star Yami Gautam, Manoj Bajpayee and Jackie Shroff.
We only get a glimpse of Yami Gautam in the new trailer, however, she appears to have got an image makeover. Even Yami admits at the trailer launch that Ram Gopal Varma was keen to get her out of the "fair and lovely" persona that fans are used to seeing. So we can expect to see a very different side to the young actress in this film.
Ronit Roy plays the grandson of Subhash Nagre in the third chapter of the Sarkar trilogy. Ronit previously pulled off an impressive performance in Kaabil.
The previous two films, Sarkar (2005) and Sarkar Raj (2008), grossed $15 million at the box office.
Back in August 2016, director Ram Gopal Varma confirmed via Twitter that Abhishek Bachchan and Aishwarya Rai Bachchan will not be a part of the third instalment.
Sarkar 3 appears to follow conventions of the previous films such as their sharp dialogue. The trailer also features their famous 'Govinda' track and punchline: "Mujhe Jo Sahi Lagta Hai, Main Wohi Karta Hoon."
At the trailer launch of the film, Amitabh said: "It was natural for us to do a third film."
Shortly after the release of the much-anticipated trailer, #Sakar3Trailer became a number one trend on Twitter.
Fans tweet their excitement after watching the trailer and await the cinema release of Sarkar 3:
Just watched #Sarkar3Trailer @SrBachchan gives goosebumps like always. @TheAmitSadh steals the show. #GovindaGovinda

— Bhuvan Bam (@Bhuvan_Bam) March 1, 2017
Most Amazing & Powerful #Sarkar3Trailer !!@SrBachchan Subhash Nagre is #AngrierThanEver n Mightier ??
The Return of the Angry Young Man???? https://t.co/IOeMyVWS9s

— Ratna EF? (@StLouisgirl123) March 1, 2017
Vijay (@degreatVijay) on Twitter says: "#Sarkar3Trailer is promising!! It takes us back to @RGVzoomin & his Sathya Company & Sarkar days!! Impress makeover @SrBachchan!!"
@DrChitrani says:
"I was spellbound. Each character has such a larger than life presence that it was appearing surreal and beautiful #Sarkar3Trailer scores high."
@utsav_agnihotri says: "@RGVzoomin U proved once again that u r the king of Direction & Film making. What a powerful trailer of #Sarkar3 Mind Blowing #Sarkar3Trailer."
Watch the thrilling Sarkar 3 trailer below: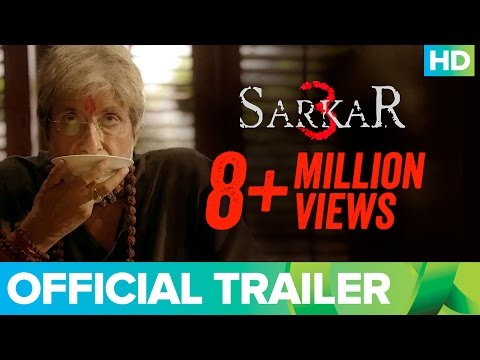 Will Ram Gopal Varma's Sarkar 3 live up to the other two sequels and be another blockbuster?
Sarkar 3 releases in cinemas from 7th April 2017.