Creating some of the most iconic characters in Hindi Cinema, his performances are one of a kind!
As the biggest living legend in Bollywood, Amitabh is idolised for his stellar performances in films and his untouchable star-like status.
Just looking at his decades-long filmography, Big B has paved a career studded with blockbuster hits and tremendous box office success.
Creating some of the most iconic characters in Hindi Cinema, from Don to Vijay Deenanath and even Anthony Gonsalvez, his performances are one of a kind!
But what truly makes these characters timeless, are the legendary dialogues that Amitabh executes flawlessly.
The iconic 'one liners' which have become the taglines of his most famous characters are what make him the superstar that he is today.
Amitabh Bachchan unique voice resonates strength and power, making him the only actor to carry such powerful dialogues!
DESIblitz salutes this legend by looking at some of his best dialogues!
1. Don (1978)
"Don ka intezar toh gyarah mulkon ki police kar rahi hai. Lekin Soniya, ek baat samajh lo Don ko pakadna mushkil hi nahi, namumkin hai"
This dialogue delivered with such ease by Amitabh Bachchan has enshrined the character of Don as one of the most suave and confident criminals in Hindi Cinema history.
Possessing the same coolness as 007, with the addition of the Desi charm, this one-liner by Amitabh has become a classic!
This dialogue and character have become so iconic that this film was remade, and this dialogue delivered once again by Shahrukh Khan in 2006, though Amitabh's delivery is unbeatable.
2. Agneepath (1990)
"Pura naam, Vijay Dinanath Chauhan, baap ka naam, Dinanath Chauhan, maa ka naam, Suhasini Chauhan, gaon Mandwa, umar chhattis saal."
Amitabh's delivery of this line in the blockbuster Agneepath, was filled power and dismissal of any police officer who questions his authority.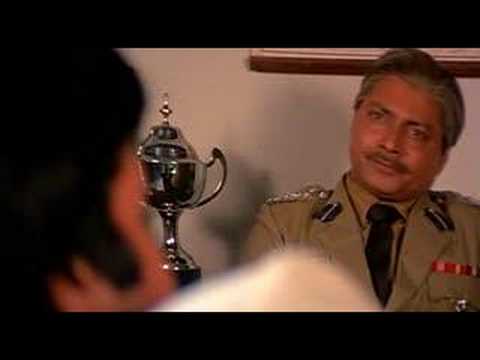 This line projects both the strength of the alpha male and the underlying hatred and search for justice which fuels Vijay's hostile demeanour.
Just like Don, this classic line was re-delivered by Hrithik Roshan in the smash hit remake of Agneepath in 2012. The Hindi film industry can't get enough of Amitabh's classic lines!
3. Kaalia (1981)
"Hum jahan khade ho jaate hain, line wahi se shuru hoti hain."
Only Amitabh Bachchan could deliver a dialogue like this with such confidence without it turning into arrogance.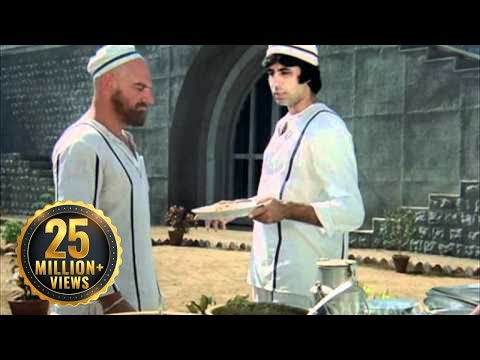 Though the film begins with Amitabh's character being a naïve timid guy, after going to prison, it doesn't take long for him to transform into a cunning alpha male.
This dialogue not only solidified his tough guy image transformation in the movie, but it also went onto become one of Amitabh's most memorable dialogues.
4. Zanjeer (1973)
"Jab tak baithne ko na kaha jaaye sharafat se khade raho. Yeh police station hai tumhare baap ka ghar nahi."
From the blockbuster movie that give Amitabh the title of 'The Angry Young Man', this dialogue became one that everyone remembers when they think of Amitabh Bachchan.

The passion of the young aspiring actor, portraying the character of a stern policeman, made for a powerhouse performance and hard-hitting dialogues!
5. Shahenshah (1988)
"Rishte main hum tumhare baap hote hain, naam hai Shahenshah"
This hard-hitting line matched the dramatic look which Amitabh dawned to play the character of Shahenshah.
The iconic black jacket, with the attention-grabbing silver chained sleeve made it obvious that this character would have some killer dialogues!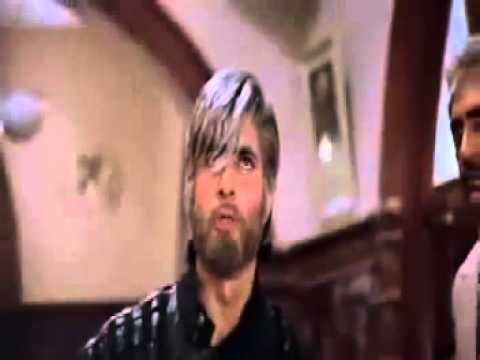 The larger than life personality of Shahenshah oozes attitude and self-confidence, which this dialogue undoubtedly captures.
Just as powerful today as it was when this film released, no one will mess with the father of Bollywood dialogues!
6. Deewaar (1975)
"Aaj mere paas paisa hai, bangla hai, gaadi hai, naukar hai, bank balance hai, aur tumhare paas kya hai?" Ravi: "Mere paas Maa hai!"
Continuing his reign as the 'Angry Young Man' of Bollywood, Deewar is responsible for one of the most iconic one-liners of Indian cinema.
Estranged brothers Vijay (Amitabh) and Ravi (Shashi Kapoor) are forced to survive on the streets of Mumbai.
The two take opposite paths as Ravi becomes an honourable police inspector, while Vijay becomes a wealthy underworld don.
Despite his riches though, younger Ravi offers a powerful dialogue that none of us will forget in a hurry – there is nothing more important than your mother.
7. Sholay (1975)
"Mausi aap Veeru ko nahi jaanati, wishwaas kijiye wo is tarah kaa insaan nahi hai. Ek baar shaadi ho gayi to woh us gaane-waali ke ghar jaanaa band kar degaa. bas, sharaab apne aap chhoot jaayegi."
No Amitabh Bachchan list would be complete without at least one reference to the greatest Indian film of all time: Sholay.
In this hilarious and light-hearted scene, Jai tries to convince Mausi of Veeru's good character even with his many drinking and gambling habits.
The combination of Amitabh's acting ability and sheer onscreen charisma has made him one of the most successful and also one of the most loved actors in Hindi cinema history.
What makes his films timeless, and loveable are the incredible dialogues that could only be delivered by the legend himself.
The diversity of his roles from a policeman, to a hero and even a worldwide Don, have given him an impressive range of classic dialogues.
Amitabh's renowned heavy voice, and sheer presence make his dialogues often mimicked, but ultimately unmatchable.