"It became a cult film on home entertainment"
The key components required for classic Bollywood films are drama, romance, a strong script, good acting, a great background-score and a dose of masala for good measure.
Whether it be Madhubala and Dilip Kumar or Shahrukh Khan and Divya Bharti. Bollywood has masterfully paired actors with soulful scripts to create movies nothing short of a masterpiece.
Starting from Mughal-E-Azam (1960) to Bhagban (2003), we've gone through the Bollywood offerings on Netflix which we know have stood the test of time!
With soundtracks including tracks by Mohammed Rafi to A.R. Rahman, we have comprised the best of the best.
Instead of having to troll and scroll through Netflix's ample selection of Bollywood, we have created a go-to binge list to hit that Bollywood classic movies spot!
DESIblitz takes a closer look at the best captivating Bollywood classics you need to watch on Netflix.
Mughal-E-Azam (1960)

Directed By: K. Asif
Starring: Dilip Kumar, Madhubala, Prithviraj Kapoor
A costume period-drama full of courtesans, forbidden romance and qawwalis. Mughal-E-Azam is a Cinderella story without a happy ending but without a doubt has stood the test of time.
K. Asif's cinematic magnum opus has been a cult classic since it's release. If you haven't watched it you are in for a treat! Whenever the title is mentioned the melodic, 'Jab Pyaar Kiya To Darna Kya' springs to mind.
Interestingly the iconic song was shot on a set which was modelled upon 'Sheesh Mahal' which is located in Lahore, Pakistan.
The team did not receive permission to shoot in the location and so, Asif spent a large portion of his budget recreating the location. He was determined not to compromise on the aesthetic of this movie and it paid off.
The on-screen chemistry between Anarkali (Madhubala) and Prince Salim (Dilip Kumar) held testament to their off-screen romance, which also was of a tragic unfulfilled nature.
The narrative unfolds to highlight a father-son enmity between Emperor Akhbar (Prithviraj Kapoor) and Prince Salim (Dilip Kumar). Despite the actors being heavily praised for their roles neither were nominated for the Filmfare award at the time of release.
Bollywood's own elite Amitabh Bachchan tweeted his praise for Mughal-E-Azam on the 55th anniversary of the movie.
Bachchan tweeted, "T 1952 – 55 years of Mughal e Azam !! Eternal !! The biggest and the best !!" Highlighting what a cinematic marvel this movie truly is.
This movie has it all a warring family, star-crossed lovers, societal stigma and some beautiful songs. This is highly recommended as a true Bollywood classic.
Watch the moving scene between Anarkali (Madhubala) and Prince Salim (Dilip Kumar):
Professor (1962)
Directed By: Lekh Tandon
Starring: Shammi Kapoor, Kalpana Mohan and Lalita Pawar
A romantic comedy of the 1960s, showcasing Shammi Kapoor in his prime. A gem from the past which we cannot get enough of.
The basis of this movie is revolving around a woman (Lalita Pawar) often referred to as 'aunty' who is the guardian of two young women. She requires a tutor for her wards. Her only requirement is that the professor is over the age of 50, for propriety.
Shammi Kapoor plays Professor Pritam Khanna a newly graduated man who attempts to take on the role but is unsuccessful due to his age. Upon realising his Mother is severely ill Kapoor returns to the house in the guise of an elderly man.
He begins tutoring the two young women in addition to two young boys who are all under the care of 'aunty' (Lalita Pawar).
Pawar is the powerhouse in this role, she plays the archetype 'strict aunty' masterfully, leaving the audience feeling tense with each of her scolds.
Professor true to its 60s origin has a soulful soundtrack of iconic tracks sang melodiously by the late and great Mohammed Rafi.
Havoc occurs when he falls in love with one of his tutees Neena (Kalpana Mohan), meanwhile, his employer (Lalita Pawar) falls in love with Kapoor in his elderly disguise.
This film is a whimsical blast from the past, it transports the audience to a simpler era of Hindi cinema. It's an easy watch which will guarantee to entertain.
Watch this popular song from Professor: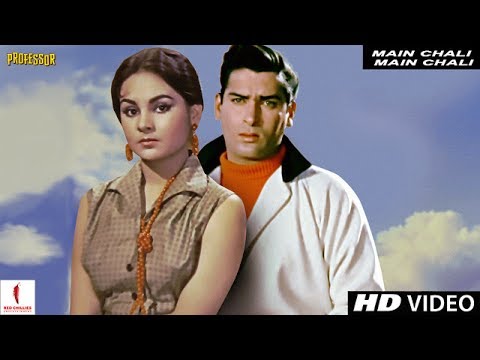 Maine Pyar Kiya (1983)
Directed By: Sooraj R. Bharjatya
Starring: Salman Khan and Bhagyashree
This 80s classic has a special place in the heart of any Bollywood romantic's heart. From the imagery of the dove to Bhagyashree's docile and delicate acting, this film is like a warm hug for viewers.
"Friendship has one rule Miss, no sorry, no thank you." The iconic line, the most innocent love story, be still my beating heart. Maine Pyar Kiya, the film that pathed the way for Salman Khan to be a romantic hero of the 90s.
The story is as old as time itself, a rich boy Prem (Salman Khan), meets a poor girl Suman (Bhagyashree) and they fall in love. The families oppose this union and so they struggle and toil to prove their true love can prevail.
Even with this failsafe plotline, there is a real purity in the essence of this film which cannot be explained.
Sooraj R. Barjatya's directorial debut was constructed in such a way that 'Prem' and 'Suman' remain alive in the hearts of the audience always.
Sonam Kapoor Ahuja, admitted on Comedy Nights with Kapil while promoting the film, Prem Ratan Dhan Payo (2015) that she had a crush on Maine Pyar Kiya's 'Prem'.
So much so that she gushed upon her starring opposite the actor in a Rajshri film," Mujhe mera Prem milgaya!"
Most girls in India and abroad who grew up watching Maine Pyar Kiya grew up with a soft spot for 'Prem'. He was the romantic hero of the 80s and 90s which gave way for the 'Raj' of Dilwale Dulhania Le Jayenge (1995).
This film is guaranteed to have you weepy but warm and is a family favourite in many households. One of the classic Bollywood love stories that will remain evergreen.
Catch some iconic dialogue from Maine Pyar Kiya: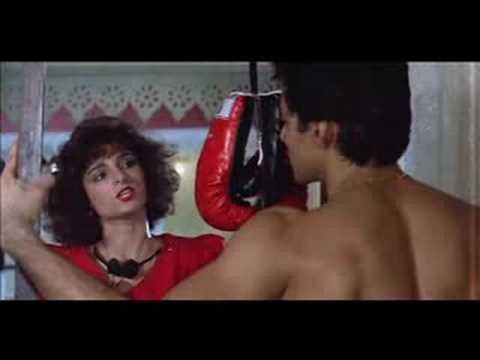 Deewana (1992)
Directed By: Raj Kanwar
Starring: Rishi Kapoor, Divya Bharti, Shah Rukh Khan and Amrish Puri
A love triangle with new twists at every turn, Deewana reached instant success and launched the then, debuting Shah Rukh Khan to a career full of fame and success.
Interesting Shah Rukh Khan took to Twitter to admit he has not watched his performance in Deewana and intends to never do so. "I have till date not seen Deewana. I have a notion that I don't want to see my first or last creation."
Seeing Shahrukh Khan in this role, fresh to Bollywood is so enlightening, his performance is raw and extremely passionate.
Deewana weaves a complex web between three young people, Kajal (Divya Bharti), Ravi (Rishi Kapoor) and Raja (Shah Rukh Khan). Kajal meets famous singer Ravi, the two fall in love instantly and the two marry.
Ravi comes from a wealthy house and his uncle Pratap (Amrish Puri) has his sights set on seizing this wealth. Pratap plans to have Kajal and Ravi murdered.
Kajal manages to escape, assuming Ravi has died she lives an isolated life in hiding as a widow. This is until she has a chance meeting with Raja who madly falls in love with Kajal.
After much cajoling, the two wed and eventually, Kajal becomes happy in the relationship. That is until Ravi returns to her life.
This is truly just the tip of the iceberg the plot unfolds to disclose more deceit and drama. Deewana was the second highest grossing film of the year and was a certified commercial success.
This film showcases Dhivya Bharti at the prime of her career which sadly ended prematurely with her stranger and tragic death in 1993. Due to her sad demise, this film has gained cult status.
Deewana truly is a joy to watch, even if to simply appreciate the talent that was archived in this classic Hindi movie.
See Shah Rukh and Divya's vibrant intensity in Deewana: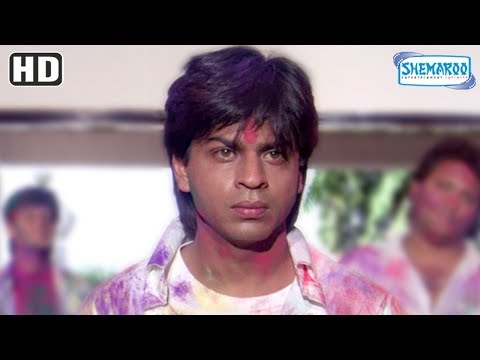 Andaz Apna Apna (1994)
Directed By: Rajkumar Santoshi
Starring: Aamir Khan, Salman Khan, Raveena Tandon and Karisma Kapoor
This film showcases the two Khans (Aamir Khan and Salman Khan) in a slapstick comedy hit of the 90s. The 90s as an era was dominated by 'The Khans', this being Aamir, Salman and Shahrukh. However, we were used to seeing them as romantic leads in separate movies.
Andaz Apna Apna paired Salman and Aamir as well as Raveena Tandon and Karisma Kapoor, the first and last time all four have shared a screen.
The comedic timing and tone in this movie, as directed by Rajkumar Santoshi, are some of the finest we have seen in Bollywood cinema. There's a reason it has reached cult film status amongst avid Bollywood cinema fans.
The plot revolves around two young men Amar (Aamir Khan) and Prem (Salman Khan) who are penniless and without a clue for the future. They set out to entrap a rich heiress, Raveena (Raveena Tandon) and as expected things go awry from there.
With the help of Raveena's assistant Karishma (Karisma Kapoor), there are identity swaps and much confusion which makes for great comedy.
Aamir Khan went on record with Hindustan Times to explain why the film was not a commercial success but rather became a cult classic.
Khan said, "I don't think it got a fair chance (back then). It's only later that people discovered it on TV and realised that it's very good. It became a cult film on home entertainment."
There is, however, no doubt that this film is an iconic Bollywood comedy film which is well worth the watch.
This film is very tongue and cheek and will have you and anyone else who watches laughing out loud!
Watch one of the comedic highlights of Andaz Apna Apna: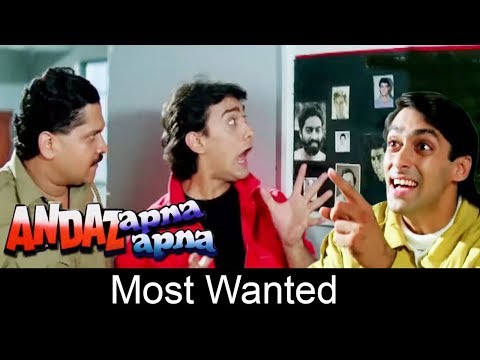 Kabhi Haan Kabhi Naa (1994)
Directed By: Kundan Shah
Starring: Shah Rukh Khan, Deepak Tijori, Suchitra Krishnamoorthi
Kabhi Haan Kabhi Naa is a feelgood classic Bollywood film about unrequited love. Sunil (Shah Rukh Khan) is in love with Anna (Suchitra Krishnamoorthi). Sadly Anna does not reciprocate these feelings as she is in love with Chris (Deepak Tijori).
Kundan Shah portrays a very innocent and youthful hero in Sunil who is a lover. He has few ambitions in life other than loving Anna and playing in his band. Both pursuits seem to cause tension for Sunil as he takes a journey to learn what selfless love is.
Anna and Chris have their own hardships which Sunil both creates and rectifies. Sunil also faces a difficult relationship with his father, he also faces isolation from his friends and has to look introspectively at his life.
Kabhi Haan Kabhi Naa takes the subject of unattainable love and how isolating the experience can be. However, it promotes a healthier way of dealing with this and rejection.
The film shows Sunil meeting a new potential lady love with a special appearance by Juhi Chawla. The film also ends with a breaking of the fourth wall which is very impactful.
Kabhi Haan Kabhi Naa also scooped the Filmfare awards for, 'Critics Award Best Movie' and Shah Rukh Khan won 'Critics Awards for Best Actor'.
This film is rich in its character development, full of music and innocence we would recommend this to uplift your spirits.
Here's a sweet and endearing song from Kabhi Haan Kabhi Naa: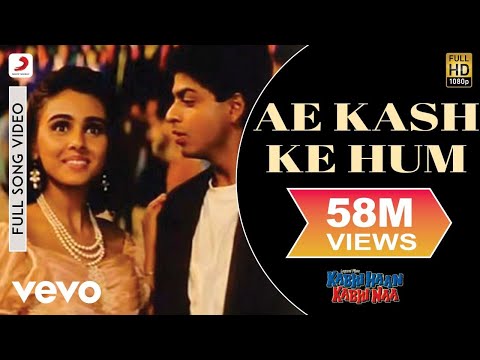 Dil Se (1998)
Directed By: Mani Ratnam
Starring: Shah Rukh Khan, Manisha Koirala and Preity Zinta
'Dil Se' which, translates as, 'from the heart' may be one of Shahrukh Khan's strongest performance in a serious piece of cinema. Although there is a love story here, it is not the key issue within this film.
Mani Ratnam chose to make a political film dealing with sensitive subject matter including, sexual violence towards women and minors.
Dil Se also delved into the idea of freedom fighters versus terrorists, exploring which term is appropriate for such activists.
Manisha Koirala's performance in this film is enigmatic and electrifying, she holds command of the screen throughout the film. This film also boasts the debut of Preity Zinta and has the infamous 'Chaiya Chaiya' in its soundtrack.
Shahrukh Khan was seen celebrating 18 years of Dil Se on his Instagram account, stating Dil Se as his 'favourite'.
"The one u love the most is sometimes not loved by most…but the love doesn't change. My favourite. #18yearsofdilse."
No matter how many times you watch it, Dil Se never ceases to impact the audience. The drive and passion which, borders onto obsession within these characters are so intensely magnetic. You truly cannot help but get lost in this film.
Dil Se gained critical acclaim domestically and internationally having won the Berlin International Film Festival Netpac award in 1999. This is an SRK classic which will not disappoint.
Chaiya Chaiya, needs no introduction:
Kaho Na Pyaar Hai (2000)
Directed By: Rakesh Roshan
Starring: Hrithik Roshan, Ameesha Patel and Anupam Kher
The Millenial blockbuster that launched Hrithik Roshan into hero status from the offing. Rakesh Roshan launched both Hrithik and Ameesha Patel in Kaho Na Pyar Hai and the audience fell in love.
Having been added to the 'Limca Book of Records' for the greatest number of awards won for a Bollywood film, this confirms it as a cinematic classic.
Kaho Na Pyar Hai is essentially a love story with layers; there is love, loss and doppelgangers. Seems strange but it is done masterfully.
Rohit Mehra (Hrithik Roshan) is a poor aspiring musician who falls in love with snobbish but sweet Sonia Saxena (Ameesha Patel). Rohit's economic situation causes concern for Sonia's Father Mr Saxena (Anupam Kher).
Saxena lays down the condition that Rohit must become successful in order to marry his daughter. Rohit and Sonia rally to launch Rohit's music career culminating in a show.
The day of the show, however, Rohit is murdered and Sonia becomes devastated fearing she will never love again.
However, while in New Zealand Sonia feels haunted when she meets Rohit's doppelganger in Raj Chopra (Hrithik Roshan). From here the mystery behind Rohit's murder begins to unravel while Sonia and Raj begin to grow closer on this dangerous journey.
The film itself is extremely entertaining with some truly memorable songs such as 'Ek Pal Ka Jeena', Hrithik and Ameesha truly stole the show in this film.
Despite the pairing returning together on-screen in Aap Mujhe Uche Lagne Lage (2002), Kaho Na Pyar Hai has remained the critic and fan-favourite.
The iconic Ek Pal Ka Jeena can be seen here: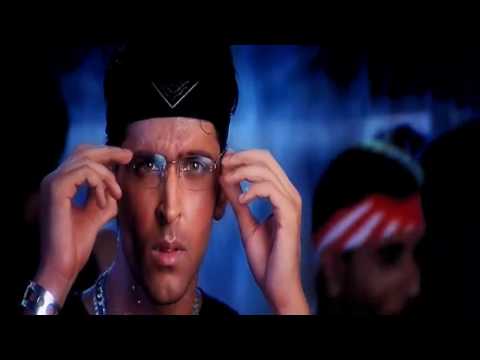 Lagaan (2001)
Directed By: Ashutosh Gowariker
Starring: Aamir Khan, Gracy Singh, Rachel Shelley and Paul Blackthorne
A sports-action period drama which deals with the concept of taxation in a time of British Raj in India. The subject matter seems complex but it is portrayed seamlessly.
Aamir Khan plays a young villager Bhuvan, fed up of the state of heavy taxations in his village. He sets out to rectify this burden of unfair taxation.
However, he finds himself swept into a challenge set by Captain Andrew Russel (Paul Blackthorne). The challenge set is to play and win a cricket match which will determine the fate and rate of taxation for his village.
This film combines the struggle for independence along with the sentiment of brotherhood, a coming together of a community and rouses a sense of pride and hope in the audience towards the villagers.
There is a love triangle between Bhuvan (Aamir Khan), Gauri (Gracy Singh) and Elizabeth (Rachel Shelley), however, the focus of the film is on the issue of taxation and justice.
Lagaan gained international critical acclaim with non-domestic papers such as the USA today praising the film, "Hooray for Bollywood, and India's Lagaan."
There was a lot of buzz that Lagaan being India's entry for the Oscars, may have won it, but this was sadly not the case.
This is a feel-good Bollywood film with a more serious undertone, it showcases strong acting with a serious subject matter. It is a thought-provoking watch, guaranteed to be worth the time.
See the powerful A.R. Rahman song from the film: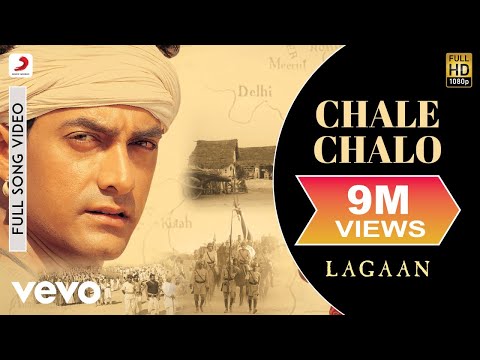 Bhagban (2003)
Directed By: Ravi Chopra
Starring: Amitabh Bachchan, Hema Malini, Salman Khan and Mahima Chaudhry
Bhagban the film that brought two 70s superstars together again, Amitabh Bachchan and Hema Malini. Bhagban is a film that reflects a deeper issue of family ties in the modern day.
This film impacted audiences quite deeply as Ravi Chopra masterfully directed this ensemble cast to tell the story of, Raj Malhotra (Amitabh Bachchan) and his wife Pooja Malhotra (Hema Malini).
This couple is seen to be the ideal heads of their family are depicted as exceptionally happy. They have 4 biological sons, 1 adopted sons and 2 grandchildren.
When Raj is scheduled to retire he announces that he wishes to sell up and live with his children. He has worked a long life and now wishes to enjoy his retirement with his family.
His biological sons do not take kindly to this idea, sons and daughter-in-laws combined concoct a plan to separate Raj and Pooja. With the hope that living apart will make them change their mind about living with their children.
The couple embarks upon a journey which is exceptionally lonely and heart-breaking, with conflicts between the generations. A conflicting view of family responsibility and priorities become the key issues within the breakdown of this happy family.
This film was noted as Ravi Chopra's best till date, having had the film premiere at the Leeds International Film Festival and received ample critical acclaim.
A thought-provoking script with heart-wrenchingly real acting, Bhagban is a film that you really must watch while on Netflix.
Here's an upbeat song from Bhagban: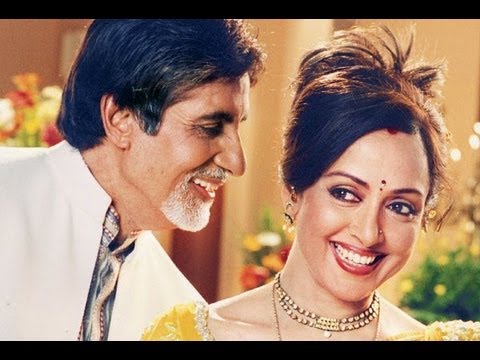 Netflix's selection of Bollywood continues to grow but, we are sure that these classics will be worth the watch always.
These Indian films will be guaranteed favourites which you will find yourself watching more than once!