Rows of people are jumping out of their seats, throwing money and clapping along to the song
Sunny Leone's 'Laila Main Laila' features in Shahrukh Khan's superhit film, Raees.
Released before the movie, the song has been a chart-topper since December 2016.
Sunny's song has not only won over online users but also live audiences in theatres. Fans cannot resist getting out of their seats and dancing along to the song while watching Raees in the cinema.
Since the release of Raees in cinemas from 25th January, fans have rushed to see SRK's much-anticipated movie, and they have shown their appreciation for Sunny Leone's song 'Laila O Laila' by dancing in the aisles.
People are also throwing money at the screen. Something which was seen a lot in older theatres and cinemas is today being seen more and more with newer Bollywood films.
Sunny tweeted her appreciation and excitement as she saw videos of people dancing in theatres to her smash hit track:
"Damn y'all!! I love it so so much!! Everyone is dancing and singing!"
Sunny shared many video reactions to the song 'Laila Main Laila' in Raees.
?????. That all the ppl that would dance ?? What about the rest !! ?? Lol ? https://t.co/4BdNSijmVS

— Sunny Leone (@SunnyLeone) January 28, 2017
The fan videos show rows of people getting out of their seats and jumping and clapping along to the song:
Fans of Rajkot With #Laila Main Laila song and Dancing on cinema ..and fully enjoy..@SunnyLeone @imsrk__ @RaeesTheFilm pic.twitter.com/DkEzjhxsCv

— Solanki Akash (@SolankiAkash97) January 29, 2017
@iamsrk see Bhai what happened when Laila song start in theatre of Anand…. SRK Universe Anand.. @SunnyLeone pic.twitter.com/SD61Idvwa7

— Prashant Srkian (@SRKsPrashant) January 26, 2017
@iamsrk @SunnyLeone Must watch Both of U..U'll be definitely Njoy this video?_ pic.twitter.com/KS9tLh1wUw

— Sanket (@shahsanket574) January 27, 2017
Fans of Ahmedabad,Gujarat are so insane on Laila !! Just Look once @iamsrk? @SunnyLeone? #StardomOfSRK #RaeesTheFilm pic.twitter.com/GpehmESLBw

— KUSHAL ABEF (@SrBachchanKP) January 29, 2017
Videos reiterate fans going wild as they jump on their seats. They are also seen showering on-screen Sunny with money.
As Twitter is filled with viral videos like these, it appears audiences are going into a frenzy as soon as the song 'Laila Main Laila' comes on.
And it appears that many fans are going to see Raees for the song, not just going to see King Khan in action.
Producers planned to release 'Laila Main Laila' in January 2017. However, releasing the song in December allowed people to anticipate the movie and dance to the song at Christmas and New Year parties.
As Raees' trailer also featured Sunny's song, it propelled the song's popularity even further.
'Laila O Laila' was originally performed by actress, model and beauty queen Zeenat Aman, in the movie Qurbani (1980). However, Sunny Leone's revamped rendition takes on a whole new flavour, and fans seem to like it!
Casting Sunny Leone in an iconic dance number was proved very successful. As soon as the song was released, it was an instant hit on YouTube, garnering over 90 million views.
Watch the 'Laila Main Laila' with Sunny Leone here: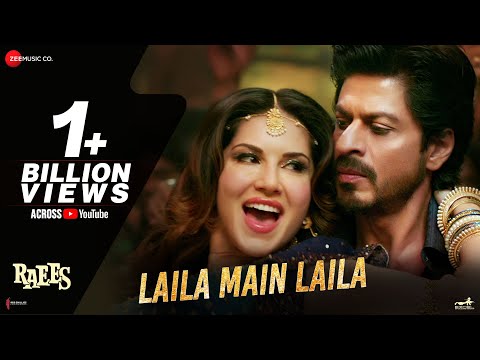 'Laila Main Laila' trended for days and is still soaring high after the release of Raees.
Will the old-fashioned trend to dance in the cinemas continue for future films?
Watch Raees in cinemas from 25th January 2017.