The sexy track Laila Main Laila featuring Sunny Leone and Shahrukh Khan has made its way to fans and it is totally sizzling hot.
The song is a newly worked version of the original Laila Ho Laila from the hit 1980's Bollywood film, Qurbani, which was composed by Kalyanji – Anandji.
The new song sang by Pawni Pandey, has all the ingredients of musical mirchi masala; featuring Sunny's sensual masti and SRK's defiant charm, all mixed together with a strong modern sound, re-created by Ram Sampath.
The powerful beat is laced with the hot look of Sunny in the guise of Laila and features her gorgeous moves choreographed by Bosco – Caesar, captivating the attention of all the men around her, drooling over her with strong desire.
But she spots Raees and wants his attention, and envelopes into a close sexy sequence with him holding her with sensual nasha in the eyes.
Sunny carries off the item girl look in a sexually glamourous colourful dark blue ghagri, embroided with gold sequences and additional materials. As she swings her hips and ruffles her hair the costume does her complete justice.
Laila Main Laila features Raees shooting his double-barrel shot gun in scenes, post his dance with Laila, while the dhamaka of the song engulfs the room with drunken men showering her with money being her obsessed fans.
Watch the sexy song here: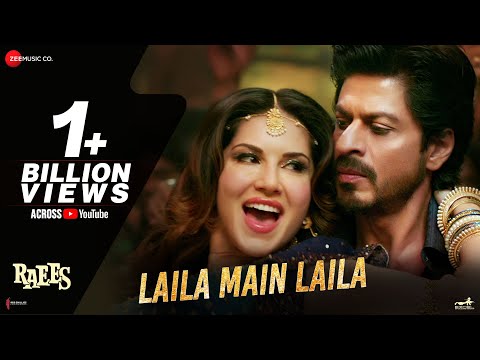 Sharukh's role as Raees is that of a criminal and is said to be based on the real life criminal Abdul Latif'. However, the filmmakers have denied this and say it is a fictional film.
For Sunny, Laila Main Laila is huge progress in Bollywood and is a dream come true. She was ecstatic when she got the opportunity to be on screen with SRK in the song.
Red Chillies the production company who made the film, owned by Shahrukh and Gauri Khan, his wife, have opened the door for Sunny to be potentially featured in many forthcoming films with larger attraction.
Raees releases from 25 January 2017 world-wide.