"Yes, Sunny has a past, but I have no problem with that. It doesn't affect me or matter to me."
Sunny Leone has taken over our cinema screens with her steamy 2015 release, Ek Paheli Leela.
The raunchy thriller film directed by Bobby Khan sees Sunny adopt a number of different avatars opposite Jay Bhanushali, Rajneesh Duggal, Rahul Dev and Mohit Ahlawat.
A tale of reincarnation, Sunny plays two different characters – one an high-society British Indian model Meera who is eager to learn about her reincarnated past as Leela, a feisty Rajasthani girl.
As Sunny explains: "The film is a mix of love story, drama and mystery in a novel way. Clues are thrown at the audience at regular intervals taking them closer to solving this 300-year-old mystery."
Director Bobby added: "While Hindi cinema has seen films on reincarnation before, Ek Paheli Leela is a step ahead in filmmaking with the subject being treated more mysteriously than ever before.
"We've also added a lot of grandeur to the movie-going experience."
The historical erotic drama sees Sunny dress up in some raunchy outfits that truly show off her sex appeal. Her personal stylist Hitesh Kapopara takes the credit for all her outfits in Leela which range from chic modern designer wear to traditional cholis with heavy jewellery.
Hitesh says: "Producer Ahmed Khan was particular that every look of Sunny in the film was new and something she hasn't done before. Sunny understands the script and what kind of outfits are required and suitable for each scene."
"While Sunny knows she has to look sexy, her costumes are according to her scenes and shouldn't look out of place/context. She's hardworking and has a very good sense of fashion, so she gives valuable inputs."
Sunny has been praised for her performances in Leela. It is clear the star has managed to turn around her adult image without losing out on the sex appeal.
The cinematography also pays homage to the epic period films of Sanjay Leela Bhansali and the 'Dholi Taro' remake from Hum Dil De Chuke Sanam is another nod to the celebrated filmmaker. There is a great splash of vibrancy and colour which make the fairytale narrative of the film come to life.
Sunny's co-stars were all praise the actress. As Rajneesh Duggal explains:
"With Sunny, there is no such thing that 'Ok, so here I am, THE Sunny Leone, so treat me well'. As a matter of fact, I don't think that aaj ki date mein aisa kisi ka bhi attitude hota hai. At least I would like to believe so as I have not met actors who are like that. This way I have been fortunate.
"As for her, she is a fabulous person to work with. She is quite professional and just like me, even she wants every scene to come out really well.
"There are no compromises and there is very good focus in there. Also, as a director, Bobby (Khan) has placed things well. If 'Desi Look' is entirely hers, 'Dholi Taro' has both of us in there."
Speaking about working with Sunny and whether he was apprehensive at all, Jay Bhanusali says:
"Not at all, why should I? On the one hand, you talk about women empowerment and equal rights. Yes, Sunny has a past, but I have no problem with that. It doesn't affect me or matter to me. I am an actor and my job is to act.
"I listened to the story first and then they told me Sunny was in the film. But I had already said yes and didn't think twice about it because I liked my character. As for Sunny, she is a very hard-working girl and sincere. She is eager to learn from every actor, which is very rare."
The songs of Leela have been another talking point. Sunny teams up with Kanika Kapoor for another hot item number, 'Desi Look'.
Sunny also transforms Aishwarya's 'Dhol Baaje' which has been remixed by Meet Bros Anjjan into a catchy dance track with Monali Thakur's vocals. 'Saiyaan Superstar', Sunny turns into a retro Desi chick which is definitely a new avatar with some classic desi beats and moves.
The steamy but very romantic 'Tere Bin Nahi Laage' features love-making scenes while Mohit Chauhan lends his vocals to another romantic number 'Khuda Bhi'.
Despite the controversy of a former adult star being cast in the film, Sunny has proved her worth by blowing everyone away at her box office opening.
Of course, the allure of Sunny in skimpy garments, with cleavage on show is a sure seller,  just think Jism 2 and Ragini MMS 2, but Sunny has in her heavy promotions of the film created a positive buzz.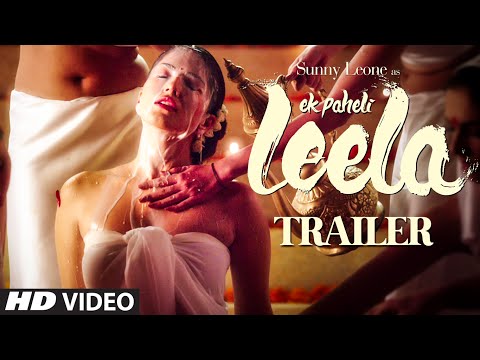 It is certainly on the verge of being a hit having a massed Rs. 10.5 Crores in the first two days at the Net Box Office Collections and has surpassed the likes of Anushka Sharma's NH10 and Amitabh Bachchan's Shamitabh.
As producer Bhushan Kumar says: "The film's strength lies in its content and the music helps in taking the story forward."
The Leela team are hopeful that the film will be successful, and with a very sultry Sunny involved, we aren't very surprised.
Watch Ek Paheli Leela for its historical themes of re-birth, or if that doesn't interest you then watch it simply for Sunny Leone. The film released from April 11, 2015.