"Success is a path; your destination is your mission"
Fifteen-year-old singer and rapper Sparsh Shah is creating a viral storm with his music.
Born with a rare condition, the resilient teen has made a name for himself through his incredible talent as a songwriter and inspirational speaker.
Also known as PURHYTHM, the artist gave his first performance at the age of seven, after which he continued to pursue his singing career, making his songwriting debut a few years later with the sentimental single, 'This Love will Never Fade'.
As well as his musical talents, the artist is also renowned for his substantial humanitarian work, being named youth ambassador for St. Jude's Children's Research Hospital – one of the world's premier centres for the research and treatment of paediatric cancer – at the tender age of eleven.
The American-born Gujarati shot to fame after his first studio cover of Eminem's 'Not Afraid'. The video which caught the attention of fans all over the world garnered over 65 million views on YouTube.
In a special interview, the wheelchair-bound performer opens up to DESIblitz, sharing his revolutionary drive for change.
A Unique Journey to Music
Instantly setting him apart from other artists, Shah was born with the extremely rare disease, Osteogenesis Imperfecta, which makes his bones extremely fragile.
Born with 40 fractured bones, his condition left doctors baffled.
Yet, 'The Brittle Bone Rapper' has never allowed the stigma surrounding disability to bring him down. The young rapper tells DESIblitz:
"My disability hasn't influenced my work as an artist as much as it has influenced my mission as an artist.
"I don't consider it to be a hindrance – it's not a disability, just a stepping stone. My disability has allowed me to show people that we're all tested in different ways – how you're tested doesn't matter, what matters is how you respond."
Of course, the fearless artist is a die-hard fan of rapper EMINEM, whom he views as one of his heroes:
"I have mad respect for him. His ability to put words together is phenomenal. I may not always like his lyrics but the fact that he can put the words together in such complex ways is incredible.
"He went from being bullied and on welfare to making millions of dollars and now he's on top of the rap industry.
"To even be next to one of the greatest rap geniuses of all times would be incredible.
The soulful singer expresses his desire to collaborate with his idol, as well as with gospel rapper, Dee-1.
"He's a conscious and gospel rapper which is a perfect mix. He has such a positive message among all the negativity storming through the rap scene."
Keeping Cultural Ties Close
Having grown up in a South Asian household, Sparsh tries to stay close to his Indian roots:
"Because of the culture I was brought up in, I got those values from a super early age. I've grown up in a house where saying heck is a bad word, that's how I was raised to be," Sparsh adds.
When asked on performing in his mother tongue, he proudly responds:
"Bharat is in my heart, I've been learning Indian classical music since I was six years old– but growing up in an 'English' country, songs in English come naturally to me.
"My mother tongue is Gujarati and I definitely would consider it, as music is the only language without borders anyway."
He also describes how his South Asian upbringing has impacted his style – both personally and professionally:
"I wouldn't have the drive and the mission that I have if I wasn't born in this Desi culture. My stage name is PURHYTHM – I'm clean- no negative vibes."
For this intelligent rapper, Sparsh is conscious about the mark he creates on the world. Notably, his ambition is to revolutise what rap music means to so many around the world, and to promote it as a purely positive genre of music:
"I may be pure but I'm still in the rap game for a reason. You've seen a lot of white and black rappers but no brown ones, I want to be a pioneer for that."
The affectionate fifteen-year-old also maintains a close bond with his family, in particular, with his father, who also happens to be his manager:
"My dad is everything to me – a day doesn't go by where he doesn't remind me that I need to keep practising what I do and I can't do anything to pay my dad back for what he's done."
Also, close by his side are his mother and a younger brother:
"My mum has had just as much of an influence. She's the best person behind the scenes. They say behind every great man is a great woman, and she's a great woman for my dad and for myself. Success is an infinite mountain – there's no highest point. My mum keeps me in check that way.
"My little brother is 7 years old – he's amazing. He's one of the greatest gifts God has ever given me – my shoulder to cry on, my friend to laugh with and embrace and an amazingly positive impact."
Sparsh Shah on a Mission
The world of music is a tough one to break into, especially for someone at such a young age. Shah, however, has his own take on thriving in the precarious profession:
"There are two things that define success at any age. The first thing to know is that success is not a destination but a journey. Success is a path; your destination is your mission.
"My mission is to inspire people –it doesn't matter where you are or how old you are – success is always the path to your mission.
"Secondly, we must break paradigms. We grow up in a society where we're expected to grow up and know what we want from life.
"There's no age limit to success. You don't have to grow up, we're the only people who set up our barriers. We must break our paradigms and realise there's no limit to success."
"If you give a man a fish he eats fish once, teach a man to fish he eats for a lifetime. My music career is not just for me – my goals are to help and inspire others."
Sparsh Shah may be the first of his kind, being one of few Desi artists to excel in both rapping and singing. Speaking about his own take on being a versatile artist, Shah admits:
"It gives me a very unique position in the musical world. Either they just sing or just rap or they use autotune but I don't need that. It gives me the opportunity to express my feelings. You get more lyrics and depth of knowledge of what I'm trying to say."
The motivational speaker stresses the need for originality in order to dominate the music scene, with a persistently positive attitude.
"You have to bring something new to the table or else no one will listen to you. Go out there, don't let anything stop you from doing that. Never give up no matter what they say. I don't consider my haters as haters. They still give me the courage and determination to go out there and do what I do."
"I have many great things planned… I want to write more songs and bring out more albums.
"I want to start actual musical training. Maybe Berkeley online courses while I'm still in high school. I want to make music a part of my life to an extent that it's inseparable.
"I really believe that 'If you believe it you can achieve it'."
Watch our full interview with Sparsh Shah here: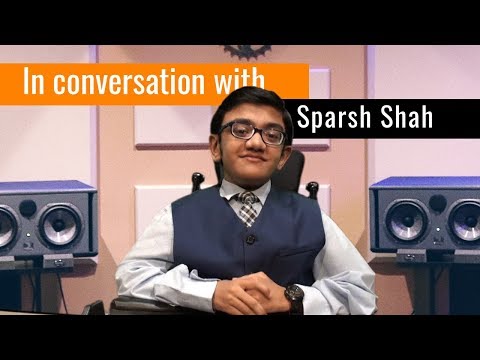 Apart from his extraordinary singing and rapping talents, Shah's desire to cruise forward despite all setbacks and his humbling persona are what make him the outstanding artist he is today.
An intelligent and sophisticated young man who is wise beyond his years, Sparsh Shah most certainly has a bright and musical future ahead of him.