"Look, they teaching you how to be pretty, okay, like Madhuri Dixit"
Lilly Singh is one of the most successful YouTubers in the world. She also happens to be Indian-Canadian.
Her Youtube channel name is IISuperwomanII and she refers to herself as 'Superwoman'.
She reportedly earned £8.7 million in 2017, ranking her 10th in Forbes' highest-paid YouTube stars. She released her own book, her own merchandise, and will soon have her own television show.
An important part of Lilly Singh's online presence is how she uses her visibility and success to promote charities.
She is a passionate advocate for women's rights and has dedicated a lot of her time and money to female empowerment.
Lilly is most famous for her comedy sketches on YouTube. Her videos are likely to make any viewer laugh, but viewers with Desi heritage love her relatable content.
Lilly's fame has led her to collaborate with many celebrities in the past. In this article, DESIblitz explores Lilly Singh's top 7 Youtube collaborations with a Desi twist.
What Bollywood Has Taught Me (Feat. Madhuri Dixit)
In this throwback to 2014, we see Lilly Singh as her much loved characters: her mum and dad.
The sketch opens with Lilly watching a Bollywood film with her 'parents' (they are in fact Lilly Singh dressed up as her parents.)
Lilly is complaining about the film to her mother (Paramjeet) and father (Manjeet). She asks them if she can watch something different because there is nothing useful to learn from a Bollywood film.
Her parents disagree and tell her that Bollywood can teach her many important life lessons. They are silly life lessons, however, such as how to be pretty. Paramjeet tells Lilly:
"Look, they teaching you how to be pretty, okay, like Madhuri Dixit, okay? Not like you, stupid!"
To Lilly's surprise, Madhuri Dixit rings the doorbell of the Singh family's house. Lilly answers the door and is totally starstruck.
Madhuri Dixit walks into Lilly's house and asks: "Bollywood hasn't taught you anything?"
Lilly responds that she doesn't think Bollywood has any of the answers to life's questions. She gives Madhuri some examples, such as how to get over a breakup, how to impress a boy, and even how to win at a game of hide and seek.
Madhuri responds to all of Lilly's questions with Bollywood songs that provide advice in their lyrics.
Lilly's fun comes to an end, however, when her parents embarrass her by arguing in front of Madhuri. Madhuri decides to leave before things get out of hand.
To watch this Desi collaboration, click below: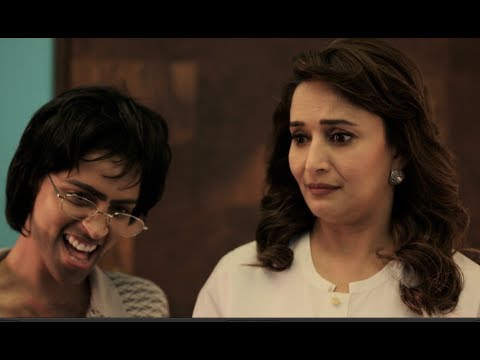 How to Be a Good Wing Woman (Feat. Priyanka Chopra)
As one of her '12 collabs of x-mas', Lilly Singh created a video featuring one of India's most well-known celebrities: Priyanka Chopra.
The video is titled How to Be a Good Wing Woman and is a hilarious video showing Lilly trying to help Priyanka meet a man at the bar.
The video opens with Lilly and Priyanka drinking at a bar. Priyanka is complaining about how her boyfriend dumped her through Snapchat.
Lilly is determined to help Priyanka get over her heartbreak. She decides to be her wing-woman and set her up with someone in the room. Lilly turns to the camera and states:
"I'm the ultimate wing-man – uh, wing woman. Wing person. You know what I mean."
Lilly has a plan. She walks up to a man Priyanka is interested in and asks what he is drinking. She then shouts out his drink of choice so that Priyanka can order the same.
Superwoman then continues to ask the man questions and tells him that he and Priyanka have a lot in common.
When she finally convinces him to go to talk to her, however, it is revealed that he is gay. He asks Priyanka if she could help him meet other men in the bar.
It's an unsuccessful wing-woman attempt by Lilly, but it is a hilarious and successful Desi collaboration.
To watch Lilly Singh's collaboration with Priyanka Chopra, click below: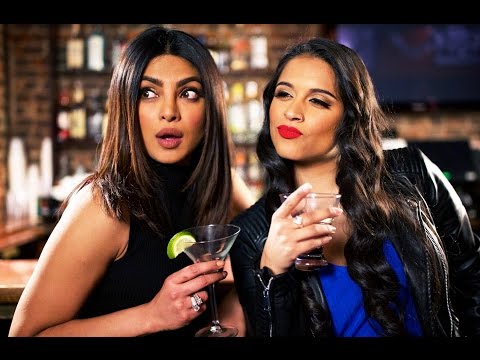 Gift Guide For Immigrant Parents (Feat. Hasan Minhaj)
For another Christmas collaboration in 2018, Lilly Singh makes a video with comedian Hasan Minhaj.
The video is a spoof gift-guide for presents to give your immigrant parents for Christmas.
Lilly opens the video by telling viewers:
"The following gift guide will for sure make your immigrant parents happy."
Hassan then begins the list of suggestions, such as a report card of straight A's, a medical degree with your name photoshopped on to it, and expensive garbage bags with reinforced bottoms. He explains:
"Yeah they cost a lot more and your parents will never buy them."
They list 15 ideas in total before Hassan tells the viewers:
"It's not about how much money you spend. It's about the thought and the care and how much money you saved honestly."
Comments beneath the video show what the viewers thought of the collaboration. They loved how Lilly and Hassan hilariously showed how so many immigrant parents act around their children.
For example one of their gift suggestions was maid service for a day to help out around the house. The video then cut to a scene of Lilly's mother (Paramjeet) cleaning a table and shouting:
"Oi! Hurry up and clean before maid come, okay? Doesn't look nice."
To see this hilarious collaboration for yourself, watch the video below: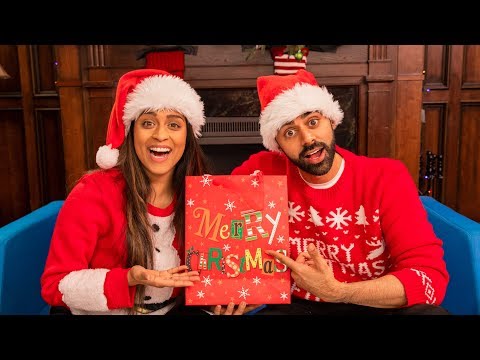 What Clubbing Is Actually Like (Feat. Liza Koshy)
Two YouTube sensations came together for this video. This time Lilly Singh collaborated with Liza Koshy, a fellow YouTuber who also makes comedy videos online.
The video begins with Lilly explaining that going clubbing can sound so exciting when you're younger. Now that she has experienced it for herself for several years, she tells her viewers exactly what to expect.
She begins with how the night will begin: getting ready with your friends. It is here that Liza Koshy joins Lilly as they apply makeup and style their hair together.
Lilly then explains the rules of the game: for example, you need to leave the house by 10:15, which means you need to start drinking at home at 9:15.
She then tells her viewers that there will be confusion with the guest list of the club, and arguments over whether you should be granted free entry.
Eventually, however, you will inevitably cave in and pay the entrance fee anyway.
When Lilly and Liza finally enter the club, it is empty and the people working there are still setting everything up.
But before long, the fun returns and the two YouTubers are drunkenly telling each other how much they love each other.
The video even features a much-loved character of Liza Koshy's videos, Helga. She is talking to Lilly who is dressed as another man.
The video ends with Lilly taking a break from vomiting in her bathroom toilet to take a call from her dad.
She panics because she does not want him to know she has been drinking, so she tells him she was helping her friend all night. She takes the lyrics from the theme song of the T.V. show The Fresh Prince of Bell Air to make her storyline:
"Basically Liza's life got turned upside down. She spends most of her days on the playground chilling, maxing, relaxing all cool, she was playing b-ball outside of the school.
"She got in a fight, her mom got scared and now she's moving with her aunt and uncle in Bel Air. I'm just trying to calm everyone down."
The video ends with her being given an award for her impressive performance to her father on the phone.
To watch this video and learn all that Lilly Singh and Liza Koshy know about clubbing, click below: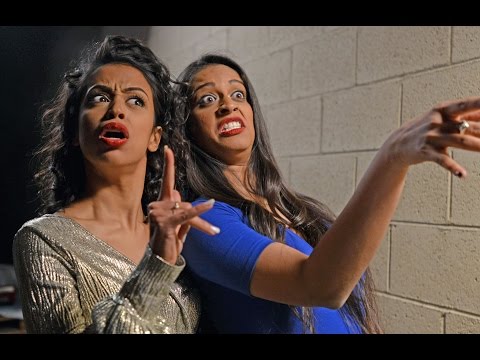 If People Were Honest On Dates (Feat. Jay Sean)
Going back to 2014 again, we find Lilly Singh collaborating with the famous pop singer Jay Sean. His most popular song, Down, was in the top charts in 2009.
For this video, Lilly and Sean go on a date. This date differs from normal dates, however, because the whole time they are honest and speak their mind. Examples include Lilly saying:
"I'm instantly regretting this."
Sean also can't help but speak the truth. For example, he tells Lilly:
"My last girlfriend emotionally scarred me, so I feel the need to over-compensate."
This video is relatable to anyone who has been on a date and felt the pressure to be a perfect version of themselves.
Lilly and Sean demonstrate just how ridiculous it would be if we were to break down this standard and speak our minds.
After some awkward outbursts and a tipsy walk home, the couple decides to high-five and call it a night.
Lilly Singh also made a vlog of the day she filmed this video. It shows her and Sean joking together and Lilly trying to copy Sean's English accent.
To watch this hilarious and relatable video, click below: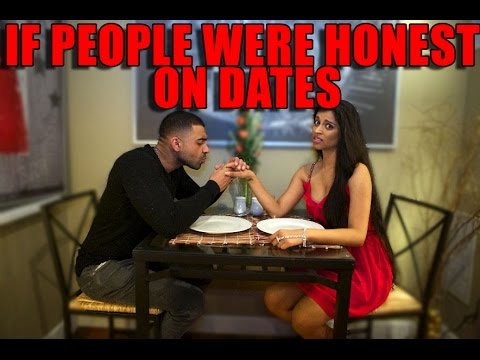 Lilly Singh: ON Being Grateful For Depression | ON Purpose Podcast Ep.5 (Feat. Jay Shetty)
The next Desi collaboration is different in style. It is a podcast with Jay Shetty that was filmed for his Youtube channel.
Jay Shetty is an award-winning host and big fan of Lilly Singh. This video is an hour-long interview with Lilly.
They discuss various topics as Jay has many questions for Lilly. As the title of this video suggests, however, the focus is on Lilly's experience with depression.
She reveals to the listeners how her YouTube success is related to darker times in her life.
Lilly explains that when she graduated from university she felt very lost. She did not know what she wanted to do and she found herself in a dark and sad period of her life.
Lilly Singh used YouTube as a way to escape her depression. Making videos on her channel made her happy, and so that has continued to motivate all her hard work over the years. She told Jay:
"I really think that this desire to not waste time and not waste opportunities and not waste this life is honestly what drives me because I know what it feels like to not like life.
So I don't want to go back to that place."
Here we see Lilly Singh, who is known for making millions of people laugh, discuss a very serious issue.
Lilly Singh's openness and honesty in this video allow the viewers to get to know her better.
If you're interested in listening to this podcast, click on the video below: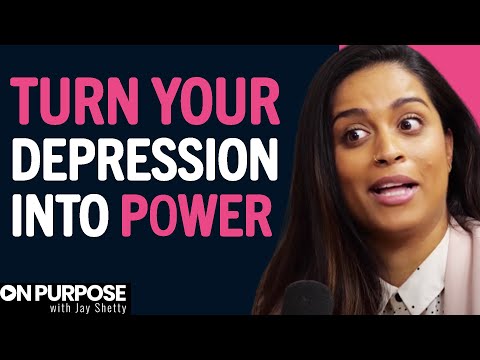 If My Indian Dad Was A Rapper (Feat. Nargis Fakhri)
Finally, we have Lilly Singh's collaboration with model and actress Nargis Fakhri. In this video, Superwoman is acting as one of her favourite characters: Manjeet.
She makes a collection of three songs based on popular rap songs, but the lyrics have changed. The original lyrics have been replaced by Manjeet.
The second song in this video is a spoof of El Taxi by Osmani Garcia. As Lilly raps and acts as Manjeet, a famous model dances beside her: it's Nargis Fakhri!
Nargis Fakhri accompanies Lilly in her spoof music video for 'My Taxi'.
The video is filmed in India and includes lyrics relatable for anyone who has Indian heritage. Some of our favourites are:
"I have many rupees, buying ladoos by the pound, I would make it rain but then people would drown."
The other two songs of this video also include fantastic lyrics such as:
"She says she want a guy who can speak another language, like kidhan soniyeh? I'm a mother-effing savage."
It's not only the lyrics that make these songs so funny; it's Lilly Singh acting as her dad.
From her costumes to facial expressions, you can't help but laugh when watching her on-screen.
To see this hilarious video with the celebrity actress and model Nargis Fakhri, click the link below: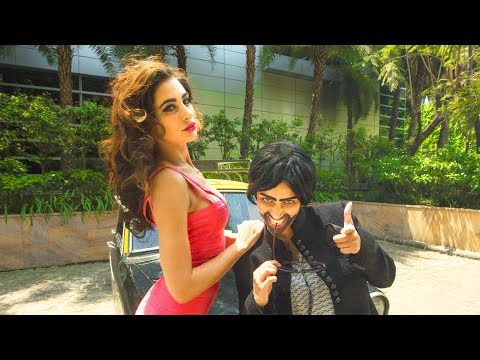 Lilly Singh has made hundreds of videos on YouTube. If you're unsure which are best to watch next, this is the list to use.
Her Desi collaborations can be enjoyed by people all over the world. However, if you share her Desi background, her jokes are even more relatable.
If you're a fan of any of these Desi celebrities, you cannot miss these Lilly Singh collaboration videos.