"I'm so excited because I truly get to create a show from scratch."
YouTuber Lilly Singh has revealed that she will have her own late-night TV talk show. She appeared on The Tonight Show starring Jimmy Fallon to announce the news.
She is set to replace Carson Daly's slot after he announced he was leaving his show Last Call after 17 years on the air.
Singh said: "Your girl is getting her own NBC late-night show!
"And to clarify, it's not Jimmy's slot."
Singh, who goes by the name of IISuperwomanII on YouTube and boasts over 14 million subscribers, told Fallon that her show will be called A Little Late with Lilly Singh.
There is a chance that the show will make its debut in September 2019.
Singh said: "I'm so excited because I truly get to create a show from scratch.
"I get to make it inclusive. I get to create comedy segments and interview people and really create something that I believe in.
"I'm so honoured and humbled."
Singh is one of the few women in history who has the opportunity to host a late-night show on a broadcast network.
The YouTube star paid tribute to former female broadcast hosts like Joan Rivers and Wanda Sykes.
"I gotta just say a huge shout-out to all the women who have been before me and are currently in this space because I could not have done it without them paving the path."
See Lilly Singh's Announcement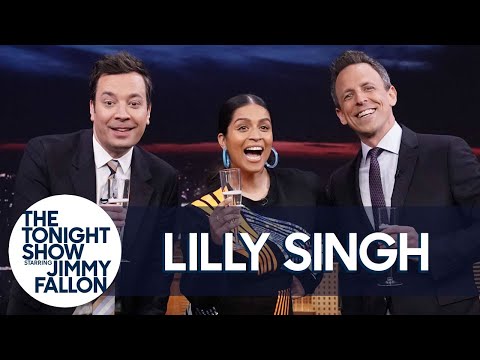 Singh's announcement is exciting because it brings a lot of potential due to her creativity as a YouTuber.
Although her programme will air at 1:30 am local time, Singh's digital presence will help create an impact.
Her career as a YouTuber has enabled her to launch her own lipstick line and cameos in films like Bad Moms (2016).
NBC's executive vice president of special programs and late night Doug Vaughan said:
"Lilly is truly a star and we're thrilled to welcome her to our NBC family.
"She is a multi-talented performer who will surely have a great rapport with not only all her guests but also with our devoted late-night audience. We can't wait to get started."
Singh described her dream TV program in 2016:
"It would be Game of Thrones somehow meeting The Fresh Prince of Bel Air.
"Like, a comedic version of Game of Thrones. I would like to be a Khaleesi with a comedic edge."
It has been reported that Lilly's show will be 30 minutes per episode where she will be interviewing a number of guests.
She will also create her own pre-recorded comedy sketches and segments. Her YouTube channel is known for an array of viral comedy clips.
It is a great opportunity which will only propel Singh further up in the showbiz world.