"In Kick, we have songs by four different music composers. But only one singer - Salman Khan."
The long wait is over as T-Series have released the Audio Jukebox of songs for Salman Khan's next release, Kick. And no, that's not even the big news!
Salman Khan has surprised B-town and critics alike by revealing that he has sung not one, not two, but all the songs of Kick! A surprise to many, the Kick music soundtrack is a whooping treat to all the Salman fans out there.
Yes, you read it right. Salman being the biggest 'dildaar' of Bollywood, has sung all the songs in his own voice for the masala action feature.
Clearly, our Bollywood 'Bhai' is on an extravaganza like never before. Not just a superstar, actor, TV host, lyricist, and a painter, Salman can now add talented singer to his list of credentials.
The strength of a commercial movie lies in its music, and it is clear that Salman has left no stone unturned to ensure that Kick is the biggest film of the year. Could it even surpass close friend Aamir Khan's Dhoom 3 (2013) as the biggest Bollywood film ever?
Sajid Nadiadwala, the Producer and the Director of Kick confirmed Salman's musical offering by saying: "In Kick, we have songs by four different music composers. But only one singer – Salman Khan."
At the beginning of July 2014, the song 'Hangover' sung by Salman was released, initially dubbed to be the only track that Salman lent his vocals to. But Bhai's superstar value worked miracles for the track, and it speedily mounted the charts with 250,000 views in less than 24 hours since its release and and incredible 2 million views in 4 days.
Many actors of B-town have tried singing a song or two for their movies, including the likes of Amitabh Bachchan, Shraddha Kapoor and Alia Bhatt. All have offered their voices and time only for one particular song from the album, but Salman Khan is always known to go that extra mile further than the rest and he is always keen to do something 'hatke'.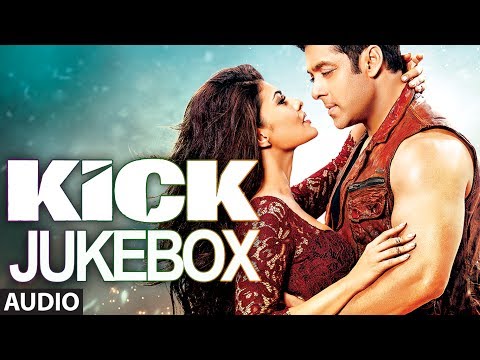 Sallu Bhai, as he is fondly called, hinted at his singing ambitions when he said: "I am going to sing a slow romantic number. And it's just not one song that I have sung, its two to three songs and I may sing more. This slow number is not easy to sing, but I will try it anyway. If I get this song right, then I can sing many more songs for other films as well."
"I sing badly but I can sing just about anytime. I don't care about how I sing… I sing, I don't care."
He also confessed that he got his singing talent from his father: "I paint because my mother does and I have got this voice from my father."
"Wajid (of the music director duo, Sajid-Wajid) was a big help to me when I sang the songs; he'd sing one line and then I would repeat it. In any case, I sit in for the music sittings of all my films," he added.
Not many are aware that Salman is a talented singer. Though we have heard him sing before in Hello Brother (1999), Yuuvraaj (2008), Wanted (2008) and Bodyguard (2011), it was only for a song or two in his film's music albums.
However, when Sajid Nadiadwala recorded the first song of Kick with Salman Khan, everybody loved it so much that he suggested getting Salman to record all the songs in his voice.
Nadiadwala added: "Salman insisted on singing it himself. This is the first time he's sung a romantic duet. He impressed everybody, including Shreya [Ghoshal]. The song which was always part of the script is sure to make the girls swoon."
Music composer Manmeet confirmed the news: "There's a fantastic singer hidden in Salman. We were bowled over by his voice control. He's sung in bits and parts before but this, we feel, is his real debut as a playback singer."
The music album of Kick also boasts songs in the voice of Mika Singh (Jumme ki Raat) and Yo Yo Honey Singh (Yaar na mile) with their separate versions sung by Salman. Watch out for songs 'Jumme ki raat', 'Tu hi Tu' and 'Hangover' in Sallu's voice as well.
After listening to the music album, one wonders why Sallu Bhai has not done this before for all his films. Tweaked or not tweaked we love Salman in all the songs of Kick and think he should continue singing for all his films.
Kick starring Salman Khan and Jacqueline Fernandez will hit cinemas on July 25.