"I met Shahrukh today. He is a good guy. I like him. I have always liked him."
July 6 was the Annual Hug Day for the Bollywood Khans. Like last year when Salman and SRK hugged each other, the media caused a frenzy, and the fans went crazier.
History repeated itself this year when the Khans hugged each other at the Iftar party of Baba Siddique. Was it a publicity stunt for their upcoming movies or was it a genuine hug, DESIblitz tells you all.
In 2013, earth felt a tremor as the fans of Salman and SRK clan respectively were either panicking or rejoicing after news came out that the arch rivals Salman Khan and Shahrukh Khan hugged each other.
Salman and Shahrukh Khan have absolutely avoided each other in public, ever since a major clash at the party of Katrina Kaif's 25th birthday in 2008.
Next morning, after the hug incident, Shahrukh had posted on social media: "Finally u realize turning the page is the best feeling in the world, becos there is so much more to the book than the page u were stuck on."
This year at the same venue, with the same host, at the same Iftar party, history repeated itself. Let's take a detailed look at what really happened at the party.
Baba Siddiqui, this year too was hosting his famous annual Iftar party. Salman Khan arrived, looking spruce in a blue shirt and jeans, confident and sporting a wide smile, wishing salaams to everyone and bizarrely also posed 'happily' for the paparazzi.
A little while later, the King Khan, in his ponytail and a sexy black kurta entered the party making a style statement.
While Salman was busy meeting people and shaking hands with Chief Minister Prithviraj Chavan, Shahrukh  passed the crowd and made his way towards the main table where Salman was standing.
SRK and Salman came face to face for a moment, just when Salman moved on to the other side to meet other guests and conveniently ignoring SRK who was right behind him.
Shahrukh Khan ignoring him too took his seat next to the Chief Minister. The moment SRK sat down, Baba Siddiqui, the host of the party, asked him to come and stand next to him.
Then what everybody was hoping for happened, SRK and Salman came face to face again just like the last year. Shahrukh and Salman also smiled for the cameras with the mediator, Baba Siddiqui standing between them.
But that's not all, what was conspicuous was that even though both of them were chatting and smiling, they seemed to be avoiding eye contact throughout.
Though both of them were posing for the shutterbugs, they seemed to wilfully avoid coming face to face or talk much to each other.
It was only after the media continuously made requests for them to repeat the history like last year and hug each other once more, did the actors embraced for a few milliseconds. Immediately they went on to wish and greet other guests at the party.
Sorry to disappoint the fans who wished that this might be the hug with which they buried the hatchet of 7 years, it certainly didn't look so. What's interesting is that last year after the Salman-SRK hug, Chennai Express (2013) had a tremendous release and even the Salman fans supported the SRK movie thinking it was a friendship to last.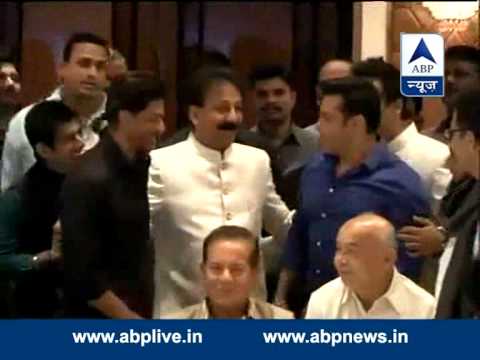 This year it's a Salman starrer Kick (2014) release in the upcoming weeks and it will be interesting to see if the SRK fans will come out and support Salman this year.
Looking at the entire incident, one can only guess if either of the stars was concerned of hogging the limelight with their hug this time to create hype for their upcoming movies or was it just the continuous pressure from everyone around them that forced them to 'hug'?
Later, Salman met up with a number of press to talk about his new movie. Clearly milking the media hype for all it was worth, Salman was quoted as saying: "I met Shahrukh today. He is a good guy. I like him. I have always liked him."
Perhaps we will never know, but it seems that the SRK Salman saga is yet to be continued.