"What's lovely about it is that it just shows how Indian cinema has crossed boundaries."
The London Indian Film Festival (LIFF) has created an extraordinary buzz in the capital city.
Directors, producers, actors and musicians have flown in from across the globe to celebrate the best of independent film from the Indian subcontinent.
In the presence of local media and celebrities, guests arrived on the red carpet at the Cineworld Haymarket in central London and official media partners of LIFF, DESIblitz were there to capture all.
The red carpet lit up with the likes of Bollywood beauty Amy Jackson, Seirah Royin, Tasmin Lucia-Khan, and Nitin Ganatra amidst a flurry of producers and directors all here to showcase their latest cinematic masterpiece.
Of them included the cast and crew of American-made Sold, acclaimed Indian cinematographer and film director Santosh Sivan, and radio couple, Sunny and Shay who are brand ambassadors for LIFF.
TV presenter Tasmin Lucia-Khan had many positive things to say about LIFF, and its significance to British Asian audiences:
"I think it's an amazing idea, and I wish we'd had it 30 years ago. I think what's lovely about it is that it just shows how Indian cinema has crossed boundaries," Tasmin told us.
Actress Amy Jackson who is currently starring in a series of Hindi and Telugu films stunned in a canary yellow Gaurav Gupta dress. Speaking about the importance of foreign cinema in the UK and bringing West and East together, she said:
"I think it's improving all the time. Myself for instance, I'm from England and now I'm acting in Indian movies and vice versa.
"I mean Aishwarya Rai has made the crossover to Hollywood and I think combining makes it improve and the industry grow, both Hollywood and Bollywood."
Founded by celebrated director Cary Rajinder Sawhney, the London Indian Film Festival is in its fifth consecutive year and continues its successful stint of bringing awe-inspiring and truthful cinema to the UK.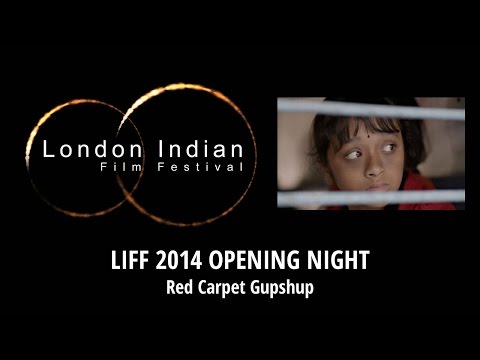 As he tells us, his aim is to make LIFF a festival that will bridge the gap between British Asian and non-Asian audiences to the excellence of contemporary cinema from the East:
"The focus for this year's festival is to show great cinema as it has always been. We're not looking at themes, we're not a particularly tailored festival. All our films are great films and that's what we aim to achieve so we've very carefully picked the best films that suit our different Asian audiences," Cary tells us in an exclusive Gupshup.
Cary has certainly ticked all the boxes this year as the Cineworld Haymarket was full to the brim with famous faces and British Asians looking forward to watching LIFF's opening film, Sold. A heavy tale of child trafficking in India and Nepal, it has been directed by Jeffrey D. Brown and produced by Jane Charles.
The director and producer duo were joined by none other than Gillian Anderson who plays a pivotal role in the film. Known primarily for her X-Files role, Gillian looked breathtaking in a little black dress and white heels. She opted for a relaxed natural look with minimal make-up and simple straight hair.
Gillian was welcomed into the Cineworld amidst a band of dhol players and drummers marking the official opening of LIFF, and the blonde beauty even stopped to chat to a few of them before entering the building. Telling us about attending LIFF, Gillian admitted: "It's amazing to be involved with it."
Speaking about the serious issues which surround the film, Gillian told us: "I had not realised what a horrific situation our world was in, in terms of human trafficking. I didn't realise it as a big a business it is. I didn't realise that over a $100 billion a year is profit from the sex trade around the world. $150 billion are tolled from human slavery of one kind of another, human bondage etc. That's appalling."
Following the film, Gillian was joined by Jeffrey and Jane for a special Q&A with Sunny and Shay regarding the film.
Audiences were treated to an inquisitive discussion of the serious issues within the film and the relevance of child trafficking and forced prostitution not only in Nepal and India, but also across the world as far as America and the UK.
For Cary, the film was perfectly apt for LIFF, showcasing the importance of such independent films in modern society, and encourage them to tackle sensitive issues without fear or resistance.
As Cary tells us: "We're only five years old this year, and we're already the UK's and Europe's largest festival. Our audiences are growing. We've got a massive PR reach which is fantastic for South Asia and the UK, and all around the world. It's exciting to see some of our films have picked up distribution in the UK."
With a mixture of Masterclasses, Q&A's, talks, screenings and UK premieres, the London Indian Film Festival promises to be a spectacular week of engaging foreign cinema from all corners of the globe.
Make sure you check out DESIblitz for full coverage throughout the week!