"A lot of people appreciate the importance of awards."
After its highly successful inaugural event in 2017, the Leicester Asian Glitz Awards 2018 (LAGAs) returned to the Ramgarhia Centre on Saturday 21st April.
The LAGAs 2018 shone a spotlight on a range of gifted and hardworking individuals in the Leicestershire Asian Arts industry.
From showcasing comedians and dancers to a Lifetime Achievement award, the organisers, JAY's Entertainment, crucially recognised the breadth of ability in the diverse UK city and its surrounding areas.
Excitingly, the second annual LAGAs featured celebrity judges. Lending their expertise was Anu Malik, singer Altaf Raja, comedian Jamie Lever and dance master Suresh Singh.
Without a doubt, the event was a splendid opportunity to rub shoulders with these glamorous stars as well as giving a vital platform for up-and-coming faces in the industry.
The Showmakers
Alongside these international celebrities were VIPs from all around the UK, including movers-and-shakers in the industry.
The founder of the company and the awards, Jay Kotak, organised the show with partners and supporters: Sony Entertainment Television, Sabras Radio, the Leicester Mercury, DESIblitz, Platinum Sounds and Internalmusic.
But this year's LAGAs were in aid of the incredibly worthy cause of Macmillan Cancer Support.
Nick Kotak opened the show before BBC Asian Network's Raj & Pablo hosted the rest of the evening.
Hailing from Spain, the Sunny Singh Bollywood Dance Company graced the stage with energetic routines. They gave a tantalising sample of the fun yet to come.
In addition to nominee performances, judge Jamie Lever set the audience giggling. She included many mischievous imitations like Sunny Leone and the choreographer Farah Khan. Before receiving applause for her quick, but impressive rendition of "I Will Always Love You".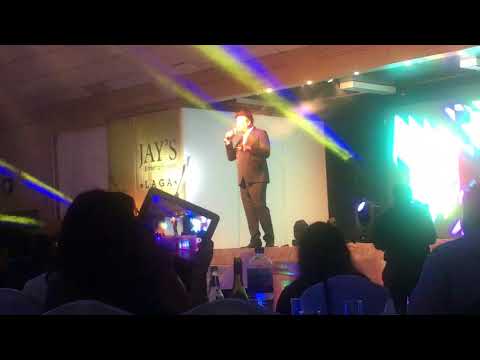 Later, both Altaf Raja and Anu Malik treated the audience to much-anticipated performances.
They set a brilliant example for all with their ability to connect with the audience.
A Glamourous Community Event
A drinks reception greeted guests for them to enjoy some Prosecco and tasty canapés. A perfect touch of glamour while Lyca Radio duo, Shivi and Selina Hotwani interviewed the happy nominees.
After glitzy red-carpet photo opportunities, a two-course meal accompanied the awards ceremony.
Some awards included both a winner and runner-up award in appreciation of the high calibre of nominees. Clearly from the degree of talent in the room, even choosing two must have been a close competition.
In an exciting awards ceremony, special guests presented awards to the joyous winners.
DESIblitz presented the Art Achievement Award to Smita Vadnerkar.
Then the Lifetime Achievement Award went to Ramanbhai Barber.
These winners have made such admirable contributions in their life and work in the culturally rich community of Leicester. Yet, the LAGAs 2018 were an excellent way to encourage newer talent.
Between awards, onstage competitions with nominees wowed guests. Here, the nominees had professional feedback from the judges.
The winner of Best Female Singer, Damini Chavda had her performance declared as "outstanding" and that it "highlighted women's empowerment".
Then, the winner of Best Comedian, Salman Malik entertained with a fast-paced and clever set. Judging by the laughter, the crowd were in clear agreement with the awkwardness of translating classic songs like "Bole Chudiyan" into English.
In fact, for all in attendance, it was a great way to discover promising talent early in their careers.
A Celebration of Diversity
The winner of both last year's Best Male Singer award and this year's runner-up, Kadam Verma told us:
"I think it's a really good opportunity for everyone who wants to showcase their talent. Even the people in the top five, they have been chosen and voted by the people in the Midlands and across the country – and of course across the globe."
We also asked him about his experience after winning last year:
"I think it was really good as a lot of people started recognising me. I had a couple of singles out but then I'm getting some more music out. A lot of people appreciate the importance of awards."
Similarly, DV Entertainments accepted their award for Best DJ, sharing their ten-year journey to success. While thanking the Leicester community and all who had voted, he told the audience:
"If my story can go out today to one young person, to follow their dreams and do what they want to do, I will be a happy man."
Indeed, even those outside of the Arts industry could appreciate the significance of the LAGAs 2018.
Daanyal Spalding, a young British Asian professional golfer was in attendance. He remarked:
"It's showcasing different talents and ethnic minorities and it's obviously a great stage and platform for people to showcase the talents in the local community."
With the community feel of the Ramgarhia Centre, it was truly a great opportunity for local talent to receive support and recognition for their hard work.
Here is the list of winners and runners-up of the Leicester Asian Glitz Awards 2018:
Best Male Singer Winner
Utkarsh Dave
Best Male Singer Runner-up
Kadam Verma
Best Female Singer Winner
Damini Chavda
Best Female Singer Runner-up
Darshana Naker
Best Male Radio Presenter Winner
Raj Baddhan – Sabras Radio
Best Male Radio Presenter Runner-up
Akshay Patel – Sabras Radio
Best Female Radio Presenter Winner
Sandhya Joshi – Sabras Radio
Best Female Radio Presenter Runner-up
Missy B Sharma – Sabras Radio
Best Punjabi Radio Presenter Winner
Daljit Neer – Eava FM Radio
Best Punjabi Radio Presenter Runner-up
Jagdeep Rainu – Sabras Radio
Best Gujarati Radio Presenter Winner
Shobha Joshi – Sabras Radio
Best Gujarati Radio Presenter Runner-up
Kamlesh Purohit – BBC Radio Leicester
Best Radio Presenter Newcomer Winner
Sukh Kaur
Best Host Winner
Kash Kumar – Sabras Radio
Best Host Runner-up
Jyoti Teli
Best Online Presence 2017/2018
BizAsia
Best Male Solo Dancer
Durgesh Makwana
Best Female Solo Dancer
Ravneet Kaur
Best Dance Group Winner
RNR Productions
Best Dance Group Runner-up
Dhamak Panjabna Di
Best Comedian
Salman Malik
Best DJ Winner
D V Entertainment
Best DJ Runner-up
3 Style Entertainment
Best Sound and Lighting Winner
Audio Visual Hire (AVH)
Leicester Community Award
Parin Suchak
Lifetime Achievement Award
Ramanbhai Barber
Art Achievement Award
Smita Vadnerkar
Leicester's got talent. But thanks to the second annual LAGAs 2018 being bigger than before, the event built on its previous success to create an even better platform for local Leicestershire talent.
DESIblitz would like to congratulate the night's winners and runners-up as well as the gifted nominees.