"I feel a bride and groom should give this a try"
The first dance between the bride and groom is one of the highlights of a big Desi wedding.
As many family and friends gather around the dancefloor, we cannot help but be happy and proud of the newlywed couple.
Whether it's a slow romantic dance, or a full choreographed routine, all eyes and cameras will be focusing on them.
Not only will they both look fabulous on their big day, but the music they dance to is also a key factor.
Through making their marriage official, a traditional Bollywood song will kick off the party in glorious fashion.
Massive Bollywood hits such as 'Tumhi Dekho Na' (KANK: 2006) and 'Wada Raha' (Khakee: 2004) are examples of wedding songs.
Here are 22 best wedding dance tracks for a bride and groom to really announce their marriage in style.
Tu Tu Hai Wahi – Yeh Vaada Raha (1982)
A classic like 'Tu Tu Hai Wahi' from Yeh Vaada Raha (1982) lives long in the Bollywood era of love songs.
This masterpiece of a song does enough to bring everyone to surround the couple as they serenade on the dancefloor.
Indian music director R.D. Burman creates a calming romantic mood with the emphatic use of drums, violins and other powerful instruments.
Also, lyricist Gulshan Bawra effectively constructs his lyrics to make the words sound as if the characters are exchanging vows. For example, we hear words that reflect loving compliments:
"Main Aawaaz Hoon To, Tu Hai Geet Mera, Jahaan Se Neraala, Manmeet Mera."
[If I were the voice, then you would be my song, in this entire world, you are my soulmate.]
Singing icons Asha Bhosle and Kishore Kumar develop a natural relationship with their elegant vocals.
Furthermore, a brief but sweet dance on-screen between Rishi Kapoor and Poonam Dhillon mirrors the dancing element between a couple.
Listen to Tu Tu Hai Wahi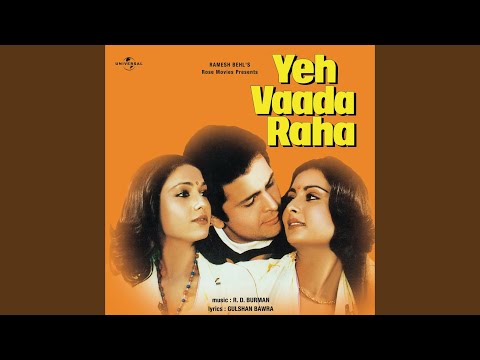 Tera Saath Hai Kitna – Janbaaz (1986)
Kishore Kumar again sings a fantastic love track from the 1980s which is very common with first dances at weddings.
In addition, the speed of the song is quite slow and steady, which is suitable for a couple to synchronise with.
Musical composers and brothers Kalyanji and Anandji Virji Shah make strong use of tablas and gather strong singing voices.
Kishore Kumar and Sapna Mukherjee are very compatible in terms of vocals. Also, they are great representations of actors Anil Kapoor and Dimple Kapadia.
Their on-screen presence shows them embracing each other in romantic settings such as waterfalls and sitting around a fire.
Avid listener of Kishore Kumar, Rajpreet chats exclusively to DESIblitz as she recalls seeing her relatives dance to this song at their wedding:
"It was such a beautiful moment. The soulful lyrics of the song fell perfectly with the chemistry between the new couple."
This ballad is a perfect fit for a couple's first dance as the harmonium gives a romantic feel.
Watch Tera Saath Hai Kitna
Dheere Dheere Se – Aashiqui (1990)
'Dheere Dheere Se' is an iconic number from the early 1990s, and was popular in weddings during that period.
With Aashiqui (1990) being such a hit, its love story and soundtrack is still remembered in the 21st century.
Bhushan Dua is the music director and uses a diverse range of instruments to really emphasise his flexibility in music.
For example the guitars, drums and harmonica is a complex variety but stays faithful to the theme of love.
Furthermore, the call up of singers Kumar Sanu and Anuradha Paudwal is a rich combination of showing emotions. The lyrics by Ravi Malik are also extremely noticeable as they signify passion:
"Dheere Dheere Se Meri Zindagi Mein Aana, Dheere Dheere Se Dil Ko Churana."
[Slowly, slowly enter into my life, slowly, slowly steal my heart away.]
The catchy beat during the chorus also adapts well to the subtle body movements of the bride and groom.
Watch Dheere Dheere Se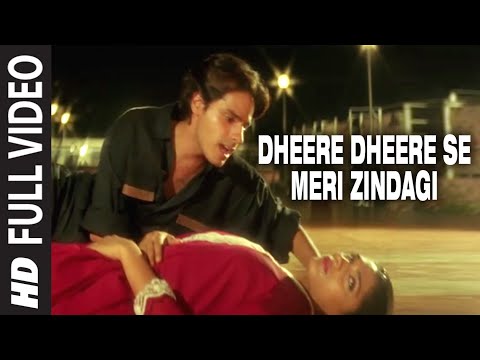 Nazar Ke Saamne – Aashiqui (1990)
Another hit from the same film that deserves an honourable mention is 'Nazar Ke Saamne'.
This award-winning composition engages with the innocence and purity of a young love story. Consequently, it's suitable to celebrate the marriage of a bride and groom.
Famous lyricist Sameer Anjaan won his first Filmfare award at the 36th Filmfare Awards in 1991.
His brilliant lyrics revolve around the feeling of being in love with that special person. In addition, the emotional volume of Kumar and Anuradha pays tribute to romance.
Interestingly, Anuradha specifically impressed Bollywood audiences as she also claimed the 'Best Female Playback Singer' Filmfare award.
The poetic rhythm of the tablas enables the bride and groom to slowly groove in time of the beat. As a result, this definitely goes down as a classic tune to have your first dance to.
Watch Nazar Ke Saamne
Ae Kash Ke Hum – Kabhi Haan Kabhi Naa (1994)
'Ae Kash Ke Hum' is a beautiful love joint that makes every Desi music fan feel in a loving mood.
Singer Kumar Sanu's solo rendition of this heartfelt song is a great choice for a groom to profess his love.
Furthermore, the visuals are key as the characters of Shah Rukh Khan and Suchitra Krishnamoorthi are happily enjoying their date together.
Also, we see them grasp each other's bodies with purity as they numerously dance with each other.
The twirling of Suchitra's body whilst holding Shah Rukh's hand is a trademark dance that certainly stands out. It is a lovely touch that the groom can try with the bride during their special moment.
Additionally, the video also includes a scene where they both dance with each other in a secluded space.
Whilst both wearing white and sharing eye contact it matches the mood of a first dance. Brothers Jatin and Lalit Pandit create such a magical song with the lyrics coming from Majrooh Sultanpuri.
Watch Ae Kash Ke Hum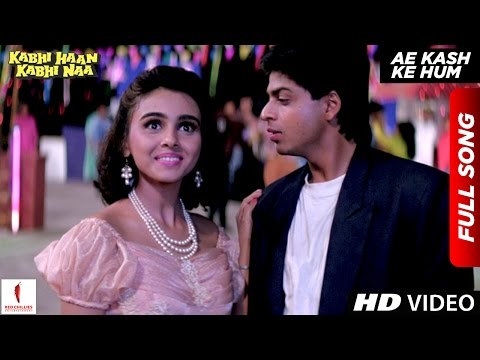 Tujhe Dekha Toh – Dilwale Dulhania Le Jayenge (1995)
'Tujhe Dekha Toh' screams romance and the beautiful nature of it. This marvellous love song is evergreen and remains a classic in Bollywood.
With regards to the story of the song, the emotional reunion of SRK and Kajol's characters is picturesque.
The hug that they share is a solid reminder of embracing the physical presence of your partner.
Concerning the song, the nostalgic vocals by Kumar Sanu and the legendary Lata Mangeshkar is a great relationship.
Their capability of hitting the right notes is fascinating and is a great fit for the characters on screen.
Music producers Jatin and Lalit Pandit establish the essence of love with the use of violins in the beginning of the song.
By bringing this to the dancefloor, the bride and groom have the chance to replicate the action in the visuals. The dances that SRK and Kajol share is inspiring to watch.
Watch Tujhe Dekho Toh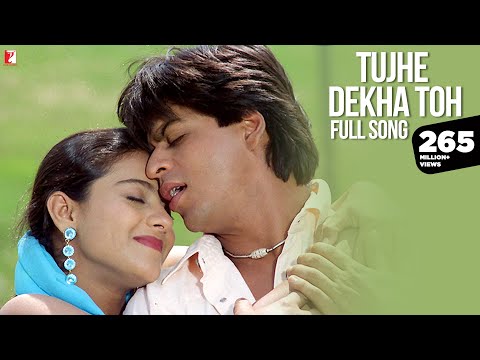 Pehli Pehli Baar Mohabbat Ki Hai – Sirf Tum (1999)
'Pehli Pehli Baar Mohabbat Ki Hai' has a message in which love becomes so overpowering, that we become restless of it.
Producer Nadeem Shravan brilliantly makes such a classical piece of music. The steady pace of the drums is very easy for a bride and groom to revel in their happiness.
Also, the constant beat in the chorus makes the body sway side to side which is beneficial.
Furthermore, the fantastic singing duo of Kumar Sanu and Alka Yagnik combine forces to create such a sentimental track.
Their ability to bounce off each other between verses is satisfying to listen to. The authentic tone of their vocals is gentle, therefore it creates a soft loving sequence.
Becoming a huge hit in 1999, a YouTube user reviews the song and refers to the 1990s as memorable:
"Soul of the 90s yaar, what an amazing and heart touching era of music that was! Being a 90s child I am truly in love with these songs."
Watch Pehli Pehli Baar Mohabbat Ki Hai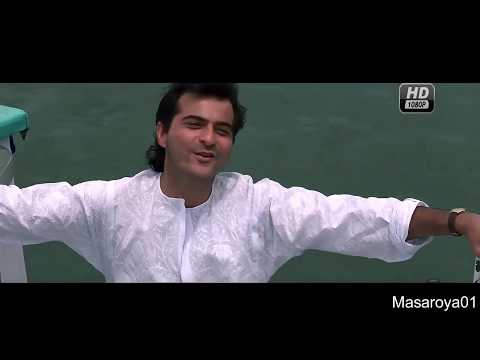 Mubarak Ho Tumko Ye Shaadi – Haan Maine Bhi Pyaar Kiya (2002)
'Mubarak Ho Tumko Ye Shaadi' is a trademark wedding song that deservedly goes down as one of the best.
Whether it is heard in the entrance of the newlywed couple or cutting a cake, this track will feature.
It is also an ideal song for the bride and groom to dance along to. Its high tempo and bold sound makes this a dancefloor filler in general.
Moreover, the music video shows a joyous wedding celebration with plenty of cheerful guests.
Bollywood singing maestro Udit Narayan passionately sings this romantic track about congratulating a new couple and wishing them happiness.
In terms of the song's creation, composers Nadeem Akhtar Saifi and Shravan Kumar Rathod use many South Asian instruments.
For instance, there are various segments where a Sarangi is used to capture the emotions of the events. Also, the Dholak playing throughout the song provides a rich backing of the tune.
Watch Mubarak Ho Tumko Ye Shaadi
Tune Zindagi Mein – Humraaz (2002)
'Tune Zindagi Mein' is a slow ballad that goes down a treat in a first dance between the bride and groom.
Music director Himesh Reshammiya crafts a soothing composition together where he uses sound to full effect. Drums, violins and clarinets are skilfully mixed to embody themes of love.
Also, Udit takes on the responsibility of singing this track alone and skillfully sings it with plenty of heart.
Furthermore, the tranquillity in his voice and the orchestral background is necessary for the occasion of a wedding. In addition, lyricist Sudhakar Sharma precisely focuses on the theme of marriage:
"Tune Zindagi Mein Aake Zindagi Ho, Zindagi Badal Di."
[By coming in my life, you've changed my life.]
Watch Tune Zindagi Mein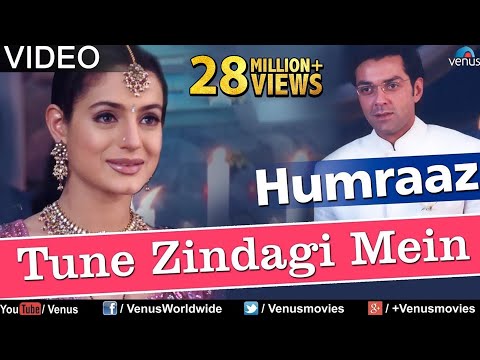 Kisi Se Tum Pyar Karo – Andaaz (2003)
A memorable song such as 'Kisi Se Tum Pyar Karo' highlights the elation of celebrating a marriage.
Udit Narayan channels his charming voice precisely to this cheerful track, whilst getting the wedding venue in positive spirits.
Also the soft vocals from Alka Yagnik is the icing on the cake, as she serves the female role significantly.
Furthermore, as far as the visuals are concerned, a cheerful and cultural wedding makes this appropriate for a first dance.
Nadeem Saifi and Shravan Rathod fuse in violins, dholak, drums and flutes to emphasise the orchestral element of the song.
Asserting a vivid message, lyricist Sameer Anjaan addresses the importance of declaring your love because life is too short.
Watch Kisi Se Tum Pyar Karo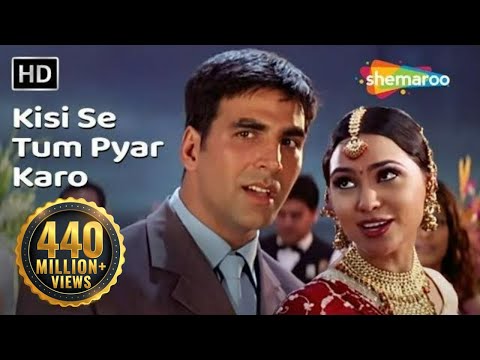 Wada Raha – Khakee (2004)
'Wada Raha' remains a traditional wedding song with its charming and divine vibes. Similarly to 'Mubarak Ho Tumko Ye Shaadi' this wonderful track can be used in various wedding scenarios.
For example, the entrance of the bride and groom in the reception, using this song is a lavish way of kicking off the party.
The evergreen voice of Udit Narayan delivers to the best of his ability by applying an echoey but elegant tone.
In addition, talented female singer Shreya Ghoshal's stellar voice is a great match to Aishwarya Rai Bachchan's radiant look.
YouTube user Aditya Khan describes this song as special and cordial. He states:
"I love this song. This is an everlasting song. A heart touching song as well."
Furthermore, the visuals contain underlying metaphorical meanings.
What makes this symbolic is that we see Akshay Kumar and Aishwarya's love set in a blissful space where they're almost up in the clouds with echoed sound effects.
Also, music composer Ram Sampath utilises the sounds of wind, implying that it's just their heavenly space.
Linking this to a bride and groom's dance, the message resonates with their relationship and is fitting for the occasion. It is figurative because you can describe the couple as a 'match made in heaven'.
Not to mention, the violins and the flutes are an essential asset of advocating 'love'.
Watch Wada Raha
Hum Tum – Title Track (2004)
'Hum Tum' is a flawless love track that deserves a dance along to, especially between two lovers.
Music composers Jatin and Lalit Pandit develop an understanding of romance, through utilising modern instruments.
The pianos, saxophone and violins create a loving and also sensual feel to the song.
Furthermore, the backing vocals of a choir singing 'Hum Tum' is a fine addition as it suggests calmness and peacefulness.
The magical voices of Babul Supriyo and Alka Yagnik are a melodious duo and have innocence in their tone.
The slight autotune of Babul is crisp and does not overpower his natural sound. Additionally, lyricist Prasoon Joshi bears in mind the valuable soul of ballroom dance in his words:
"Baahon Mein Humko Pighalne Do Zara, Lamho Ki Guzarish Hai Yeh, Paas Aa Jaaye, Hum Tum."
[Let me melt into your arms a little, The moments are requesting that, We should come closer, Me and you.]
The imagery from the lyrics are identical to the first dance, as they hold each other with such grace.
Watch Hum Tum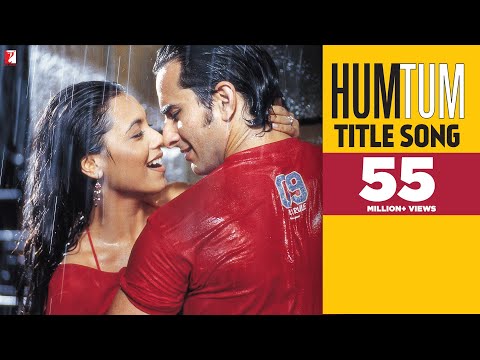 Rab Kare – Mujhse Shaadi Karogi (2004)
A delightful track like 'Rab Kare' solidifies itself as a wedding culture song as it's catchy rhythm is exciting.
The classic singing love duo of Udit Narayan and Alka Yagnik collaborate and extend their voices to extreme measures.
Hitting the highest of notes throughout the song they don't show any hesitation and deliver brilliantly.
Furthermore, musical directors Sajid and Wajid Khan try to make the most of Hindi culture by utilising drums. A mix of dholak, tablas and bodhran drums are a key feature in the song.
Visually, the vibrant colours are a stunning attraction to the eyes. The characters of Salman Khan and Priyanka Chopra Jonas show great compatibility.
Also a backdrop of dancers and people celebrating makes this a great wedding song.
The changing tempo sequences may be challenging for the bride and groom's dance, but will certainly be a great watch.
Devoted fan of Udit Narayan, Rajan Sandhu talks to DESIblitz about this song being nostalgic:
"The culture of the song is amazing. It's quite a fast song, but I feel a bride and groom should give this a try as their first dance!"
Watch Rab Kare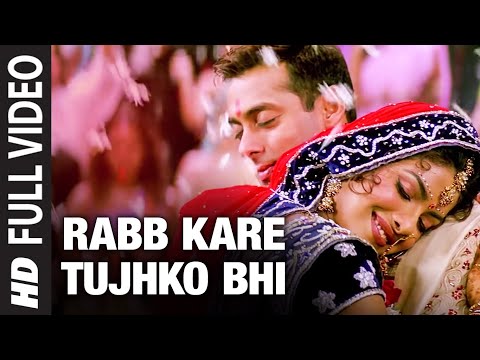 Dekho Na – Fanaa (2006)
'Dekho Na' is a considerable track as its comforting lyrics and rhythm are a thing of beauty.
Also, its sluggish pace is a bonus for the bride and groom, giving them time to savour their special moment.
Music composers Jatin and Lalit Pandit interestingly blend in the sounds of nature, along with natural instruments.
The sound of rain and thunder is captivating, but is also calming as that particular sound is common during meditation.
Furthermore, the gentle guitar strumming, the flute and the high pitch sitar makes the listeners feel warm and at ease.
With regards to the theme of rain, lyricist Prasoon Joshi works around that specific topic. He creates imagery by linking the 'monsoon bliss' to being in the presence of your loved one.
The vocals of Sonu Nigam and Sunidhi Chauhan does justice to the lyrics. Their soothing voices will easily raise the hairs at the back of your neck.
Watch Dekho Na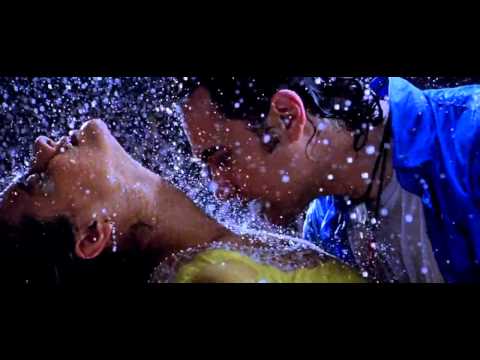 Tumhi Dekho Na – Kabhi Alvida Na Kehna (2006)
'Tumhi Dekho Na' is a true depiction of loving your partner and dancing with them on the biggest occasions.
The serene nature of this heartfelt track is admirable, as it is ever so light on the ears.
Music director Shankar Ehsaan Loy brilliantly incorporates a great deal of subtle guitar strumming and high piano keys.
In addition, the exquisite voices of Sonu Nigam and Alka Yagnik are laudable as they sing to each other authentically.
Lyricist Javed Akhtar illustrates the shock of how our hearts can suddenly be taken into their lovers' control.
Furthermore, the story on-screen is very meaningful as SRK and Rani Mukerji are lost in their own world of love.
Also, the colour co-ordination of their clothes matches the clothes of everyone surrounding them, creating a colourful background.
Whilst being surrounded by dozens of people, they cannot avert their gaze, highlighting their close connection.
With the visuals being so compelling, the bride and groom's dance can also be mesmerising with this lovely track.
Watch Tumhi Dekho Na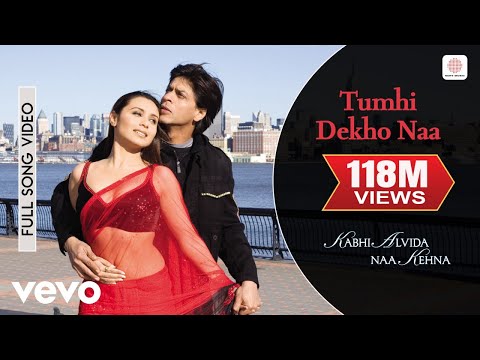 Ajab Si – Om Shanti Om (2007)
Singer Krishnakumar Kunnath blows us away with his stunning solo performance 'Ajab Si' from Om Shanti Om (2007).
Interestingly, this track is greatly relevant to the groom as he can sing this track towards his bride.
Popular musical duo Vishal Dadlani and Shekhar Ravjiani produce such an angelic instrumental that is almost dreamy to listen to.
The lightheartedness of a flute playing in segments of the tune is fascinating to watch as well as listen.
Furthermore, the visuals display the character of SRK obsessed with the charm of Deepika Padukone's presence.
Javed Akhtar casts his mind to the feeling of first setting your eyes on something so beautiful.
As the groom is locking eyes with his bride, it is a perfect moment to really appreciate their natural beauty.
The slow but steady rhythm is ideal for the bride and groom to share eye contact and dance in motion.
Watch Ajab Si
Pehli Nazar Mein – Race (2008)
'Pehli Nazar Mein' is a phenomenal dance number and is extremely popular for a first dance.
Music composer Pritam Chakraborty takes a western-style approach towards this particular tune.
The guitar is a heavy feature in the song, mixed with a soft drum beat, making this a dynamic combination.
Also, the bass guitar is a unique addition Pritam adds to the track and is usually rare in Bollywood music.
Additionally, Atif Aslam asserts a strong passion for his voice, singing about forgetting the world and focusing on his love.
Regarding the visuals, we see actors Akshaye Khanna and Bipasha Basu perform a romantic dance in front of an audience.
This track is specially made for a first dance and is not your typical cultural Bollywood song. Its western fusion is versatile and is something different for the dance.
The expression of 'Baby I love you' in the song is a direct message from the groom to the bride.
Watch Pehli Nazar Mein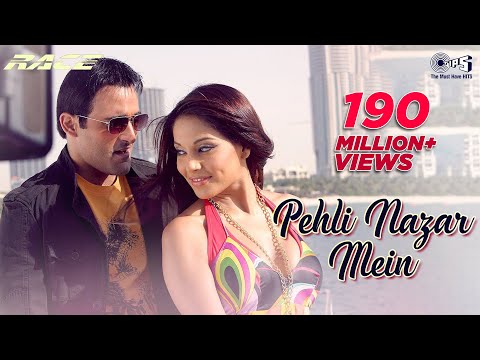 Teri Ore – Singh is King (2008)
'Teri Ore' is one of the purest, most gentle songs that will have wedding guests in awe of something special.
Composer Pritam Chakraborty forms a simplistic and original sound that is precise to Shreya Ghoshal's vocals.
Her soothing voice is a natural fit to Katrina Kaif's glamorous look in the visuals.
Also, the contributing vocals of the legendary Rahat Fateh Ali Khan is flawless. His voice is a great representation of the cultural village character of Akshay Kumar.
Furthermore, the chemistry on-screen can so easily be replicated between the bride and groom.
The delight in Shreya's voice will make a bride sing along with joy, whilst dancing romantically with her new husband.
Loyal listener of Shreya Ghoshal, Alisha Randhawa tells DESIblitz about her love for this song:
"As much as this song is rinsed in every wedding, I still very much want it to be played at mine!"
Watch Teri Ore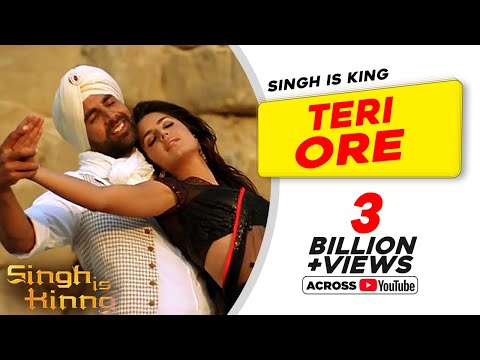 Khuda Jaane – Bachna Ae Haseeno (2008)
'Khuda Jaane' is a stunning love track that maybe does not get enough appreciation as others.
Music composers Vishal Dadlani and Shekhar Ravjiani create a fantastic sequence, in particular, the choir is a powerful touch.
Also, the small sounds of the Dholak and violins are an integral element of depicting love.
Singer Krishnakumar Kunnath uses his voice to full effect as the volume solely comes from the heart. His flow in his verses are very jumpy, ranging from slow to fast.
As for the bride and groom's first dance, it will be a more physical number to move along to.
Whilst their hands are gripped, they will maybe stretch arms and use their feet more to adapt to the pace.
Lyricist Anvita Guptan boldly refers to the loyalty by indicating that lovers will only dedicate themselves to each other:
"Hum Ko Kya Lena Hai Sab Se, Tum Se Hi Sab Baatein Ab Se, Ban Gaye Ho Tum Meri Dua."
[I'm not concerned with everyone, I'm only concerned with you now, You've become a blessing for me.]
Watch Khuda Jaane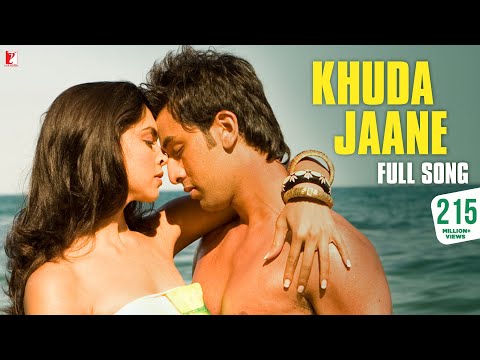 Tum Hi Ho – Aashiqui 2 (2013)
'Tum Hi Ho' is a beautiful and deep-rooted song that will pull at one's heartstrings. The heartfelt mood of the song would certainly stun everyone in the wedding venue.
Music composer Mithun Sharma puts together such a beautiful sequence as the piano is so rich in terms of love.
Talented playback singer Arijit Singh delivers an outstanding performance as he is impeccable with hitting the correct notes.
Despite being a slow song, his voice remains consistent and flows so naturally with the rhythm.
Mithun also wrote the lyrics and suggests love can be so strong that it's the sole purpose of staying alive.
As for the on-screen visuals, we witness an unbreakable bond between the characters of Aditya Roy Kapur and Shraddha Kapoor.
Furthermore, this tune is definitely a passionate and great way of securing a love marriage through a soulful dance.
The bride and groom will easily be able to revel in the moment, whilst being surrounded by loved ones.
Watch Tum Hi Ho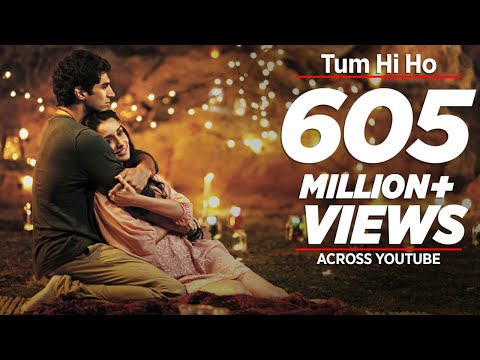 Tere Bin – Simmba (2018)
'Tere Bin' is a joyful and charming track that will lift spirits even further during a bride and groom's dance.
Music composer Tanishk Bagchi does an exceptional job creating his twist of the original song 'Tere Bin Nahin Lagda' (2010).
As the original is by Nusrat Fateh Ali Khan, his nephew Rahat Fateh Ali Khan steps up in this version.
Additionally, his powerful vocals are second to none, whilst Asees Kaur is a great supporting singer to represent Sara Ali Khan.
The music video shows an adorable blooming romance between the characters of Ranveer Singh and Sara.
Also, the trademark flute is a key instrument as it's soothing sound is peaceful to listen to.
Furthermore, the qawwali chorus is significant as the wedding dance will allow the bride and groom to dance more freely.
Watch Tere Bin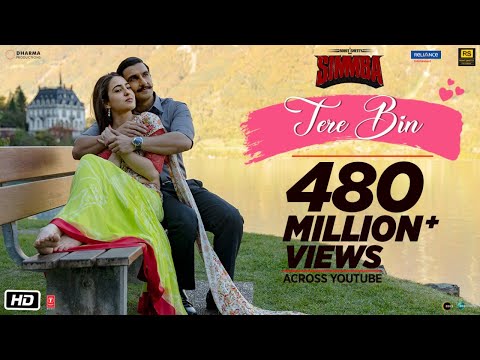 Pal Pal Dil Ke Paas – Title Track (2019)
'Pal Pal Dil Ke Paas' is a very slow but tranquil song that will undoubtedly fuel an intense first dance.
Composer Sachet Parampara constructs a calming sequence by adapting South Asian instruments to make an original sound.
The strong use of the Dholak is played to perfection and is comforting to listen to. Also, the piano in the introduction is mesmerising and is great in starting the song off.
The moving vocals of Arijit Singh and Parampara Thakur will give any listener goosebumps, especially in the beginning.
Lyricist Siddharth Garima makes it known that the bond created through love is life long and the attachment is firm.
Watch Pal Pal Dil Ke Paas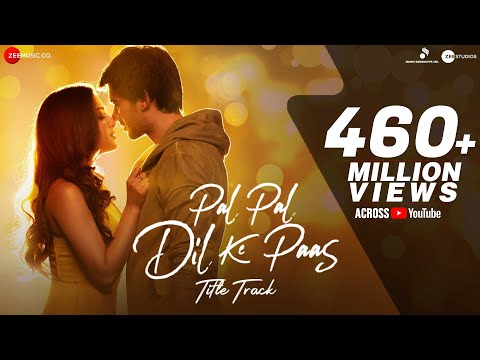 Other unforgettable songs include 'Aaja Mahiya' (Fiza: 2000), 'Meherbaan' (Bang Bang: 2014) and 'Hamdard' (Ek Villain: 2014) and many more!
It is evident that over the years Bollywood music continues to change. Therefore, it is common for new songs to be played at a first dance.
However, dancing along to tracks from the 1980s – 2000s is a real throwback and stays faithful to Desi culture.
We hope you choose one of these great songs for a first dance and give the bride and groom their moment to shine!