"If there is no original, they won't recollect any song."
Whilst many fans appreciate classic Bollywood music for its originality, the industry has seen a major shift.
The music scene in Bollywood has certainly stopped chasing originality, with more remakes attracting, lack of creativity and drawing upon western influences.
It seems some filmmakers and music companies have very little patience when it comes to the delivery of a great song. They may just want to make more money,
Equally, there are composers who perhaps are not willing to exercise their talent and time in producing original music.
There is also an argument that too much reliance on technology is also inhibiting music directors. This is a massive change, especially when we think of innovative music directors like RD Burman.
As a result, Bollywood films have more remixes and rap songs in comparison to genuine tunes, appealing to a more younger audience.
We explore this debate in more detail with reactions from the industry and fans:
Excessive Remakes/Remixes
The recurrence of Bollywood song remakes has become a prominent theme in the film industry.
With the approval of producers, music directors have focused on remixing or modifying classic tunes, particularly from 2010 onwards.
However, filmmakers, as well as singers and composers, have a split view on this matter. The revival of original classics has become a business and for producers and other stakeholders.
Several remakes have been financially successful, topping music charts, and become popular amongst the younger audience.
Speaking to IANS, Music director Sachet Tandon said whilst recreating, it is important to enhance the original. Though he also stressed on the importance of producing original scores:
"If we are not making original music now, at this present time, this era will appear like a black hole for the next generation. If there is no original, they won't recollect any song."
But the lack of originality is problematic and becoming more frequent. Numerous Bollywood fans believe remakes are not true to the original version and feel that the classics are being ruined.
They are are also of the opinion that remixes are not timeless, in comparison to the classics.
'The Nightingale of India' Lata Mangeshkar also expresses her disappointment in remixing originals. In her blog she states:
"Keeping the originality of the song and presenting it as fresh is a good thing. But totally remixing the song is absolutely wrong."
"And I have heard that these days the credit goes to the undeserving person instead of the original artist."
Music composer Amaal Malik who has worked on revamping other songs says that everyone should not jump onto this craze. He told Hindustan Times:
"There's an overkill of remakes. The song has to make sense in the film's plot. But one shouldn't do a song remake just because it's a trend or it will make money."
'Yeh Jawaani Hai Deewani' from the movie Jawani Diwani (1972) was modified in Student of the Year 2 (2019) with 'The Jawaani Song.'
Other remixes of classic tunes include 'Bachna Ae Haseeno' (Bachna Ae Haseeno: 2008) and 'Tamma Tamma Again' (Badrinath Ki Dulhania: 2017)
Western Styles
Bollywood music has a history of adopting western styles, with rap influence also becoming quite common.
Bollywood continues to copy or take inspiration from western styles of music. This may be in the form of similar rhythm, using the same instruments with/or a combination of traditional tunes and sounds.
A contemporary example is 'Ded Dedi' from Airlift (2016), which is a blatant copy of 'Didi' by Milk & Honey (2010).  There are several other Bollywood songs that have taken western tunes, with many believing this to be plagiarism.
Earlier, there was 'Pretty Woman' from Kal Ho Naa Ho (2004). The song has a close link with 'Oh, Pretty Woman' (1964) by western singer Robin Orbison from the USA.
The original was a huge success, featuring as number one on the Billboard Hot 100.
There is also a big influence of rap and hip hop in Bollywood, which some may argue is also hampering originality.
But singers such as Baadshah and films like Gully Boy (2019) are proving a hit with the youth. Many also claim this a more desi hip hop form.
Having said that with so much talent in India, why is there a need to embrace western styles, when India has its own traditions and culture.
Sharing his thoughts on Quora, Nikhil Das opposing western music writes:
"Sad to say that we are losing our culture and moving towards western style."
"If we really want to bring back the lost charm of bollywood as well as other sectors of society then we should strictly follow our own culture, tradition etc."
"We try to follow western music but westerners are following their own tradition and culture."
However, Indian music director Devi Sri Prasad believes western-style sounds are inspiring for music composers.
In an interview with LinkTV, he talks about how we should perceive music and the impact of western instruments:
"Violin is a western instrument. But violin is the most crucial, and vital instrument of any Indian classical music."
"Indian music has its own uniqueness. Basically, music is about the soul, music is heard but it has to be felt. Music is about your mind and heart."
There will be others who will say that historically even greats such as RD Burman took influence from western music and sounds.
Natural Creativity and Technology
For many decades, utilising the natural sound of a voice and having LIVE musicians was like the creative norm.
Composers, musicians along with singers and lyricists spent quality time in those days, resulting in an investment of melodious music that depicted realism and emotions.
For any composer, his traditional instruments had a major contribution in their music. These included the likes of the harmonium, guitar and even the tabla.
In there past there was also healthy competition amongst all to do their best, with the voices, compositions and lyrics being the soul of the song.
Vocalists were made to sing by the legendary composers, which also made a difference.
But with more dependence on technology, the music sitting culture became non-existent.
The use of technology saw a rise in the remixing and adjusting of music. Various software are used in the process to mix an old song with the new.
Also, autotune was able to adapt good or bad sounds.
Bollywood singer Kumar Sanu, best known for his songs in the 1990s, dissects technology in an interview with Indica News:
"There is more technology involved compared to when we sang those years, with full orchestra, we sang just once or twice."
"Now, more than 100 tracks could be modified and artists can dub their part any time."
RD Burman was famous for his innovating approach to tracks such as 'Chura Liya' from Yaadon Ki Baarat (1973). He was also a big fan of having a LIVE orchestra.
Working in an ensemble is an art, as all musicians have to be in sync.
However, there are many music directors who feel that it is good to work with the times. Despite having undergone training classical training, music director Salim-Sulaiman see the benefits of technology: Salim says:
"Technology has always been my best friend. It has helped us achieve some goals in changing our style, changing our music."
Brother Sulaiman further adds:
"It is fun to mix the best of both worlds, our classical roots with modern technology,"
'Aankh Maarey' from Tere Mere Sapne (1996) illustrates originality in the voice of Kumar Sanu and Kavita Krishnamurthy.
However, the remake from the film Simmba (2018) sung by Mika Singh and Neha Kakkar, adjusts sound through technology.
A remake like 'Gazab Ka Hai Din' shows a change in the melody. The original is sang by Udit Narayan and Alka Yagnik from Qayamat Se Qayamat Tak (1988).
Whilst the original is upbeat, the remake is slow but is soulfully sung by Jubin Nautiyal and Prakriti Kakar. The remake was from the film Dil Juunglee (2018).
Watch the comparison of 'Aankh Maarey'  here: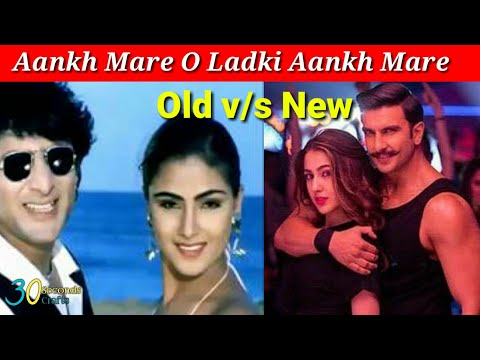 There are some benefits of remakes, inspired western sounds and technology, especially with a drastic change in the audience.
One is that younger audiences can learn about classic tracks through remakes and remixes.
However, the aforementioned elements do impact on the originality of Bollywood music in three big ways.
This includes not being able to preserve the purity of evergreen tracks, preventing creativity and a huge reliance on western styles such as rap.
Unfortunately, originality may suffer at the cost of economics and modern Bollywood music appealing to youngsters.