Airlift is one film that Akshay Kumar deserves to be rewarded for
Airlift is Akshay Kumar's latest starrer and is one not to miss.
The film, directed by Vijay Krishna Menon and based on a true story, is both brave and engaging.
Akshay Kumar plays Ranjit Katyal, a Kuwait based Indian businessman who is highly successful in Kuwait in 1990.
However, in the dawn of the Kuwait-Iraq war, where Iraqi forces attack the city, him and his wife (played by Nimrat Kaur) are shaken to the core.
Forced to deal with a series of dangerous situations, Akshay takes responsibility for the evacuation of more than a thousand Indians trapped in Kuwait.
The film is based on the real-life conflict and the unsung heroes that made the largest evacuation of Indians outside of India possible.
The story of the film is highly intriguing, because it is a topic that has previously not been covered. And although the audience knows how it is going to end, it is the journey that the characters endure that keeps us gripped.
Whilst there is no dearth of films related to the topic of wars, terrorists and missions, a story based on rescue operations is something new to Bollywood and Airlift introduces it to a high standard.
Airlift strikes the right balance between conveying the facts of the historical event and also making it entertaining to watch as a film.
The director, Vijay Krishna Menon, also knows how to make that event that happened with Indians in Kuwait relevant and touching to Indians everywhere.
Whether it is through relatable characters or through the scene where the audiences is reminded of how partition refugees had to lose their homeland.
The ending however is slightly rushed and the screenplay suddenly picks up pace all as a happy ending nears.
Akshay Kumar is one of those actors that does consistently brilliant work, but because of the sheer volume of work he produces, he is sometimes underrated in terms of his merit and recognition.
However, Airlift is one film that Akshay Kumar deserves to be rewarded for. His performance is subtle, skilled and realistic.
He is an actor that moulds as his character throughout, where Ranjit Katyal goes through a complex transition, torn between his entrepreneurial and NRI style against his drive to selflessly rescue innumerable lives from danger.
A particularly noteworthy seen is when Akshay Kumar is crying, and mucus is running down his face from his nose as a result.
This is a rare sight that you would see from actors in Bollywood who generally want to look their best in every still.
There is simply no one else that you can imagine playing the role of Ranjit Katyal.
Nimrat Kaur shines in her role, particularly in a monologue she delivers in the second half, which shows how an actor can go above and beyond their limited screen time.
Her chemistry with Akshay Kumar looks natural and reminds you of the one she shares with his real life wife, Twinkle Khanna. Purab Kohli also supports the cast well in his supporting role.
Watch the trailer for Airlift here: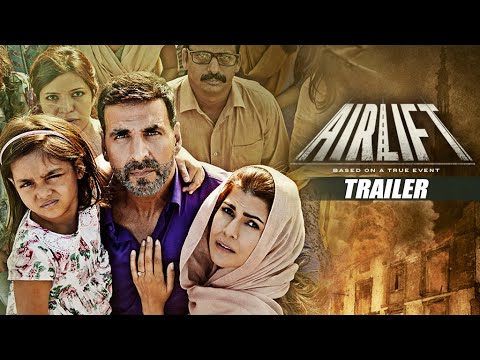 The music is fabulous, particularly Arijit Singh's melodious 'soch na sake'. The songs are only used for the right amount too where they don't stretch the screenplay.
Airlift is a movie not to miss for its engaging true story and fantastic performances portraying the unsung heroes of the evacuation of Indians from Kuwait in 1990. The film released from January 22, 2016.