"The virus has left us in a state of panic over our clothes."
A Desi bride's and groom's wedding day outfits is the central piece of the wedding. But what happens when the outfits are in jeopardy?
South Asian weddings are lavish affairs which can span over seven days featuring various ceremonies and events like a mehndi, sangeet and more.
These events are dependent on the bride's and groom's preferences. Yet, regardless of which functions they choose to incorporate in their wedding, their outfits are the focal point.
Desis spend a large amount of money on their numerous outfits which they cherish for the rest of their lives and sometimes even re-wear.
Unfortunately, the year 2020, has been wreaked with havoc due to the coronavirus pandemic.
In turn, this has severely impacted the Desi wedding industry. In this instance, wedding tailors in Pakistan and India have been forced to stop production.
This decision has been taken to preserve strict social distancing guidelines and the lockdown in those countries as well as the UK.
As a result of this difficult situation, brides and grooms have been left with outfit dilemmas.
Even when the lockdown is lifted and social distancing guidelines are relaxed, it will take time before businesses go back to normal despite shops opening.
We explore ways to help Desi brides and grooms with their outfit dilemmas and challenges for 2020.
Make it Yourself
Desperate times call for desperate measures. Even though you probably envisioned your wedding outfit being made in Pakistan and India sometimes things do not always go to plan.
Take matters into your own hands – design and create your very own outfits to be worn on the wedding.
The art of making your own Desi clothes is truly a skilful practice which has been around for centuries.
Typically, sewing your own clothes was a task taken up by women. They used this art form as a means of income to help support their families.
Unfortunately, until such troubling circumstances arise, we undermine this art form and the extensive labour which goes into the process.
Firstly, select which one of your functions you wish to design an outfit for. This is followed by which style of clothes you wish to adorn on that particular day.
Various styles from anarkalis, lehengas to sarees for brides and kurta, sherwani and more for men are available to choose from and create.
In this instance, let your creative juices flow and start designing various outfit options. Also, be sure to utilise the internet to help you gain more ideas.
Once you have completed this step, it is time to select the loose material required to create your chosen vision.
Whether you are confined indoors due to the lockdown or not, you can easily purchase material and embellishment online. Be sure to work out how much is required. It is better to have more than less.
Conventionally, every Desi household has a sewing machine regardless of whether it is actively used or not.
Even if you cannot sew, there is always time to learn this art form which will continue to benefit you.
If you are already a whizz on the sewing machine, this process will be much easier for you.
Alternatively, if you can get into contact with an experienced tailor whilst abiding by social distancing guidelines (if applicable) it will make things much easier.
You can simply hand over your loose material and embellishments with your designs and measurements and let the experts take care of it.
Get sewing and watch your design come to life. To help you create your own DIY Desi wedding outfits, we have selected various videos for you to gain inspiration from.
Watch how to Design a Kurta
Learn how to Cut a Sharwani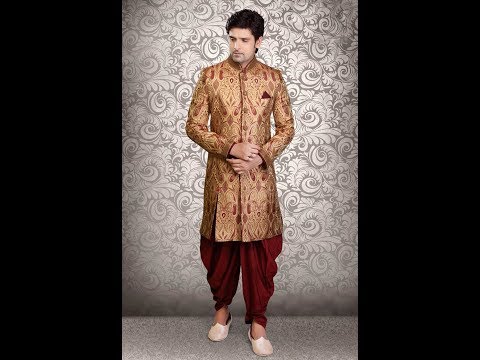 Watch how to create DIY Indian Wedding Outfit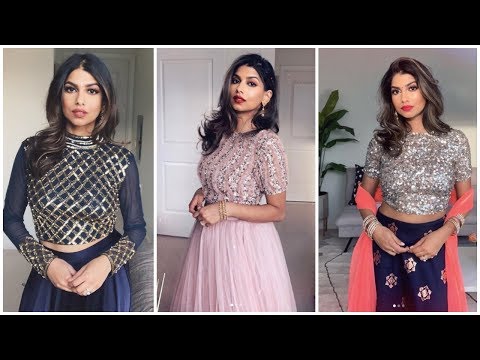 Look to Alterations & Modifications
Sometimes creating your wedding outfits from scratch is not always feasible. Hence, this great option to buy and alter will surely work in your favour.
Browse online for simple outfits. For a bride, this could be a rather plain lehenga which you can spruce up.
This process will require embellishments like pearls, gems, sequins and extra materials to enhance the beauty of your wedding outfits. These can be sewn onto the hems of the sleeves and border.
Another great idea to further spruce up the plain blouse is to add ruffle or bouffant sleeves. This will add dimension and drama to your outfit.
To further enhance the neckline, you can add thread work detailing down the centre using different settings on a sewing machine.
Then stitch on sequins and pearls to add sparkle to your blouse. Or if the neckline does not flatter your flat or large chest, reinvent it to suit your silhouette.
For the skirt, you can also add ruffles to the hem which will glamorise the outfit.
Challenge your sewing skills and rework your skirt one of either two ways.
If you prefer the voluminous skirt look, add a tulle beneath the skirt. This will give you a fuller-looking skirt.
Alternatively, if you like a more figure-hugging fit, change the silhouette to a mermaid cut. This will allow you to flaunt off your curves as a bride.
This method can be applied to other styles of Desi clothing like a saree.
For the groom, you can buy a simple sherwani and add your own touch to make the outfit unique.
We recommended tapered trousers to create a more fitted and structured silhouette.
You could also create a breast pocket design to add sophistication to your ensemble. This could then be matched with a lavish shawl made from velvet for a regal look.
It is important to note when you are buying and altering your outfits, you must keep in mind that you must colour coordinate with your partner.
Therefore, these alterations can be made to suit the colour in your partner's outfit.
Furthermore, as a bride, if you do not have the option to buy an outfit, the above alteration ideas can also be applied to your mother's wedding day outfit.
This will allow for a sentimental connection while adding your own personal touch to the look making it your own.
It goes without saying, that brides will face greater outfit dilemmas as opposed to their grooms.
This is because a groom can make do with an English style suit if all else fails, whereas there is more pressure on the bride to look the part.
Watch how to Revamp Wedding Outfits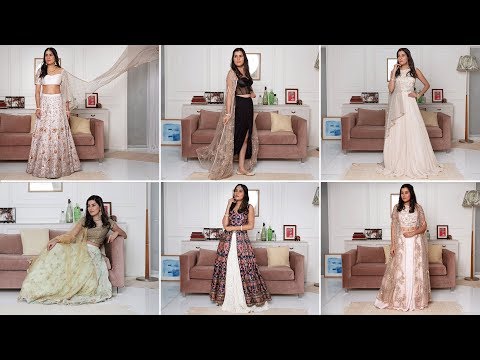 Wedding or No Wedding?
Amidst the global virus, which has consumed the year 2020, maybe it is a wise idea to postpone the wedding.
Understandably, this is not an easy decision and it is one that is taken with a heavy heart.
However, if your wedding falls in the first half of the year, chances are rescheduling it will be the best option.
If your wedding falls in the second half of the year then there is a greater chance it will take place.
However, with precious time lost in planning and buying outfits, you may have to resort to our recommendations.
Eventually, Desi clothes shops will reopen which means you can go and place orders for wedding ensembles.
Despite this, it will take time for businesses to get back on track after the coronavirus and lockdown.
DESIblitz exclusively spoke to Raja who explains his clothing dilemma:
"My wedding is due to take place in July 2020. As of yet, we have not pushed it back to a later date. Right now, we have only booked our venue, caterers and cinematography.
"Before the lockdown, we were actively shopping for wedding outfits thinking we have plenty of time. However, the outbreak of the virus has left us in a state of panic over our clothes.
"I have only placed for one of the wedding day outfits, while my bride has not and nor had my family.
"With clothes playing such a big part in Desi weddings we are stressed about what to do."
"My family are considering buying and altering their main day outfits with added embellishments and maybe even reinventing their older wedding outfits from my sister's wedding."
Undeniably, there are many other Desis who are in a similar position to Raja.
You must remember you are not alone and everyone will get through this together.
Even though every bride and groom wishes for the perfect wedding day, sometimes there are hiccups along the way.
It is important not to feel disheartened. At the end of the day, a wedding is the union of two people while wedding outfits are merely a muse in a greater picture.
Let the year 2020 be a chance to recreate, reinvent and restyle wedding day outfits.
You never know this may evolve into a new trend into the foreseeable future.