Malhotra stood visibly shaking in tears of joy once her husband began wooing her.
Canadian groom Frank Gregoire stunned his Indian bride Simran Malhotra with a surprise performance of Bollywood mega-hit 'Tum Hi Ho' at their Baltimore wedding reception on June 27, 2015.
Gregoire, 36, from Quebec spent 6 weeks learning the Hindi lyrics and rehearsing the song on the piano in secret from medical student and bride-to-be Malhotra, 27 from Toronto.
Malhotra stood visibly shaking in tears of joy once her husband began wooing her by singing the ever popular love ballad from the 2013 Bollywood film, Aashiqui 2.
Malhotra said: "All our family and friends are on cloud nine still. That moment is one I will never forget for the rest of my life."
The moving gesture was enough to give original playback singer Arijit Singh a run for his money as Gregoire brought the house down to the delight of both desi and non-desi guests.
Malhotra however wasn't the only person to be wowed by her hubbie's vocals at the interfaith ceremony (read our article on interracial marriage here).
Hearts were melted all over the world as a video capturing the spectacle went viral, amassing over 2 million views within 4 days on YouTube.
Frank's French speaking uncle Marc added to the wow factor by playing the melody on the piano alongside his nephew.
He went on to say a few flattering words to the blushing bride as Frank continued to jam away ensuring the couple ended with a heartfelt embrace.
Check out the full clip here: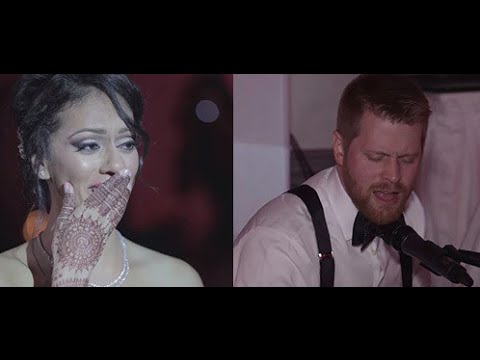 Gregoire originally wanted to recite a poem for his beloved partner but after a recommendation from Simran's mum to sing a song in Hindi, the 36 year old critical care physician felt up to the challenge.
He said of the song: "Once I read the translation, I realised I couldn't have found anything more perfect to express my feelings to her."
Nicely done, Gregoire. Congratulations to the happy couple!